What is the best souvenir you can bring home from Thailand? For us, it was the recipes and techniques we learned from a Thai chef at our cooking class at Anantara Spice Spoons!
After a week of eating delicious curries at nearly every meal, we were very excited to learn how to make Geang Kiew Wan Gai, otherwise known as green curry, from scratch. Although our time in Thailand would soon come to an end, we'd be able to bring home a recipe to make one of our favorite Thai dishes right at home. We met our patient chef in the beach-side show kitchen and donned our own aprons and chef hats. We quickly got to chopping, dicing, and plucking the various fresh ingredients.
We were learning to make the green curry paste that we'd need to make our green curry. As Tim put some muscle into grinding all the fresh vegetables and herbs into the green curry paste, chef told us a bit about the history of Thai food. The green curry paste was already becoming fragrant and chef explained that Thai food is known for its balance of four fundamental taste senses: sour, sweet, salty, and bitter.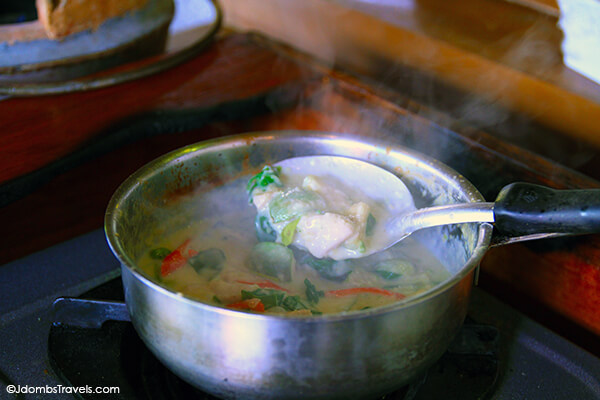 Up to the challenge of creating something delicious from the complexity of flavors we were working with (and threatened that if we didn't pass, we'd have a lot of dishes to wash), we slowly stirred our green curry paste on the stove. As we added the coconut milk, chicken, and eggplant, the paste began to transform into an aromatic green curry that made our mouths water. We tasted and seasoned with fish sauce, palm sugar, and chillies to adjust the spiciness. Medium spicy for us, please!
But it wasn't time to eat just yet. We were also making Tom Yum Goong, a spicy prawn soup. Another popular Thai dish known for its hot and sour flavor, we actually hadn't tried this soup yet in Thailand. We had some more vegetables and herbs to chop up before adding them to the prawn stock to simmer.
The soup is actually very easy and quick to make. After the vegetables simmered for a few minutes, we added the prawns and seasoned with fish sauce and roasted chilli paste. Chef poured our soup into bowls and it was finally time to eat!
We added a tad too much chilli paste and ended up with a very spicy soup, but it was still delicious. Our green curry was perfect. Executive Chef Don came by to declare we'd passed our Thai cooking class – no washing dishes for us today!
Tim and I were both surprised at how easy it was to make both the green curry and spicy prawn soup. The dishes are light, though look complex. But with the patient instruction of a Thai chef, you can easily learn to make delicious Thai dishes at home that are sure to impress. Best of all, we got to each take home a wonderful set of 16 Thai recipes, cutting boards, and our Anantara Spice Spoons aprons and chef hats. And we're sharing the delicious green curry recipe with you!
Geang Kiew Wan Gai (Green Curry) Recipe
Green Curry Paste
10 grams green pepper diced
5 grams coriander root
10 grams galangal
10 grams lemongrass
20 grams shallots peeled and chopped
10 grams garlic peeled and chopped
5 grams Bird's eye chili sliced
1 Kaffir lime zested
5 grams shrimp paste
2 grams salt
2 grams white pepper
In a mortar make a fresh curry paste by grinding all the ingredients.
Green Curry
10 grams green curry paste
2 Kaffir lime leaves
5 grams coriander powder
4 grams cumin powder
1.5 liters coconut milk
50 ml Thai fish sauce
40 grams palm sugar
180 grams diced chicken breast
30 grams diced eggplant
20 grams small pea eggplant
1 sprig sweet basil, leaves removed
1 large red chili
Heat oil over medium heat and add the green curry paste, Kaffir lime leaves and all the spices. Stir continuously for 2 minutes until aromas have developed.
Slowly add coconut milk with continuing to stir for 5 minutes.
Season with fish sauce and palm sugar.
Add the diced chicken and the eggplant. Continue stirring for 3 minutes.
When the chicken is fully cooked, add the chilies and sweet basil. Transfer to a serving bowl.
Garnish with coconut cream, sweet basil and sliced red chilies. Serve with rice.
We were guests of Anantara Hotels & Resorts during our time in Thailand in order to bring you this story. As always, all opinions are entirely our own and were in no way influenced by delicious food or the many drinks we indulged in at the swim up pool bar!