Capture the Colour, a photo contest hosted by TravelSupermarket.com, is back again this year. We had fun participating last year, even though we didn't win anything. It is a contest open to travel bloggers and a winner will be selected for each of the five color categories to receive their choice of several prizes. One photo will also be selected to win the grand prize of £3,000 to travel!
Our friend Rachelle from The Travel Bite (check out her entry here), a Floridian-inn-keeper-turned-pro-videographer-and-blogger, nominated us to participate in Capture the Colour again this year. Our submissions that best exemplify the colors blue, red, yellow, green, and white are:
Red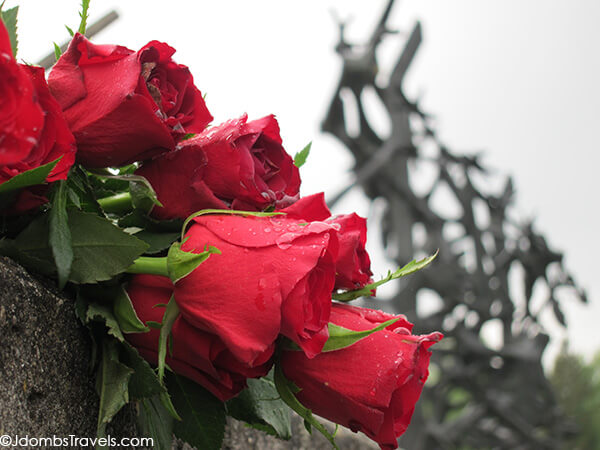 This is one of Tim's favorite photos he's taken this year. It was pouring down rain, yet the weather didn't matter. It added to the morose tone of the visit to Dachau Concentration Camp. I love the beauty of the roses in contrast to the barbed wire.
Yellow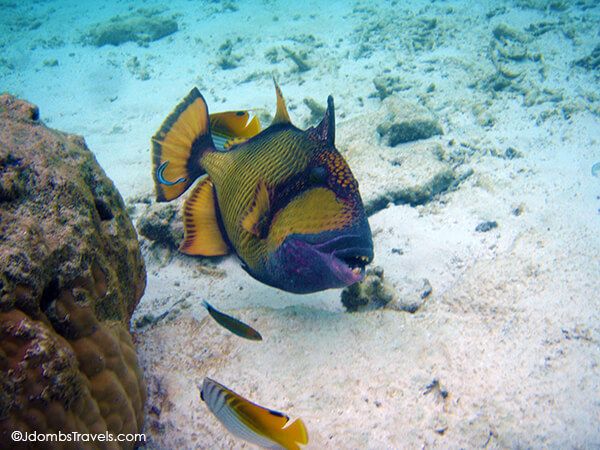 The best place we've seen marine life was in the Maldives. The fish are incredibly colorful and the water the clearest we've even swam in anywhere. We came across this Titan Triggerfish, which are usually shy and swim away from divers and snorkelers, unless protecting their nest. Protective mothers are known to bite with their strong teeth and the threat posture includes the triggerfish facing the intruder while holding its first dorsal spine erect. I think this Tital Triggerfish momma was definitely in attack mode…
Blue
Iceland is incredibly moody and the weather literally changes in a blink of an eye. In winter, the sun barely gets above the horizon and on a cloudy day, it never actually gets light out. I love the blue icebergs, seemingly lighting up Jökulsárlón Lagoon on an otherwise drab and gray winter day.
Green
I love this photo of grapes in a state of véraison from the island of Solta in Croatia. We captured the last bits of green grapes before they ripen and become a delicious Croatian red wine.
White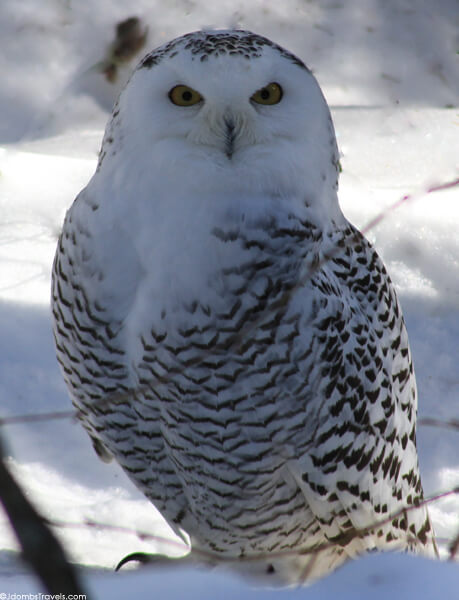 The male Snowy Owl is almost pure white, so this one we spotted in the Arctic Circle in Finland is probably a female since it has spotting. They actually have few predators, though the pesky Arctic Fox will try to steal their eggs and young during nesting.
________________________________________________________________________________________
And now for our nominations of other amazing travel bloggers we'd like to see showcase their best photos emulsifying the colors blue, red, white, yellow and green:
Ari of Beyond Blighty
Ari spent the last year making us jealous as she traversed South America and now she's moved clear to the other side of the world to Australia. But not until first detouring to New Zealand where she conquered her fear of heights with taking crazy adventures like bungee jumping and learning to fly a stunt plane head on!
Noel of Travel Photo Discovery
We discovered Noel's photography blog recently and he hosts Travel Photo Mondays, where he invites other bloggers to come and link up to his post to help inspire others to travel through beautiful travel photography.
Kenin and Lauren of The Constant Rambler
The Constant Rambler is another blog we started reading recently. We always admire when bloggers use their social power for good causes, and Kenin and Lauren are getting behind The Big Cat Rescue in Tampa, Florida.
Heather of Ferreting Out the Fun
Heather lives in Shanghai, China and while walking the Great Wall and seeing pandas has long been on my bucket list, her blog is adding to my must see one day when we make it to China.
Christy of Ordinary Traveler
Christy's photography is simply stunning – she's a pro after all! We love following her adventures, which are punctuated with time at home in San Diego.
How To Enter
1) Post up to five color travel photographs on your blog from the following five categories: red, yellow, blue, green and white.
2) Nominate five other bloggers to follow on from you.
3) Notify the Travel Supermarket team that you've entered (see instructions on how to do that here.)
You need to enter all five to win the overall prize (£3000 vouchers from Travel Supermarket) but the individual category prizes don't require the full set.
Individual category prizes are either an iPad, a Fuji camera or an Arc'teryx shopping voucher, depending on your choice.
You don't HAVE to be nominated by someone else to enter. If you're a travel blogger, just go ahead and post your own Capture the Colour post!
Travel Supermarket are the team behind the competition and the prizes. You can check out other entries on their Pinterest boards or else find them on the usual suspects like Facebook and Twitter.