There are traditionally three travel classes on planes, and all these classes are different. Ticket prices are also different depending on the travel class. The choice is yours: read a book in economy, eat fine dining in business, or sleep in a comfortable bed and enjoy luxury in first class. It might even surprise you that the most favorable class is business class flights. And traveling business class will surely make you feel like a king during the flight.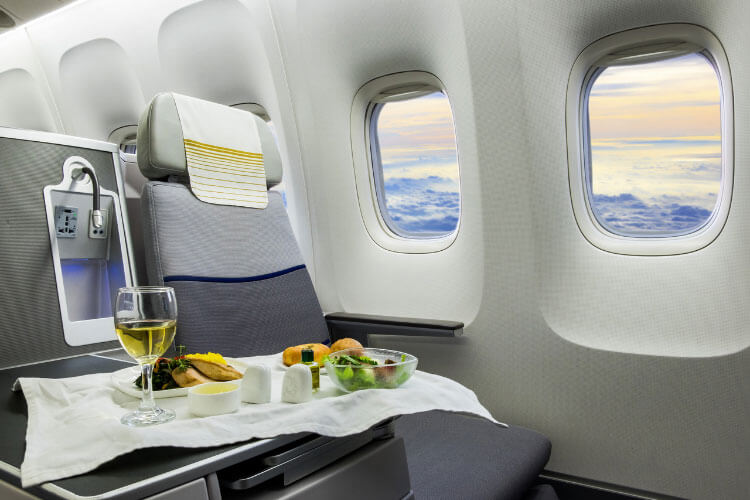 But let's take a look at what each travel class traditionally is like.
Economy Class
The largest number of seats on most flights, which the exception of those airlines that are exclusively business class, is the economy class. As the most affordable seat on the plane, econony is the most popular option among tourists. In economy class, you can take typically take a small piece of hand luggage with a weight and size restriction. Each airline has different hand luggage policies. Always be sure to review the specific airline's policy it in advance, or you may risk additional baggage handling charges at check-in or even at the gate.
Check-in takes place according to the standard scheme, near the gate at the airport. Not all economy class flights offer an included meal, and if they do the menu in economy is basic. But economy passengers generally have some dietary restriction options like low-salt or vegetarian so long as you book these options in advance. Also, never count on free wifi, because often even in first class you will have to pay for wifi service. It is also important to know that it can be difficult to return or exchange an economy ticket, because you can lose up to 70% of the cost.
Business Class
Business class is significantly different from economy. Traveling business class is, without a doubt, a superior and elevated travel experience to traveling economy. Some business class perks you can expect, though certainly not a comprehensive list, are:
large and wide seats, which often can be transformed into a lie-flat bed
hand luggage allowance often twice as much as in economy class, and closets are available for hanging items such as suits and dress bags
a selection of gourmet meals prepared with fresh ingredients and served on beautiful service sets instead of plastic or tin disposable containers
complimentary alcoholic drinks
exchange and cancellation of a tickets with ease
airline lounge access and VIP waiting rooms with comfortable facilities
separate boarding so you don't have to queue
First Class
First Class is an even further elevated version of business class. There are luxurious roomy seats that transform into lie-flat beds, which sometimes resemble a mini-apartment. Here, literally everything is saturated with luxury and decadence. Some aircraft even have showers available to first class guests.
Baggage allowances and restrictions are typically the same as in business class. The choice of meal options is very expansive and rich. Meals are prepared by the best chefs using fresh ingredients and served by highly qualified flight attendants. Silk pajamas, black caviar, millions of films, fine china, luxury skin care products, top designer interiors – the options and amenities available to first class passengers are seemingly endless.
As a conclusion, we can say that the best option for a flight is business class. It has all the luxury amenities that make for a more comfortable flight experience. In business class, you will have a rested sleep, which especially for those traveling long distances or those professionals traveling for work.