If you're looking for the perfect New Year's Eve vacation spot, you should consider Barcelona. As one of Europe's most cosmopolitan cities, there is never really a bad time to visit this lovely town. Although passing through to ring in the new year lets you enjoy a slice of Spanish culture most visitors may never see.
The weather can also be warmer in Barcelona than other winter destinations. Average daytime highs are in the upper-50s℉ (~14℃). Nightly lows can dip into the 40s℉ (8℃). While you should still pack warm clothing, it can be warmer than New York's Times Square for instance. 
This holiday is actually a midpoint between Christmas Day and Three Kings Day. So if you're in town for a few extra days, take time to explore Christmas markets, parades, and other Barcelona Christmas traditions.
Barcelona New Year's Eve Traditions
Ringing in the new year in Barcelona can be exciting. Whether you do it from a public plaza or in an intimate gathering, here are some of the best local traditions and gathering places.
If you enjoy traveling the world, see how Cap d'Any (New Year's in Catalan) compares to your past celebrations.
Cava and Grapes
Two modern staples for celebrating New Year's Eve in Barcelona are grapes and cava (Catalan champagne). Cava is a sparkling wine similar to champagne that is grown in the local Catalan province. Some locals toast with a gold ring in their glass for wealth and prosperity.
Now, how do fresh grapes fit into your New Year's celebration? Locals call this tradition campanadas. Your challenge is to eat 12 grapes at midnight. You eat one grape for each dong of the clock. It's not an easy feat but it's fun to try. If you succeed, it's said you will have good luck for the coming year. Be careful you don't choke as you race against the clock.
If you forget to bring your own cava and grapes, you will likely find a nearby peddler. However, be ready to pay a little extra for the convenience. Make sure you bring cash.
Another Spanish custom is wearing red underwear on New Year's Eve. Some believe it brings good luck for next year.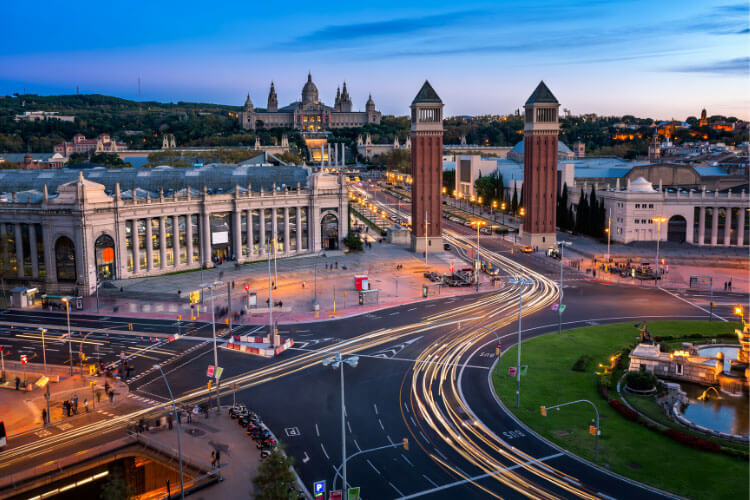 Plaça d'Espanya
Barcelona's Plaça d'Espanya is their version of a New York Times Square experience. Official festivities begin around 9:30 pm. The final live performances and fireworks show starting around 11:45 pm. The fireworks last approximately 30 minutes.
You can enjoy music, lights, and fireworks around the Magic Fountain. This is a free, family-friendly gathering so consider this option if you're traveling with children. Although you will need to look out for pickpockets. 
You will want to arrive early to avoid the crowds and find a good vantage point. As midnight approaches, the metro mass transit can be crowded with passengers. Some 100,000 people attended the celebrations to bring in 2019.
Although it's a longer walk, you can avoid the largest crowds by accessing Plaça d'Espanya from the Tarragona metro station. 
Plaça Catalunya
Another popular public plaza is Plaça Catalunya. This experience is going to be a little more dangerous than the official celebrations at Plaça d'Espanya. Like anywhere in the city, you will have plenty of grapes and cava. There will also be folk dances, singing, and good spirits.
But watch out when midnight arrives. Plaça attendees throw their empty bottles into the plaza center. While there is a designated landing zone, some bottles won't land in the intended area.
After midnight, the party is just beginning for some. You may wish to travel down La Rambla to visit the various bars between Plaça Catalunya and the Gothic Quarter. Most places remain open until 3 a.m.
Flamenco Show
For a more sophisticated New Year's Eve celebration, consider taking in a flamenco show. This traditional Spanish dance can be captivating.
One of the best shows is at the Palacio del Flamenco. The Flamenco Experience begins at 9:30 pm when you can learn a few moves yourself. After that, you can have dinner and enjoy an hour-long flamenco show ending shortly before midnight. Drinks and grapes come with admission as you celebrate New Year's inside the Palacio with dancing to follow.
Relax on a Rooftop Terrace
So if you want to be outside while avoiding a crowded plaza, try reserving a spot at a rooftop terrace. An easy way can be finding a rooftop restaurant or bar. Your lodging may also offer rooftop access.
You will have the opportunity to see the fireworks from afar. Of course, you will also get a birds-eye view of the city which is also exciting.
New Year's Eve Dinner
Spanish tradition is to have a late dinner or meal before going out to celebrate. Seasonal fare can be a local dish called escudella. This dish is a Catalan mixture soup with a parsley and garlic-spiced meatball. Although seafood tapas, lamb, and wine tastings are common too.
You will see many places offering special dinner menus for the final meal of the year. It's highly recommended to make reservations in advance as soon as possible.
If you don't already have a spot picked out, you can try some of these establishments:
Bodega Joan: A Barcelona landmark since 1942. Traditional Catalan cuisine  
Els 4 Gats: A favorite place for the legendary Pablo Picasso. Today, you can enjoy modernist art and Catalan cuisine.  
El Nacional: There are four bars and four restaurants in this historic building. It can be fun visiting only to admire the architecture and charm.
Certain establishments can be pricey given the day's popularity. It can pay to come prepared and maybe earn more travel miles in the process.  
First Swim of the Year
The adventurous may also start the new year off right by taking a swim. You can hop into the water at the Playa de San Sebastian in front of Club Natació Atlètic Barceloneta.
This free event starts at noon on New Year's Day. So if you don't go to bed right after midnight, you still have some time to rest and eat breakfast before taking the plunge. 
You have plenty of options for an exciting New Year's Eve vacation in Barcelona. Going to the Plaça d'Espanya can be the ultimate experience. However, you might prefer the smaller crowds and warmth of a rooftop terrace or flamenco show. Don't forget the cava and grapes.  
About the Author
Johnny Jet travels to 20+ countries a year sharing his firsthand knowledge, of reward travel, travel credit card deals, travel tips and more on Johnnyjet.com.