Wondering which is a good but inexpensive camera?
This budget guide will help you choose a great camera for under $250 that is perfect for all travel activities, while also being lightweight and easy to use. Discover which features you want your next camera to include and find out how user-friendly these compact cameras are with this guide.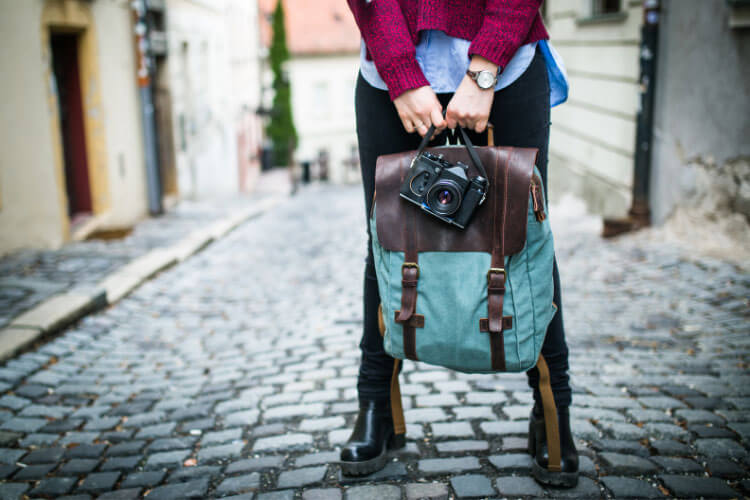 User experience is really important when considering which camera to purchase for a beginner, so these cameras have been chosen for their great reviews, technology and easy to work menu systems while also being a great price at below $250. These products also offer brilliant image quality, additional video capabilities and wide-angle image options.
Capture incredible photos with these cheap cameras for under $250.
Top Budget Travel Cameras Under $250
Nikon Coolpix S01
This attractive silver Nikon COOLPIX S01 camera comes with a handy automatic function allowing you to take top-quality action snaps in all conditions. This point and shoot camera uses a 10.1mp CCD sensor and EXPEED C2 image processor to give fast and impressive photography results every time and the 3X optical zoom ensures that all photos are in focus, so blurry photos will be a thing of the past.
This popular Nikon camera design features a stylish 2.5 inch touchscreen that will match the capabilities of every smartphone and tablet. There is an internal 7.3GB memory included and the 720p video function means that you can also record footage by video too. This wonderful compact Nikon is the perfect size to fit in all pockets and bags, and with a long battery life, you can rely on your budget zoom camera when on your travels.
Pros
2.5 inch Touchscreen
3X optical zoom with NIKKOR glass lens
Built-in 7.3 GB memory
Automatic mode selection
Cons
Sells out quickly
More up to date models are available
Sony Cyber Shot DSC-W830
This 20.1 mp Sony CyberShot is a best buy compact camera and accessory set, with SD card that makes the perfect family camera for photographers of every level. The 2.7 inch LCD screen makes it easy to take and review images, and the additional built-in creative effects can be used to give every image the professional finish. Beginner photographers will also enjoy the optical steady shot image function and professional-grade Carl Zeiss lens that this high-quality camera features.
In addition to the brilliant photography tips and settings that the Sony features, you will also love shooting movies with the video feature. All people will love using this camera to capture plenty of photos, and the price tag is appealing to all.
Pros
8x Optical Zoom
Optical Image Stabilization
High video resolution
Additional built-in creative effects
Cons
Comes with an accessory bundle with memory card included
More premium models are available
Canon PowerShot Elph 180
If you're looking for a camera that focuses on image quality and is great value for money then this Canon PowerShot is a fabulous model from the popular Canon range. The 8x optical zoom range that this camera features will ensure that every photo has a professional result but can easily be captured by a beginner. The smartAUTO feature ensures that images can be taken in all lighting conditions, including low light and at night.
This compact Canon camera is perfect for taking on your travels with its 20mp CCD sensor and DIGIC 4+ image processor that this Canon PowerShot features. Never worry again about shaky or blurred images with the Digital IS function and image stabilizer as this is one of the best cameras for beginners to start with that is great value for money.
Pros
Digital IS to reduce subject and camera movement
Smart autofocus system
Image stabilization function
720p full HD video feature
Cons
Limited color options
Could have more pictures in the description
FAQS
Which is the best camera under $200?
There is a surprising amount of choice when looking at cameras that are available to buy for less than $200, but how do you know which one is best? The best cameras often include these features:
Light-weight and compact so is easy to carry in your bag
Optical zoom lens in preference to a digital zoom
Automatic features, such as autofocus, for great performance
A flash suitable for low light photography
LCD display screen with a high resolution, possibly even featuring a touch screen
Continuous shooting mode
Video mode for shooting a video movie
Wi Fi and nfc connectivity
Long battery life
Whichever camera you decide to buy, you should make sure that has the technology that you require, so that you can get long-lasting use from your new digital action camera.
What is the best point and shoot camera under $200?
Regardless of your photography level, everyone needs to own a point and shoot camera that can take quick, good quality photos. These easy to use cameras are a must-buy option for beginner level photographers, as the automatic features will allow the camera to adjust its settings itself, in response to the type of photo being taken. As your experience grows and your ability to take photos improves, your camera will grow with you and allow you to experiment with a number of settings.
Some cameras will have the option to switch to manual function control, allowing an experienced photographer to override the automatic settings and snap the perfect photograph. The functions that these cameras offer ensure that they beat the quality of even the best smartphones. You will never grow out of your reliable travel camera that can be taken on all of your adventures.