Doting dog owners are a special breed. And Samoyed owners are especially besotted with their fluffy pups. I should know, because I became a besotted Sammy owner myself. Like many a Samoyed owner before me, I plan my days around my Samoyed's play dates, almost never go on vacation without her, and my floof has more accessories than Coco Chanel – who, of course, my Samoyed is named for.
Of course, when any occasion rolls around to celebrate such a doting dog mom or dog dad, the best gifts are obviously something involving their special pup. And since I now own an array of Samoyed themed things, I've picked through the best Samoyed themed gifts out there. From the personalized to the practical, these gifts for Samoyed lovers are pawsitively perfect. Even better, my selection comes straight from an independent sellers on Etsy, so shopping my Samoyed gift guide means you can also feel good about supporting small businesses.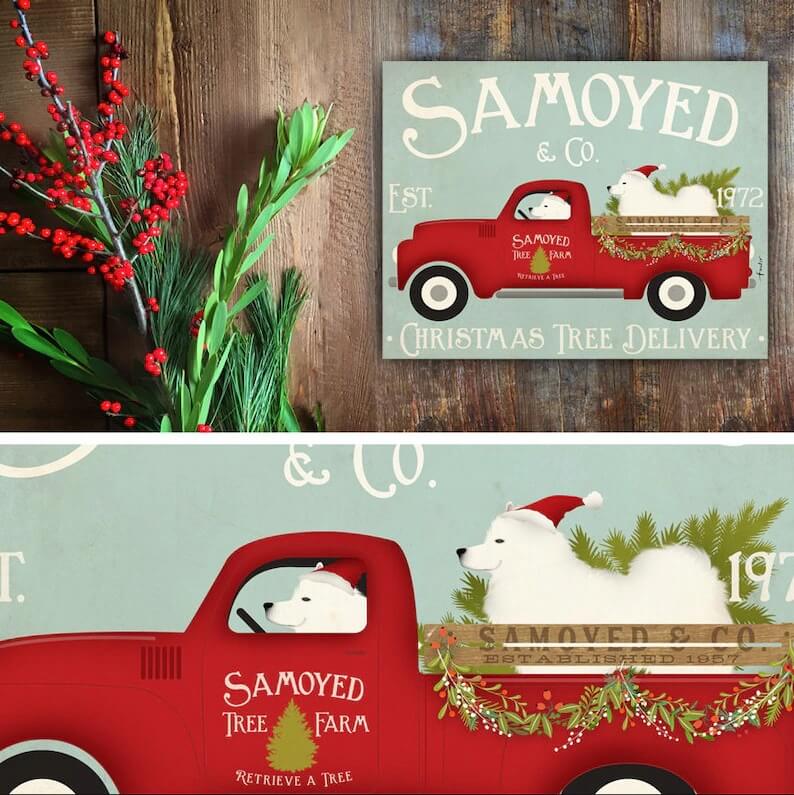 Samoyed Art
This adorable illustration featuring two Samoyeds in a vintage red truck hauling a Christmas tree back from the Christmas tree farm by Gemini Studio Art will be on any Samoyed lover's holiday wish list. The illustration is available as either a canvas affixed to a wooden panel or a gallery wrapped canvas, and it comes in a variety of sizes.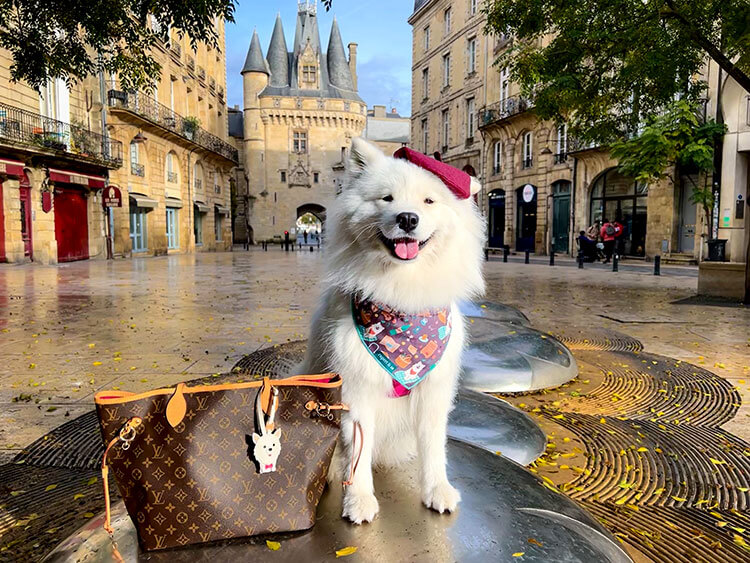 Samoyed Leather Bag Charm or Key Chain
An adorable handcrafted cowhide leather Samoyed bag charm (also available as a leather Samoyed key chain) is the perfect way to personalize any handbag. The Leather Prince can customize any order to look like your dog and will even add a cute little name tag if you like.
Samoyed Bracelet
Wear your Samoyed always – and I don't mean the hair they usually leave on you! This beautiful sterling silver Samoyed bracelet available either with a cord or with sterling silver by Manu 24 will be sure to delight any Samoyed dog mom.
Custom Samoyed Watercolor Pet Portrait
Any obsessed Samoyed pawrent will want a custom watercolor pet portrait to add to their collection and to forever remember their beloved Samoyed. Created by the artist from photos you submit and your description, this painted watercolor by Abstract Pets is completely customized to look like your pet. You receive a proof to approve before your watercolor is finalized, so you can be sure to be happy with the artwork.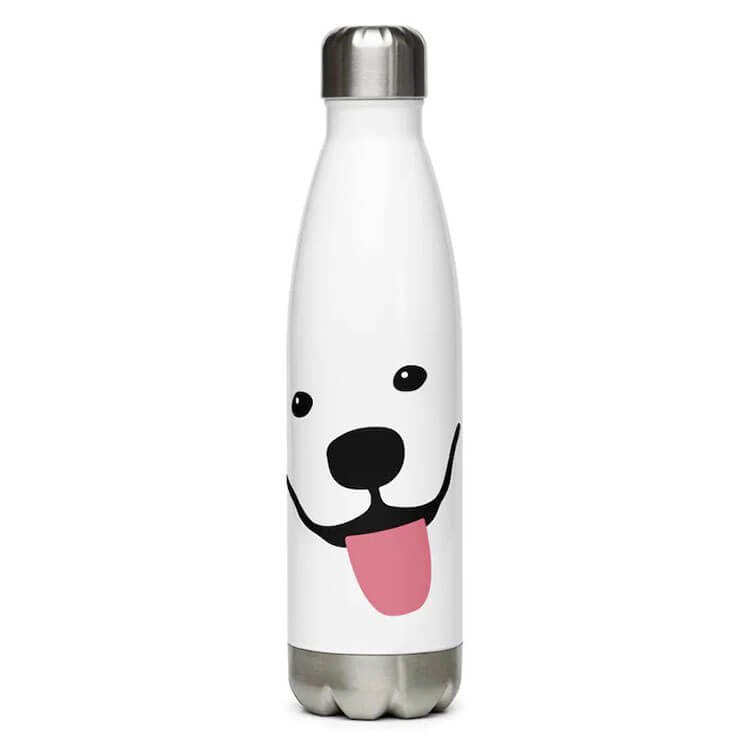 Stainless Steel Samoyed Water Bottle
Samoyeds are sure to make any dog lover smile, and this smiling Samoyed water bottle will keep any Samoyed lover smiling any time they reach for it. Keep drinks hot or cold for up to 6 hours in this adorable Samoyed double-walled 17 ounce stainless steel water bottle by UpwardPup.
Ugly Sweater Samoyed Christmas T-Shirt
Any graphic t-shirt loving hooman like my husband will absolutely love this too-cute-to-be-an-ugly-sweater Samoyed Christmas t-shirt by Lucky Snout. I'd say this is my husband's most-worn t-shirt during the holiday season.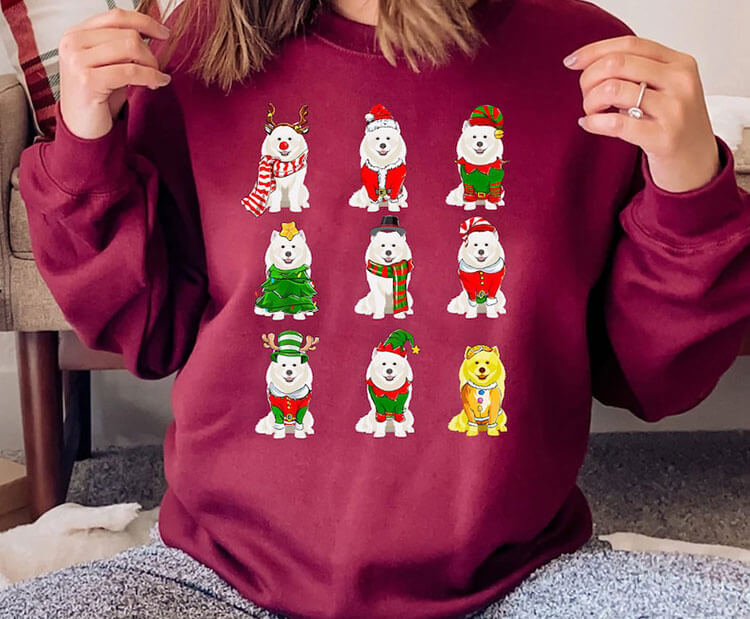 Samoyeds of Christmas Sweatshirt
Cozy up in this super cute sweatshirt (also available as a unisex t-shirt) featuring nine Samoyeds dressed up in their howliday finest by JeonggCChangmin. It's available in a variety of colors. Any Samoyed lover will want to wear this shirt for the entire festive season.
Samoyed Socks
A pawfect stocking-stuffer, these Samoyed socks by The Breed Boutique will keep hooman feet toasty warm while our Samoyed freeze us out in the winter. The socks come in either purple or grey, and are sure to make any Samoyed lover smile.
Samoyed Cookie Cutter
Make either cookies for the hoomans or home made dog treats with this smiling Samoyed face cookie cutter from Dolce 3D Cookie Cutters. It comes in several sizes, and you can select from the set with cutter and embosser or just cutter or embosser. The Samoyed face is always a hit with home made treats we've shared with Coco's friends.
Samoyed Rolling Pin
Easily create adorable Samoyed decorative cookies with this Samoyed rolling pin by Artdog Kitchen. Featuring a Samoyed silhouette, paw prints and a heart with the word 'Samoyed' in it, any baker will love baking cookies with this fun design rolling pin.
This article contains affiliate links. When you shop on Etsy through our affiliate sites, we earn a small commission at no additional cost to you.