Whether you're a professional scuba diver or a hobbyist, an underwater camera can change your whole experience. Choosing one with excellent performance with a high quality lens, however, can be a task in itself. We've gathered the top under water cameras based on photo quality, video quality, wet lenses and more. Discover the best underwater cameras below in our reviews.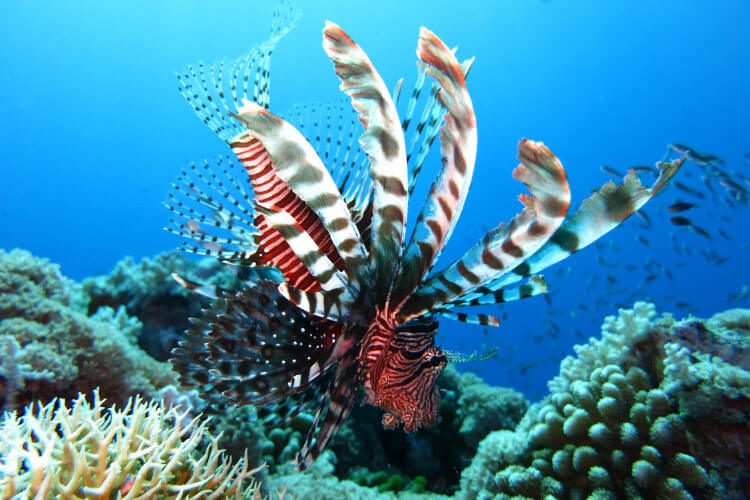 Choosing an Underwater Camera
There are several factors to look for in cameras for underwater. We've put together some handy buying tips to ensure you find one that provides excellent images.
Size and Weight
The size and weight of your camera is an important factor to consider. For diving needs, you'll want a compact camera that is under 50 lbs where possible to avoid adding further weight to your equipment. Most cameras offer a light weight option including the Olympus TG.
Controls
While manual controls are recommended for mirrorless cameras and models that will support a macro lens, you should look for simple handling when choosing your new camera for underwater photography. If you're a beginner, a point and shoot model will be ideal as the best compact camera to take with you when diving. Compact cameras offer a good zoom range with an auto focus system.
Image Quality
Image quality is greatly determined by the type of sensor and lens. In general, you'll need a model that has a cmos sensor to ensure a higher quality photo.
Budget
For most of us, budget needs to be considered and it's one thing going on holiday and another buying a top of the range camera for taking on holiday. There are some great options on BestBudget for a cheaper camera, but for those of you looking for a wide range check out Amazon.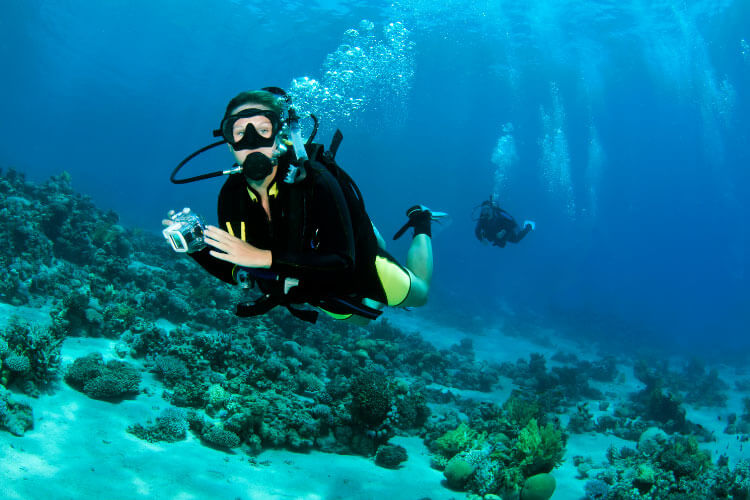 Top 3 Best Underwater Cameras for Scuba Diving
Below you'll find our pick of the top rated underwater cameras options for diving, all of which range in price but deliver high photo quality.
1. GoPro Hero 5
First up is the GoPro Hero 5 which is firm favorite among divers. Renowned for its hard camera body and premium shooting capabilities, they are ideal for beginner underwater photographers. You will be able to auto focus and photograph in 4k with minimal effort making it a solid dive camera choice.
It offers up to 30 frames per second and boasts an ultra full frame wide angle lens. The battery life offered is also pretty good too, and we particularly appreciate the stabilization.
Pros
Offers 30 frames per second for exceptional image capturing
Wifi and Bluetooth connectivity
Cons
Requires housing for better depth rating
2. Olympus Tough TG-5
Delivering great image quality, at an affordable price, and ideal for beginners, the Olympus Tough TG-5 is a gadget you'll want to take underwater. With a robust build, it offers a range of shooting modes including wide angle view. The camera is freeze proof, shockproof, and can be used at depths of up to 50ft still capturing full HD.
A powerful image processor delivers high speed photos in all conditions and the white balance makes it good for low light too. This is one of the best dive cameras at a budget price delivering impressive specs with a 4x zoom.
Pros
Extremely durable cam with a freeze proof guarantee
Offers stunning HD photography at great budget price
Cons
Menus are a bit difficult to navigate as you'll need to practice
3. SeaLife DC2000
Our final pick is the SeaLife DC2000 which also comes at a very reasonable cost. With a wide angle lens, you can capture fully detailed photos in still or moving format. The different shooting modes with the SeaLife micro camera allow you to use it as an action camera and for video capture at 60 fps.
Overall the cam looks attractive too with a black and red body that won't weigh you down. With a quality 20MP image sensor size, this SeaLife model really is a top device.
Pros
Ideal for taking photos of fish due to illumination settings
Cons
Autofocus can be a bit hit and miss
FAQS
Still wondering which is the best dive camera for you? We've answered some of the most popular FAQs for you.
What camera is best for underwater photography?
Both the Olympus models and Sony rx100 make are renowned as quality models with great image stabilization. You will benefit from 4k video, good white balance, fantastic low light levels, and slow motion recording too. The zoom lens on each will provide excellent image quality with a brilliant field of view.
What is the best GoPro camera for scuba diving?
The GoPro Hero5 is one of our favorite compact cameras you can find for underwater 4k video filming and photography. The white balance levels are very impressive given this smaller camera's size and you can use it without a housing body too. With various shooting modes, you'll love just how easy the camera is to use and it comes with axis image stabilization minimizing the need for manual controls.
What is the best cheap underwater camera?
The best cheap underwater action camera is the SeaLife DC2000, which offers superb photography capabilities in a compact model. A durable body and video lights mean you'll not have to worry about lighting, even in darker conditions. The SeaLife micro lens is incredibly powerful and this camera has a shutter speed of 60 fps. It's a fantastic dive camera for anybody who may be looking to spend less.
Can GoPro be used for scuba diving?
Some GoPro compact cameras can be used for scuba diving in different locations while others are not suitable. In general, a camera will require an underwater housing. The great thing about the GoPro camera system is how easy it is to use. The GoPro 4, 5 and 6 can all be used underwater due to their shock proof design and that they are specifically designed as action cameras.