Searching for the perfect gift for hiking, backpacking, camping this holiday season? All of our suggestions for the best gifts for hikers have been personally trail tested by us. Using the top gear for backpacking, camping, hiking and getting outdoors is important to us so we can cover more miles on the trail and camp in comfort. We're positive our picks won't leave even the most hardcore backpackers disappointed. Any of these gifts for backpackers is sure to put a smile on the outdoor lover in your life's face and leave them daydreaming of their next trail trip.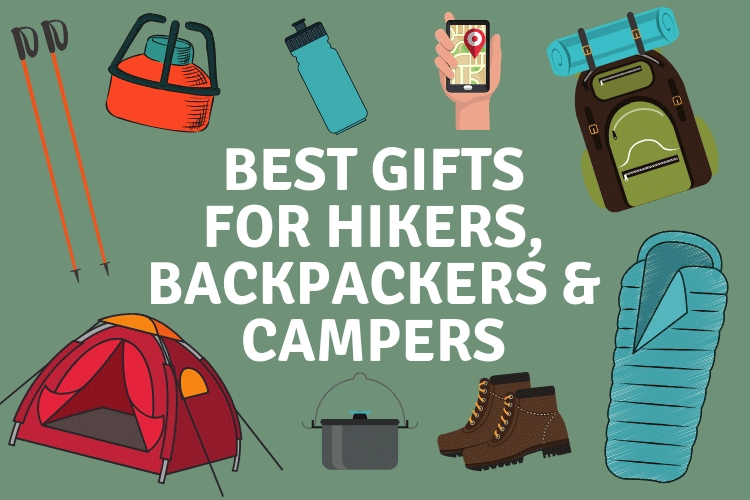 Hiking Gift Ideas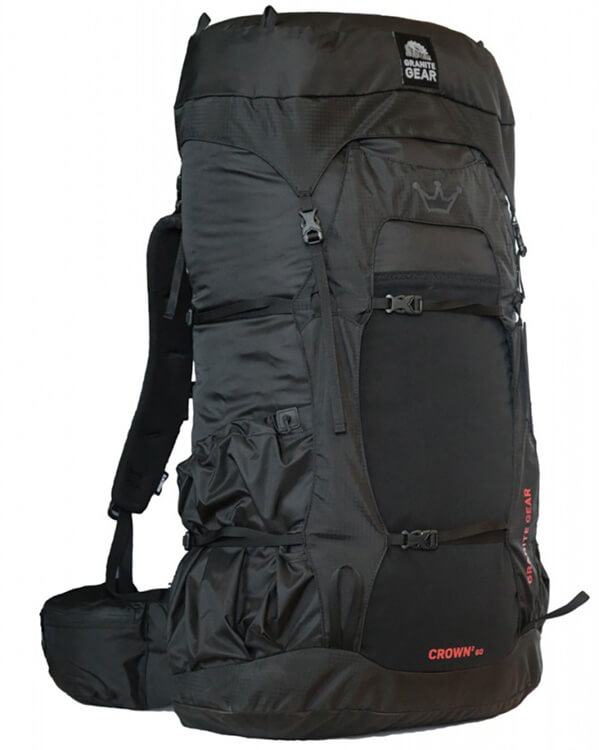 Every outdoor enthusiast planning to hit the trail needs a good backpack, making this one of the best gifts for campers and hikers. The Granite Gear Crown 2 60 is a great fitting pack that will make you forget it's even back there.
Granite Gear packs have long been favorites for backpackers and thru-hikers. The Crown 2 60 will carry loads up to 35 lbs without leaving your shoulders tired. The large side pockets are great for water bottles or nalgenes. The back has a large mesh pocket to easily stuff a fleece or your rain gear. I even stuffed my tent back there one day after I broke down camp in the rain. One of the best features of the Crown 2 is the adjustable hipbelt. It has velco hidden in the back panel that allows you to adjust the pocket padding for a perfect fit. I used the Crown 2 for about 60 days this year and it still looks and performs like new.
WEIGHT: 2.2 lbs with lid
The Nemo Hornet 2P is the one the most popular lightweight backpacking tents. While I like to have room for all my gear inside the tent the 2P is a large one person tent for me. But at a little over 2 pounds it's lighter than most solo tents out there. With two doors and two vestibules you do have room for 2 people with your packs in the vestibules.
WEIGHT: 2 lbs 6 oz

Western Mountaineering has been the gold standard for sleeping bags for decades. You wont find a better rating to weight ratio out there. The Western Mountaineering SummerLite Sleeping Bag weighs in at 19 ounces and is filled with 850 fill power goose down giving it 4 inches of loft.
I'll be the first to admit I didn't know anything about fill power or down sourcing when I first started out hiking. Thankfully the nice folks at Western Mountaineering care about ethical down sourcing. Their down is all gathered from adult geese when they molt their coats. So no geese are harmed and no live plucking takes places either. When shopping for a new sleeping bag, please research where your down is coming from.
WEIGHT: 1 lbs 3 oz
No matter how good your sleeping bag is, you need to pair it with a quality sleeping pad. The Nemo Tensor Insulated Sleeping Pad has 3 inches of padding and is good down to 10-20F degrees. It will keep you warm and comfortable. It also packs down to the size of an Nalgene bottle at only 8 x 3 inches. The included vortex pump sack makes inflating it a breeze. You no longer need to get out of breath blowing up the pad and introducing moisture into the pad.
WEIGHT: 18 oz
I've never been fond of sleeping against a plastic feeling sleeping pad. Once I discovered how much of a difference sliding into a sleeping bag liner makes, I was shocked. The Sea to Summit Thermolite Reactor is said to add up to 14 degrees in heat, but I prefer it just to make me feel like I'm at home covered with a comfortable sheet.
If its warm outside, I just slide the Thermolite Reactor over my sleeping pad so it's almost like a fitted sheet. Give it a shot. You definitely won't be disappointed.
WEIGHT: 8 oz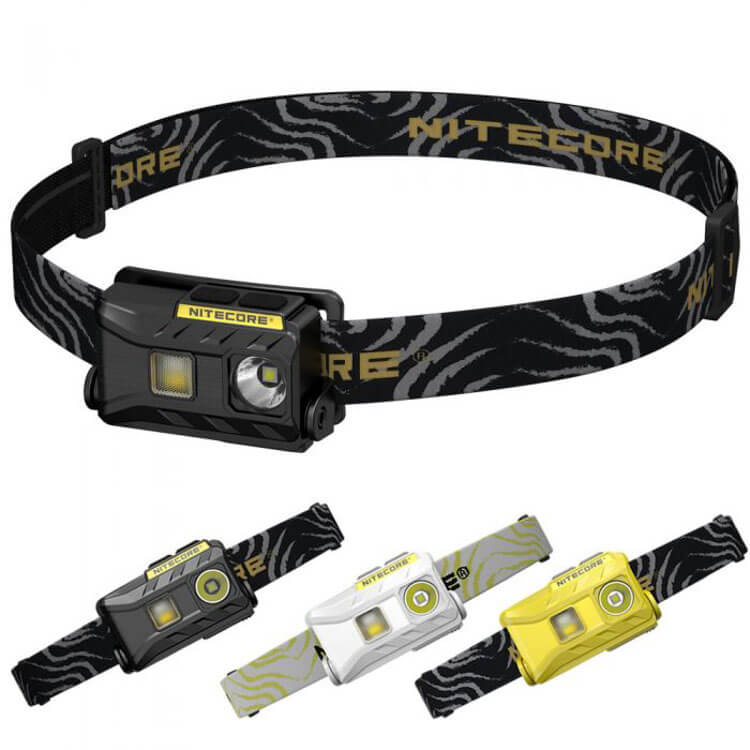 One item I never hike or backpack without is a headlamp. You never know when you're day hike may run late or your car gets a flat at night and you need to change a tire. A headlamp makes a great stocking stuffer and is one of the gifts for hikers and climbers that you just can't go wrong with.
While I only got my Nitecore NU25 360 Lumen Headlamp this year, it has already become a favorite for me. With 360 lumen of lighting power on max mode it brightens up any trail or obstacle you face. My favorite part about the Nitecore NU25 is it's built-in rechargeable battery. It plugs into a standard micro USB cord so can be recharged from any USB port. The NU 25 weights in at just 1 oz and the battery will last for 5 hours on high. It even has a red light mode so you can move around at night without ruining your night vision or disturbing everyone around you.
If 360 lumen just isn't enough for you, consider the big brother Nitecore NU32 which packs 550 lumen of power. I like this one to use on my helmet while mountain biking on trails. The NU32 is also rechargeable and has a larger battery pack than the NU25.
WEIGHT: 1 oz – no that isn't a typo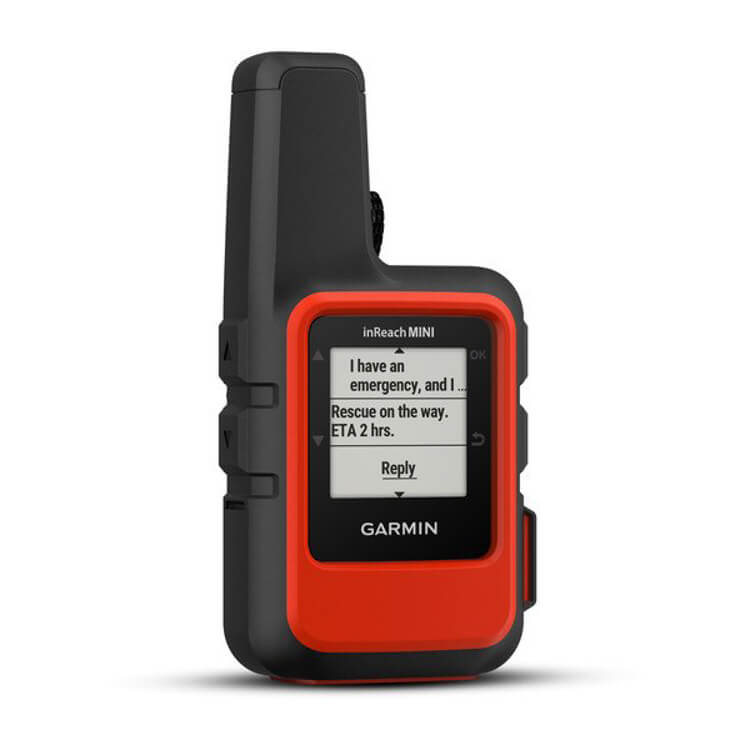 The Garmin inReach Mini combines the functions of both a GPS and a Emergency Satellite Messenger. One of the best gadgets for hikers out there, it enables you to use the unit as a regular GPS and load maps and mark waypoints and tracks. But even more importantly, it can also be used to send emergency SOS messages. Before the Garmin inReach Mini, you would've needed multiple devices in order to do all this.
Another great feature of the Garmin inReach Mini is that you're able to send text messages to friends and family along the way, even when you may be far removed from cell phone coverage. I really enjoyed this feature while hiking the remote Arizona Trail this year. A feature my family enjoys is they can follow along on the status of my trip online to see exactly where I'm at. It pairs effortlessly to your smartphone with the Garmin Earthmate app, making test messaging or reviewing the map a breeze. With month-to-month plans or a yearly subscription, Garmin has made peace of mind affordable.
MONTHLY PLAN: $14.95 (basic SOS)
WEIGHT: 3.5 oz
BATTERY LIFE: 90 hours
Jetboil has been making ultralight camping stoves for decades and the Jetboil Stash is there newest and lightest stove system yet. Weighing in at only 7.1 ounces for the complete kit there isn't anything out there that can compare. It will boil water in an astonishingly fast 2.5 minutes. The system nests neatly down to a compact 4.4 X 5.1 inches, with a small fuel canister and the stove inside the pot.
If you're like me and you like to keep your backcountry meals simple the Jetboil Stash is for you. Its the perfect ultralight stove system for backpacking.
WEIGHT: 7 oz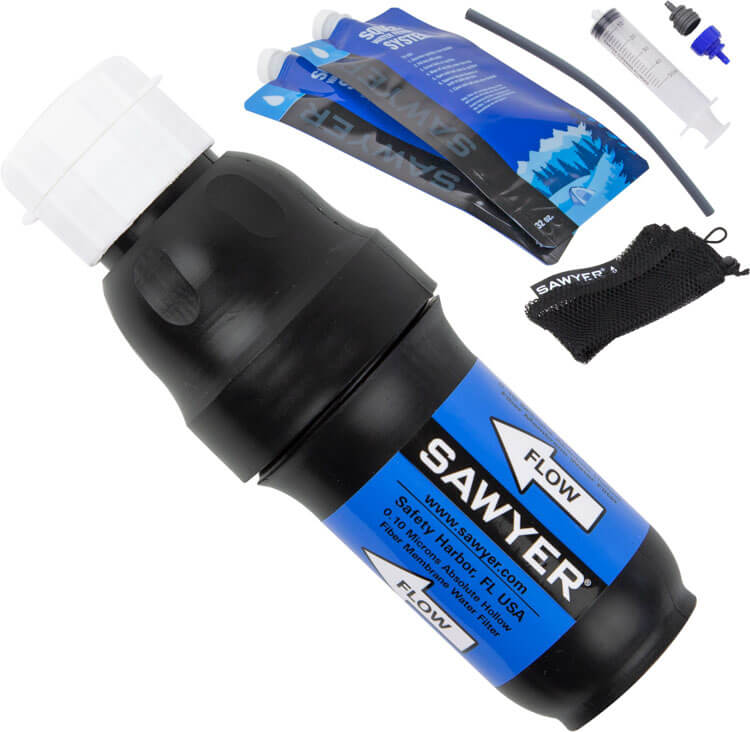 I spent much of my time camping in the American Southwest, and finding a good water source was always an issue. I spent a few year away from hiking and kept seeing the Sawyer Squeeze water filter come up on every best water filter list I'd seen. I'll admit I was skeptical that a tiny 3 ounce water filter could even compare to the 1 pount MSR filter I used to carry around. I picked up a Sawyer Squeeze for my thru-hike on the Arizona Trail this year. I couldn't believe how well it worked.
With a small piece of string it's easy to make a gravity system for it as well. So I would fill up the bag, hang it on a tree and have my lunch. Within minutes I'd be ready to top off my water containers and be back on the trail. I didn't find the included bags that come with the Sawyer filter very useful. But if you cut on in half it makes the perfect filter scoop to help fill up your dirty bag when there isn't enough flow or its a difficult to reach spot. I found the Evernew 2 liter water bags a perfect fit for the Sawyer as the threads match up.
When backpacking in Grand Canyon National Park and filtering water daily out of the Colorado River, which is usually muddy and very sediment filled you will want to use a collapsible bucket with it to allow the sediment to settle before filtering. The only downfall with most filters is once the temperatures get below freezing, they become nearly unusable. For this I'd consider switching to a purifier like the SteriPen.
WEIGHT: 3 oz
I used to see people hiking with trekking poles and thought I would never be one of them. Then I used them and haven't put them down since. I have hiked thousands of miles using trekking poles and Leki poles always have lasted the longest for me. I'm currently using the Leki Micro Vario Trekking Poles. I choose these over the carbon version as I'm pretty hard on gear and carbon poles have been known to splinter with heavy use.
My favorite feature about them is that the can be quickly disassembled down to 15 inches. This lets me pack them up and strap them to my pack for climbs and break them out again for the hike back. They are also the best trekking poles for packing in my luggage, so I can still bring my favorite gear with me instead of renting some once I get to my hiking destination.
WEIGHT: 17 oz (pair)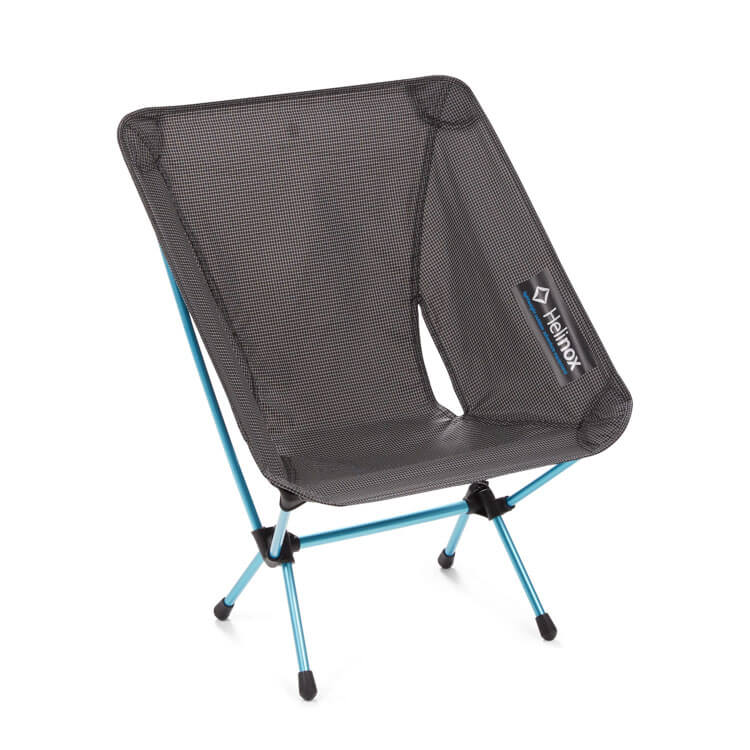 Everybody laughed at me when I said I was bringing a camping chair on my Arizona trail thru-hike. But the Helinox Chair Zero was a life saver for me. It sets up about 20 seconds. Being able to get off my feet and throw my feet up on my pack while leaning back was just a relief. Every person who passed me on the trail while I was taking a break was envious of my chair. I couldn't believe how durable it is as well. It supported to my 225 pound body just fine. The only downfall if you can call it one is that it is so light. If you leave it unattended it will try and blow away in the breeze.
WEIGHT: 1 lb 2 oz
Hiking Gift Ideas Under $25
Are you tired of needing to remove your gloves to get your touchscreen to work? Then look no further than the Achious Winter Knit Touchscreen Gloves. They will keep your hands warm on those cold mornings and also feature non-slip palms so you're not dropping that new iPhone you just got.
One of the best gifts for hikes under $25 is the Light My Fire Titanium Spork is perfect solution to cutting ounces and replaces the need for a fork, knife and spoon. The polished ends leave no metallic taste and the textured middle section allows you to easily grip it.
WEIGHT: .7 oz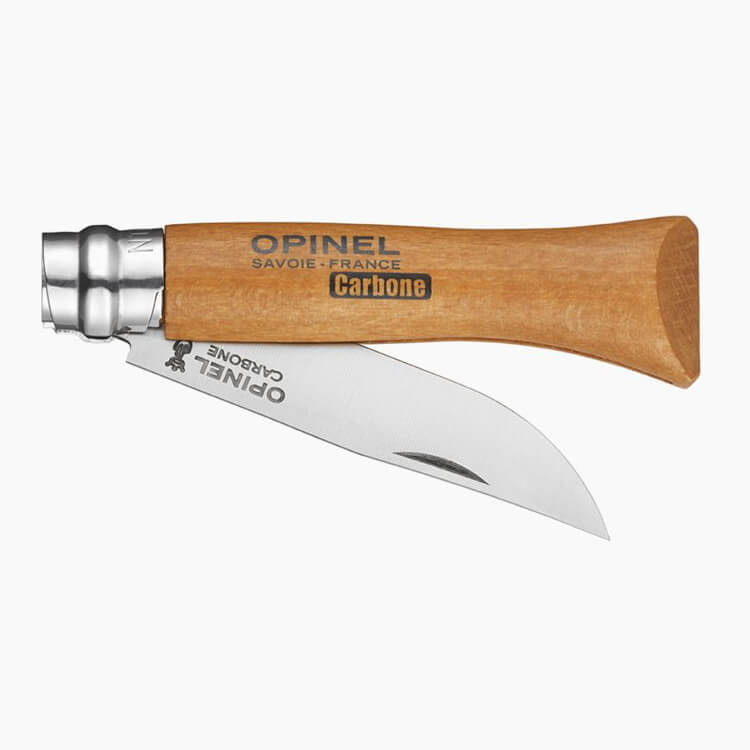 I never go hiking without some type of knife. Usually it's to cut some cheese or a salami for a snack, but they have countless other uses as well. The Opinel No 6 knife is their smallest model that includes the locking Virobloc safety ring. With a 2.8″ blade its large enough to be useful and weighs in at scant 1.2 oz, it's hard to go wrong with the simple design that has remained nearly the same since 1890.
One of the best camping gift ideas for couples is a portable reusable foldable wine bag. The average wine bottle weighs 14 ounces itself, bringing the total weight of a bottle of wine to 2.75 pounds. These reusable wine bags are perfect for saving weight on a hike where you might want to add a little romance at the end of the day.
You can even take it places like parks that don't allow glass. It also comes with a collapsible funnel to make pouring easy your bottle of wine in to the bag easy.
WEIGHT: 3 oz
A subject nobody like to discuss is keeping clean on the trail. Using a portable bidet like the CuloClean Portable Bidet is a great way to keep yourself clean and minimize impact on the environment. It screws onto a normal water bottle and you really only end up using a few ounces of water. This will enable you to reduce the amount of toilet paper you use and keep yourself much cleaner on the trail.
WEIGHT: .4 oz

This article contains affiliate links. When you purchase anything on Amazon through our affiliate site, we earn a small commission at no additional cost to you.