It's that time of the year when the holidays are upon us and many of us are searching for the perfect gift. We don't know about you, but it has gotten infinitely harder each year when our families ask for our Christmas list. These days we often ask for what might be considered some pretty boring things. But instead of just asking for stuff to make a list, we ask for stuff we actually need and use – particularly when it comes to travel since our lives pretty much center around travel. Who better to know all the best travel gear out there than two people that travel for a living? If you're looking for ideas for the best gifts for travelers, we've put together this gift guide of the things we actually use and truly love.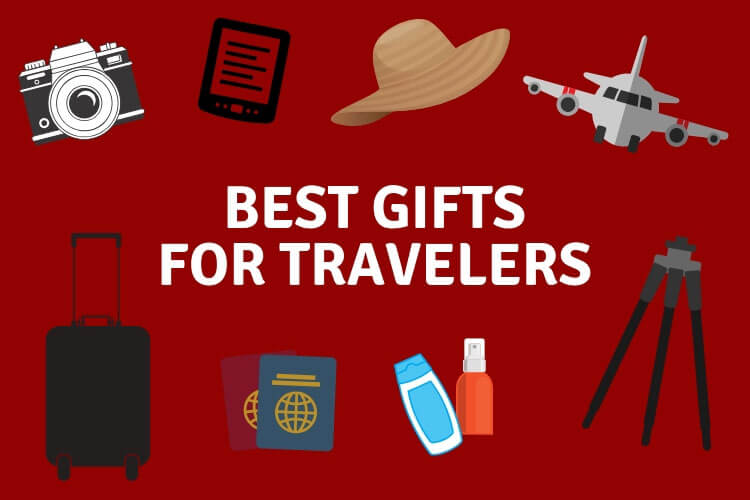 Travel Essentials Travelers Will Actually Use
We actually don't have a ton of travel gear and gadgets that we consider true travel essentials. Investing in a quality suitcase that's long lasting will save you money in the long run from all the cheap, crappy suitcases that inevitably break. And a few things like refillable travel bottles and shoe bags make packing easier. Here's our own travel-tested gear, most of which we've owned for 5 years or more and can confidently say is worth the price.
We've flown more than 100,000 miles every year for the last couple of years. To stay we're hard on luggage is an understatement. And even though we opt for a 21-inch carry-on sized bag, it almost always gets checked since we carry on our backpack with camera gear and electronics.
The Ricardo Beverly Hills Ocean Drive is the best piece of luggage we've ever owned. The dual-wheel spinner system means it easily pushes even when we're pushing it over the cobblestones. I've often joked that I push it with one finger just because I can. The brushed silver has also remained attractive looking despite being tossed on to countless baggage belts and I never have to be embarrassed when checking in to the luxury hotels we often stay at. It's also expandable and I can get a surprising amount inside, traveling with just this bag for up to 3 weeks at a time.
I'm a Ricardo customer for life after being introduced to this bag nearly four years ago.
I am not joking when I say that I purchased my very set of Cool Gear Go-Gear silicone travel bottles in 2007 and have been using that exact set ever since. These things hold up and I have never, ever had them leak.
I also love that I just fill them up with my own usual products right at home. I don't have to look for travel size or collect samples. And not constantly buying all those travel size shampoos and stuff is better for the environment.
I've basically had problem skin my entire life. I was plagued by acne in my early teens, and have had super oily skin with red undertones for more than three decades. And traveling as much as I do, I'd still have breakouts especially when away from home. I've tried just about everything. At first I was skeptical because of the price, but finally the facial cleansing brush FOREO LUNA has been the thing that's a game changer for me.
I don't go anywhere without my FOREO LUNA Mini – not even an overnight at a friend's house. I've been using it for almost a year now, and breakouts are now extremely rare for me. My face gets the deep cleansing my large pores really need with the LUNA Mini's t-sonic pulsations that clean deep below the skin's surface. And it's basically like getting a twice daily facial that feels really relaxing while cleansing my face in the morning and evening.
The mini is perfect for travel, too. It holds a charge for at least 10 days of twice daily use. And the USB charger is small enough that I can just pop it in the pouch along with my FOREO LUNA Mini for longer trips.
Perfect for travel (and everyday really), I know don't know how I ever functioned without a cross-body iPhone case before. Stylish and multi-functional, the BANDOLIER iPhone case comes in a variety of colors and in both leather and vegan leather.
I have the SARAH in black pebble leather with the gold pyramid studded matching black pebble leather strap. The phone case has a compartment on the black that can hold a few credit cards and your identification, and is secured with a snap. It's perfect so I can always keep my identity card on me, which is a requirement here in Europe. And I also keep a credit card for those times I'm walking Coco the Traveling Samoyed and spot something window shopping.
The phone strap can easily be detached for those times you don't want to wear it as a cross-body bag.
You might start to notice a pattern. When we find great travel gear that's long lasting, we stick with it. We picked up our FosPower Power Active Portable Charger before we traveled Oman and it's still going strong.
Of all the power banks we've tried, this one is by far our favorite. It has one 2.1A output, which is a fast charge and will fully charge up our iPhone 11 Pro in just 1 hour. It's 10200mAh, , which will charge up an iPhone 11 Pro two full charges. It's waterproof, dirt proof, extremely durable and even has a built-in flashlight that can come in handy.
And check out the other travel power bank chargers that we recommend for suggestions for the best outdoor adventure power bank to a lipstick-sized one you can stash in a clutch bag for an evening out.
Did you know that a small tear or a stain can make your passport invalid? And what actually constitutes "damage" can be entirely subjective depending on the passport agent you get and even their mood that day. That's why we make sure we protect our passports.
I love the Lovie Style passport holder, which comes with a slim removable power bank. There are several pockets inside that can hold credit cards, our Priority Pass membership card and things like Oyster Cards and there's slide pockets that hold our passports and some cash. The elastic bands secure our phones from sliding out. The passport wallet entirely zips closed so I don't have to worry about anything falling out of it.
We both travel with at least 2-3 pairs of shoes and shoe bags are essential for keeping our shoes from getting the rest of the things in our suitcase from getting dirty. I actually like these shoe bags best because they are designed for individual shoes. If you've ever played the packing puzzle game, then you probably know that shoes pack better when you arrange them separately as opposed to shoving the pair in a pair and trying to make them fit. These are machine washable too.
My MacBook is rarely left at home, since the work that comes with running a business doesn't ever stop. For years I was annoyed every time I in the security line at the airport. I'd have to entirely pull my laptop sleeve out of my bag to remove the laptop. And I'd think, "why can't someone just make a top zip laptop sleeve to make life a little easier?"
Finally tomtoc did! The tomtoc 15″ Cordura top zip laptop sleeve is my favorite one I've ever owned. It's lightweight, but the military-grade Cordura material is heavy duty. It's got a pocket that I can easily store my MacBook Pro's power cord in and the top zip makes my MacBook easily accessible without entirely pulling the sleeve out of my bag.
Our Camera Gear and Electronics
These items that are all found in our camera and electronics bag are on the higher end of the gift price scale. But if you're looking for something like a new camera or lens that you know your significant other really wants but just won't splurge on for themselves, here's our very own gear we personally use.
I love to read, but I don't have as much time to read these days as I would like. I'm actually pretty terrible at working while traveling. Since it's nearly impossible for me to write or even edit photos on a plane, that's usually my time to lose myself in a book.
I also have to admit that I resisted eBooks for years. But I can burn through a good book on a trip easily, so a Kindle is a lightweight and slim alternative to carrying around a bunch of books. The Paperwhite doesn't have a glare like trying to read on an iPad and the latest version is even waterproof, which makes it even better for taking to the beach.
While we have several cameras, including the Canon EOS 5D Mark IV, the camera that I personally use most often is the Canon EOS 80D Digital SLR. It's lighter weight than the 5D and unless we're shooting night scenes, does mostly what I need it to do. I also love that it has wifi, so I can easily download the photos to my iPhone and share to social media on the go.
If you're ready to take your photography up a notch from beginner, the Canon 80D is a really solid mid-range camera that gives you a lot of manual controls. It's priced well for the significant manual control you get with its functions.
I use the Canon 80D body with a Tamron 16-300mm F/3.5-6.3 Macro Lens most frequently since this lens is capable of shooting in a wide range of conditions. It's a solid all-in-one lens that lets me get away without carrying loads of gear, since I'm usually also carrying a DJI Mavic Pro drone and a DJI Osmo Mobile gimbal stabilizer for shooting video.
If you ask for one piece of camera gear this holiday season, ask for a tripod. A more expensive camera will only help if you actually know how to use all the functions. Honestly, the first thing to invest in when you really start working on your photography is a good tripod. If you're using manual functions, you're best off using a tripod to stabilize and produce clear, crisp images.
We like MeFOTO tripods for several reasons including that they are relatively lightweight without sacrificing the sturdiness in windy conditions and that they pack down to a pretty good travel size.
Travel Inspired Gifts
Every traveler loves travel inspired gifts, like a piece of jewellery that transports them back to their favorite places immediately whenever they put that necklace on. Travel experiences also make excellent gifts for the traveler in your life, and it's usually experiences that Tim and I gift each other.
Tinggly Travel Experience gift boxes are an excellent choice when you want to give the gift of travel, but still let whoever you're shopping for choose their destination or experience. Tinggly gift boxes are also perfect because they can be used anytime from purchase.
The gift box ranges from $89 up to $459 and there are hundreds of experiences that can be used for all over the world. From bucket list experiences like flying in a helicopter over gorgeous Norweigan fjords to thrilling adventures like white water rafting, there's an experience for everyone. You can even buy experience gift boxes for couples, by theme like choosing a hot air balloon ride from around the world, or for multi-day getaways.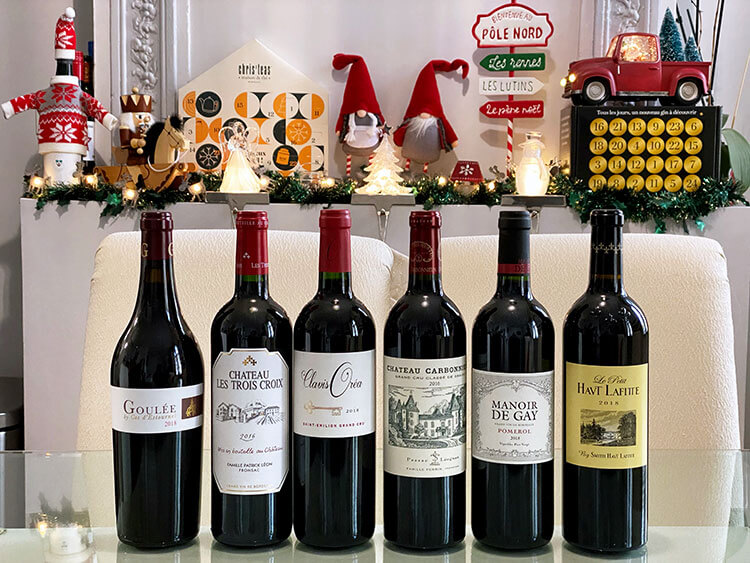 Premium Tasting Case of Wine
From Bordeaux to Napa Valley, oenophiles love traveling to the world's best wine regions. But in a year when travel is difficult or even nearly impossible with ongoing COVID restrictions, 8Wines helps bring these world-class wine regions right to your home with their premium tasting cases.
Each case includes six bottles of 90+ point rated wines selected by the 8Wines team. Choose from cases from wine regions like the Bordeaux Reds we tried, or even select types of wine like the Around the World Rosé tasting case.
Our Bordeaux tasting cases included:
Château Cos d'Estournel Goulee 2018
Château Les Trois Croix Fronsac 2016
Clavis Orea Saint Emilion Grand Cru 2018
Château Carbonnieux 2016
Château Le Gay Manoir De Gay 2018
Château Smith Haut Lafitte Le Petit Haut Lafitte 2018
What we love about this Bordeaux tasting case is that it includes a variety of vintages – 2016 is one of our favorite vintages and was also one of the best vintages of the century – as well as a variety of appellations. The wines selected for this tasting case are top notch with notable names such as Château Cos d'Estournel, one of the 15 second growth châteaux included in the Bordeaux Classification of 1855. The case also included a Fronsac, which is one of our favorite and not so well known Bordeaux appellations.
8Wines Premium Tasting Cases definitely make an excellent gift for any wine lover on your Christmas shopping list.
If you follow us on Instagram Stories, you may have spotted my map necklace lately. It's a custom designed map of our neighborhood in Bordeaux, France. The necklace, which is hand-cut by Talia herself, comes in 24K gold plated or silver plated and in several different lengths.
You can choose any place in the world for your own custom map necklace. It takes about 3-4 weeks to create, so be sure to order in plenty of time if you plan on giving a map necklace for the holidays.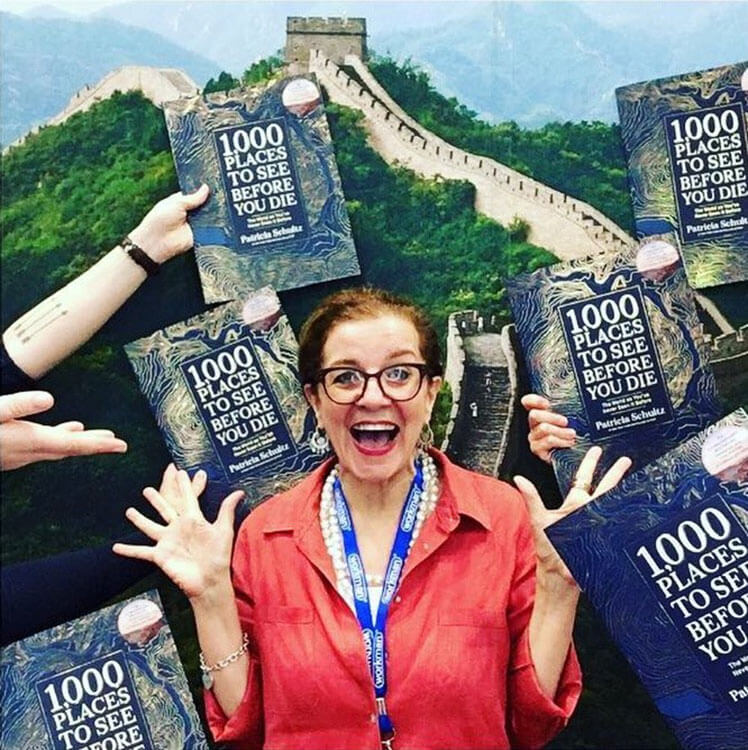 Patricia Shultz is a travel inspiration. We've personally met her through the travel blogging community and her enthusiasm for travel is contagious. Her excitement for the places she's chosen as the most beautiful ones practically leaps off the pages through her words and the stunning photography.
She's traveled the world and how she ever managed to whittle down all the gorgeous places you simply must see on this planet to just 1000 is no small feat. But her book chock full of places for inspiration has been republished as a gorgeous hardcover coffee table book. Any travel enthusiast will love flipping through 1001 Places to See Before You Die while making an ever growing travel bucket list.
Awesome Travel Gifts Designed by Travel Bloggers
Several of our travel blogging colleagues have created their own gear in recent years. We've rounded up the things we love most and are thrilled to introduce you to these creative entrepreneurs.
We Beth and Randy more than five years ago now and I've been a long-time fan of the genius travel scarves they created. The scarves have a hidden pocket where you can stash your valuables. So if you've ever worried about being pick-pocketed (and I know you have from the emails and messages we get asking how to protect again this in busy cities), then this scarf is for you.
Beth hand crafts each and every scarf, so you're guaranteed to get a high-quality scarf hand made and made in the USA. They come in a variety of colors and styles.
Our friend Kirsten Alana is more of a photographer when a travel blogger, and I've long loved following her on assignment and seeing the world through her lens. She's teamed up with Parisian tote bag designer Kasia Dietz to design a line of handbags that help African elephants.
30% of proceeds from sales of the Kenya line of bags will be donated to the Elephant Trust and Wildlife Direct, both organizations that work to aid elephants and help save them from poaching in Kenya and neighboring countries.
I love these totes and I rarely leave the house without a tote bag in addition to my purse. And if my next tote bag can help support a good cause, even better.
Jodi was one of the very first people we met when we came in to this often weird world of travel blogging professionally. Jodi has always been the ultimate foodie, and despite having Celiac disease, this gal knows her food. She created a line of food maps that are inked by artist Ella F. Sanders. If you're a fan of Thailand, Vietnam, Japan, Portugal, Italy or Mexico, these artworks will make a beautiful addition to your home.
You can also get the designs on tshirts and tote bags. I've been waiting for Jodi to design one for France.
Unfortunately, I might be waiting quite a while. Jodi has suffered with a debilitating condition for more than a year now. She had a spinal tap that went very, very wrong and left her with a CSF leak. After months spent flat on her back she finally underwent a series of patching to seal her leak at Duke University and things were looking hopeful again. But she's recently suffered another set back and is leaking again. She's awaiting patching at Duke again, but she's basically been unable to work since this all started. You can read her story on her blog, Legal Nomads.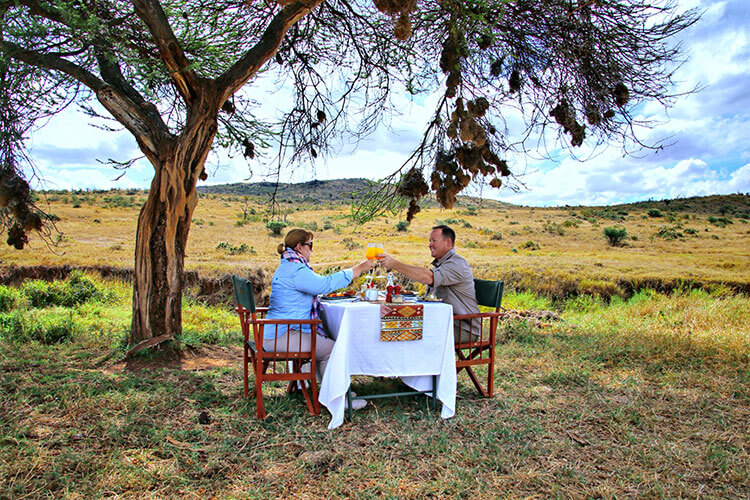 We already mentioned that a quality tripod is one of the best tools to help improve photography. And if you or the traveler in your life really wants to learn how to actually use the manual functions on their camera, taking an online photography course is one of the best ways to do that. Invest a little time and money into improving your photography and stop coming home with photos with a crooked horizon (our personal biggest peeve and the thing that immediately takes a photo from okay to super crappy) and stiff poses in front of attractions photo bombed with loads of others.
The Photo Muse Masterclass is an online photography course taught by Kristin Addis of Be My Travel Muse and the various modules teach you everything from basics like aperture, ISO and shutter speed to in-depth planning for an astro-photography outing so you can capture gorgeous night photos of the Milky Way. She's also basically a goddess when it comes to posing and creating photos worthy of being postcards – something I aspire to feel comfortable enough in front of the camera doing myself.
Tim and I both took Kristin's course (read my Photo Muse Masterclass review) and we're trying to put some of her techniques in to more practice, especially when it comes to getting photos of the both of us together. We recently took her advice in London to do a mini photo shoot with a capable looking stranger, offered to photograph them first and directed how they should pose, then once they had photos they were happy with and had an idea of how to frame us, had them take our photo. Let's just say that the photo above came out way better than basically any other photo we've had other people take of us in at least a year or so.
Enroll in Photo Muse Masterclass for $297
Shop This Post

This article contains affiliate links. When you shop on Amazon through our affiliate site, we earn a small commission at no additional cost to you.