Bruges, or Brugge as it's called in Old Dutch, just so happens to be one of Europe's best preserved medieval cities. And when it comes to dog-friendly Belgium, Bruges also happens to be one of best city breaks to take with your dog. In fact, this dog-loving city boasts over 1.3 million pets registered in Bruges. And for over a decade the famous dog Fidel was a Bruges tourist attraction himself, with visitors flocking from around the world to photograph the pooch perched in his window on a picturesque canal.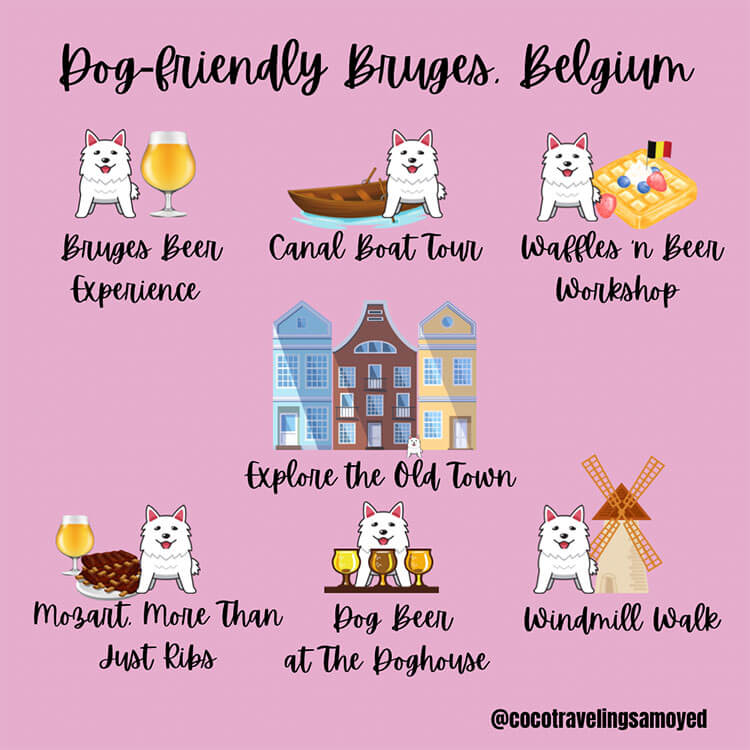 If you're in to delicious beer, tasty food, postcard towns that look like they're straight out of a fairytale, fun museums, green spaces to escape the hustle and bustle AND you want to be able to check it all off in a weekend with your dog in tow, then Bruges is definitely the place! Our guide features everything from all the dog-friendly things to do in Brugge to the best beer drinking spots. We bet you'll be planning your Bruges getaway in no time.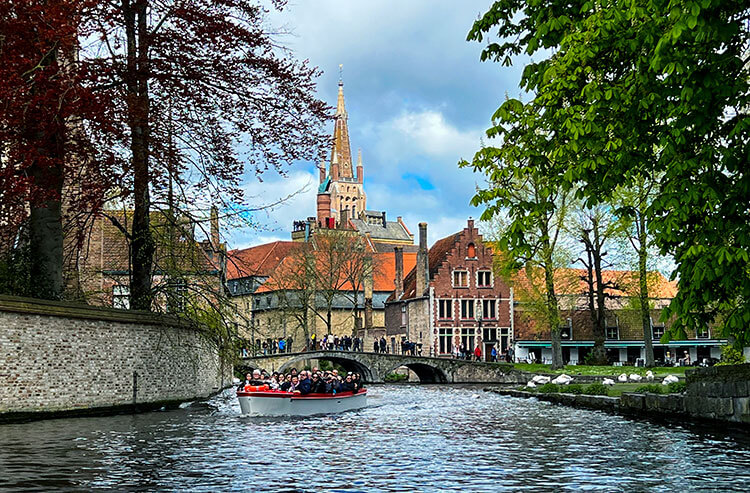 A Dog-Friendly Bruges Canal Boat Tour
Bruges's canals, quite literally the arteries of the city, were once upon a time navigated by ships. Once directly connected with the sea, it's thought the Vikings themselves probably sailed these waterways. With gradual silting, Bruges began to lose its direct access with the sea around 1050. And while the canals still snake through the mostly unchanged medieval center, nowadays the canals are exclusively used for the tourist boats.
Nicknamed the Venice of the North, no trip to Bruges is complete without a canal boat tour through the picturesque medieval town. With few places in Bruges where you can actually stroll along the canals, the best way to truly experience the canals is from a boat on the water. And as an important part of the city's history, the picturesque canals are one of the top Bruges attractions.
Five companies have rights to operate Bruges canal boat tours, and all five companies sail the exact same 30-minute route. But not all boat tours are dog-friendly, nor do all the canal boat companies give a live guided tour.
For a dog-friendly Bruges canal boat tour, head to Boottochten Brugge located at Nieuwstraat 11 near the Church of Our Lady. Advance reservations are only accepted for groups of 20+, so just head to the ticket window, purchase your tickets (dogs are free) and wait in the queue. Like all Bruges canal boat companies, each has four boats and operate rain or shine daily from March to October.
Each boat holds 35-40 passengers and will typically wait for the boat to be full before departing. For the best unobstructed views and for your dog to be most comfortable, we recommend taking a seat at the front closest to the captain.
The trip along Bruges's canals lasts 30 minutes and you'll see some of the most iconic sights between Jan van Eyck Square and the Beguinage while learning about the history of Bruges. The boat captains speak several languages and will offer the explanations in multiple languages depending on the nationality of the passengers onboard. Our captain even told jokes and stories, making the experience truly enjoyable.
Boottochten Brugge, Nieuwstraat 11. Open March 1 – October 31 from 9am – 5pm. Reservations not accepted. Cash or credit card accepted. Dog-friendly.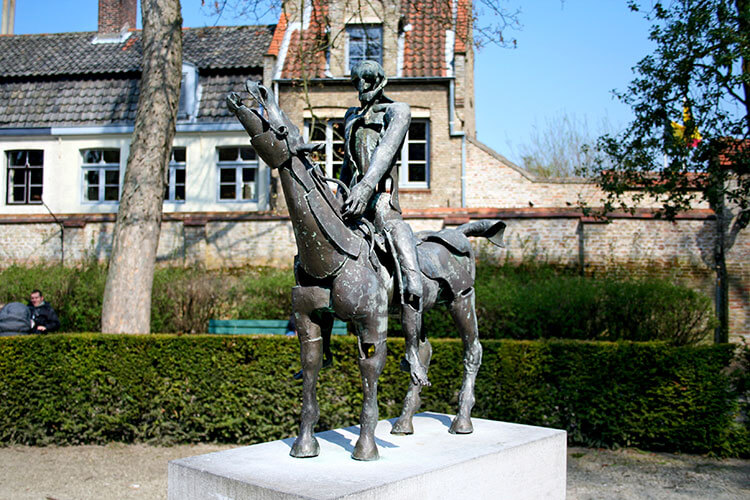 De Vier Ruiters van de Apocalyps (The Four Horsemen of the Apocalypse)
After a Bruges canal boat tour with Boottochten Brugge, head right across the Gruuthusebrg bridge to the Arentshof. It's a gated courtyard that is very easy to miss, but that's half of what makes it such a great spot.
The De Vier Ruiters van de Apocalyps (The Four Horsemen of the Apocalypse) are located in the Arentshof and are one of the lesser known things to see in Bruges. The group of bronze sculptures are by the sculptor Rik Poot. And though none of the sculptures themselves are labeled, studying each gives away which represents Revolution, War (the most obvious since the horseman is holding a sword), Hunger (you can see the visible ribs) and Death.
This quiet square is also a nice, enclosed spot to play a quick game of fetch so long as it isn't very busy. Perfect for burning off a bit of dog energy before other dog-friendly Bruges experiences like the Bruges Beer Experience or a dog-friendly waffle making class!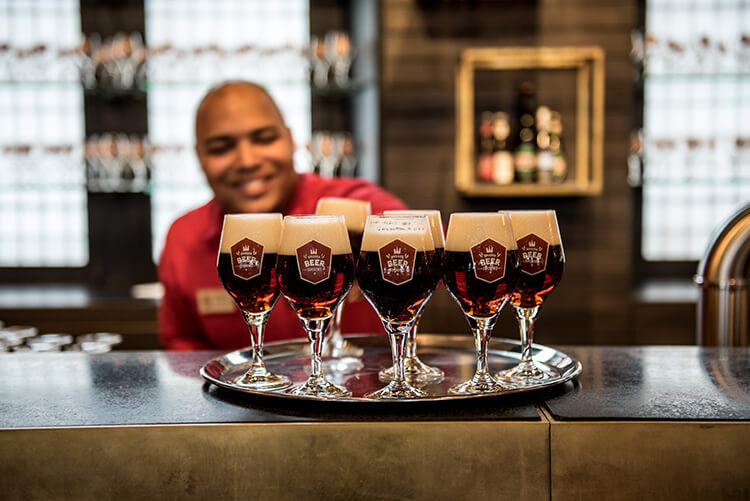 Bruges Beer Experience
For any beer lover, Bruges Beer Experience is one of the top places to visit in Bruges. Along with frites and chocolate, beer makes up the holy trinity of Bruges foodie experiences. And though all three have their own respective museums in Bruges, only the Bruges Beer Experience is dog-friendly.
Located atop the old post office building in the Market Square, Bruges Beer Experience is like a time travel trip through the history of Belgian beer. Each visitor receives a tablet, and you select your language from one of the ten languages available. You can take your time on the self-guided interactive museum tour using the tablet and QR codes to bring up the information for each display. There's a particular focus on Trappist and abbey brewing and "gruut," herbal beers that were once common to the region. The visit, which is entirely dog-friendly from museum to bar, ends with a tasting of Belgian beers.
Even if you don't want to visit the beer museum itself, the bar is open to the public and offers 16 different Belgian beers along with a great view over the Market Square.
Bruges Beer Experience, Breidelstraat 3. Open daily from 10am – 6pm with the last entry 1 hour before closing. The bar and shop is open 10am – 6:30pm daily. Note that there are a lot of stairs and no lift.
Belgian Dog Beer at The Doghouse Bruges
While the bar at Bruges Beer Experience offers 16 types of Belgian beer, one you won't find is a Belgian dog beer. But you can still share a Belgian brew with your furry best friend! Stay at The Doghouse Bruges, a dog-loving B&B that not only has a dog chill zone but sells Belgian dog beer and dog treats.
The charming B&B is conveniently located for sightseeing in Bruges and caters to dog-travelers. They even have two adorable dogs themselves that are more than happy to greet guests.
Dog-Friendly Waffles 'n Beer Workshop
In between indulging in Belgian frites, Belgian chocolate and Belgian beer, you can't miss out on trying a Belgian waffle. Or better yet – and one of my favorite travel souvenirs – learn to make your own beer-infused Belgian waffles and take the recipe home. Best of all, the Waffles 'n Beer Workshop is dog-friendly!
Certainly one of the tastiest things to do in Brugge, the 1 hour 30 minute experience starts off with a Belgian beer tasting of three brews. You'll choose your favorite for your beer-infused Belgian waffle batter. After, you learn how to make your own beer-infused batter and cook your waffles in the waffle irons.
Finally, it's time to enjoy your waffles with toppings of your choice and paired with a glass of Belgian beer.
Waffles 'n Beer Workshop, 10 Hoogstraat. Advance booking required.
A Walking Tour of Bruges
One of the most special things about Bruges is that its current city boundaries still coincide exactly with those of the medieval city center, and the spaces and structures remain largely unchanged since the 16th century. Between the clip clop of horse carriages on the cobbled streets and a town stood still in time, Bruges is a very idyllic and picturesque place to visit. It's no wonder that Bruges's historic center was added to UNESCO's World Heritage List in 2000.
There is so much history behind the buildings, that a guided tour of the city to learn a little more is a must. A walking tour of Bruges will give you insight into not only the most famous landmarks, but also the local legends of this medieval town stood still in time.
Many of the Bruges walking tours meet and begin from the Market Square, where Bruges's most famous landmark holds court towering 83 meters high above the square. One thing you'd almost never notice without taking a walking tour is that the 13th-century Belfort leans about a meter to the east. And we also learned that Bruges still employs a full-time carillonneur, who rings the 47 bells of the belfry on Wednesdays, Saturdays and Sundays from 11am to 12pm. In summertime, there are even special carillon concerts.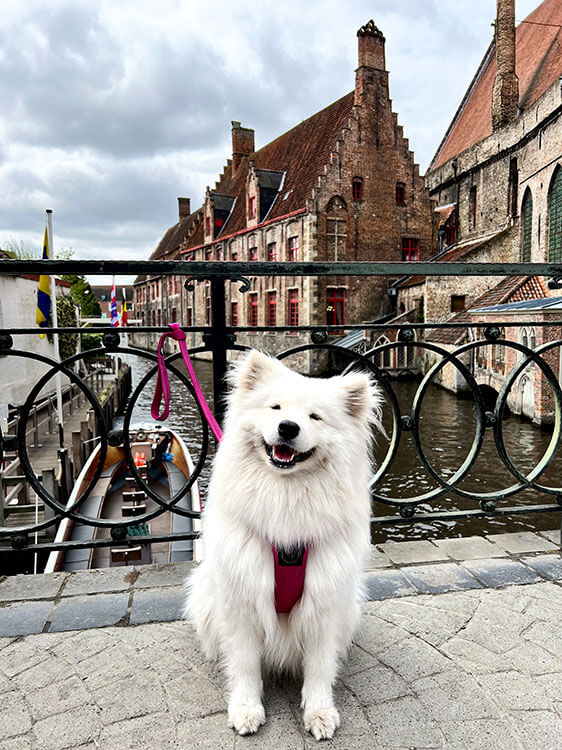 On a walking tour, you'll also visit spots like the Oud Sint-Jan (Old St. John's Hospital), which is one of the oldest surviving hospital buildings in Europe. It functioned as a hospital until as recently as 1978, before becoming a museum and exhibition center. You'll have time on a Bruges walking tour to get a photo with the Old St. John's Hospital behind you from the Mariabrug (Mary's Bridge) on Katelijnestraat.
Without going on a walking tour of Bruges, it's very easy to overlook the Princely Beguinage Ten Wijngaarde (meaning vineyard in old Dutch) since it is surrounded by a wall and moats. Founded in 1244 by Margaret of Constantinople, it is the only preserved beguinage (a community of women who follow monastic rules without taking vows) in Bruges. Since 1927 it has functioned as a convent for Sisters of the Order of Saint Benedict, and the first Beguine house next to the entrance serves as a museum. We think it's one of the most beautiful and peaceful spots with its whitewashed house fronts and tranquil convent garden. Dogs on a leash are welcome in the garden, and you definitely won't regret the detour to this must see in Bruges.
Aside from discovering some more hidden spots and learning fun facts about some of Bruges's most famous landmarks, you also visit Bruges's oldest brewery, learn a bit about Belgian cuisine and taste some artisanal chocolate. A 1.5 hour walking tour is a great way to get acquainted with Bruges!
After a walking tour and while your dog rests back at the hotel (since the belfry is not dog-friendly), you can even climb all 366 steps to the top just like Ken did in the movie In Bruges. Not only is the belfry one of the filming locations from In Bruges, but the climb is worth it to see the bells up close and be rewarded superb views over Bruges.
Bruges Walking Tour with Chocolate Tasting, meet at Grote Markt Bruges and look for the pink umbrella. Tours available Tuesday – Saturday at 10am and 12:30pm.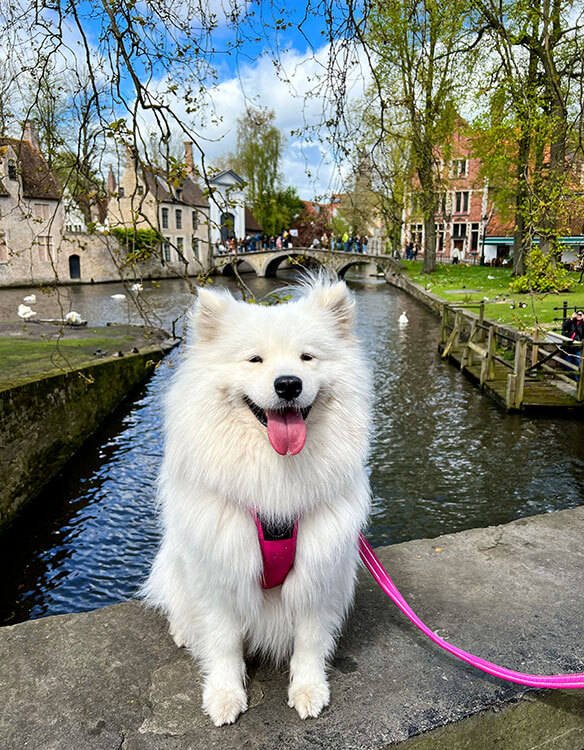 Walk Around the Minnewater Lake (Lake of Love)
A nature lover's dream right in the center of Bruges, Minnewater Lake – or the Lake of Love – is a must-visit in Bruges. You can follow the lakeside paths around the entire lake, and it's a great place dogs will enjoy walking and sniffing around.
The beautiful lake is one of the most romantic places in Bruges, not only because of its beauty but also thanks to a legend about the origin of Minnewater. As the tale goes, an old sailor lived with his daughter on the banks of the river during the Roman invasion of Gaul. The sailor's daughter, Minna, was to be wed to a farmer her father chose for her from a nearby tribe. But Minna was already in love with Stromberg, a young farmer from a rival tribe.
Minna kept finding ways to postpone her wedding, and her father learned of Stromberg. When Stromberg went off to fight the Romans, Minna's father saw an opportunity. He decided Minna would be wed on the third sunrise. But Minna fled in to the forest.
Once the war with the Romans ended, Stromberg returned to learn Minna had been missing. He went to look for her, and eventually found her sick from exhaustion in thick undergrowth on the banks of the river. Minna died in Stromberg's arms.
Stromberg nearly took his own life in his state of grief, but instead decided to build a dam. He buried Minna in the dried up river , then he released the water of the dam again creating Minnewater Lake. He placed a stone on the riverbank where he had found Minna to mark her grave. Today, the Poertoren Gunpowder Tower supposedly stands on the spot where the stone marked Minna's grave. And the Minnewater Bridge marks the spot where Stromberg had built the dam.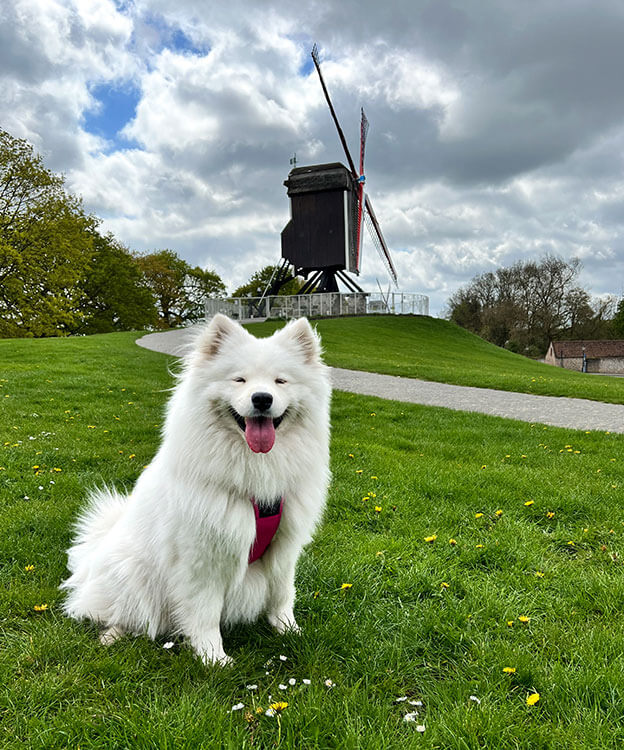 Bruges Windmill and Ramparts Walk
One of the absolute best things to do in Bruges with a dog is to take the walk along Bruges's ramparts to its' windmills. Located only around a 20 minute walk from the Grote Markt, the canal-side walk is a peaceful respite from the bustling center.
Maps from 16th century show there were at least 23 windmills surrounding Bruges. Only four remain today, and you'll find them located between the Dampoort and the Kruispoort. The Sint-Janshuismill dates back to 1770, and is the oldest of the four windmills. It is also the only windmill still standing in its original place, still grinds flour today and is open to the public as a small museum.
There's a canal-side path popular with joggers and cyclists, and the expanses of grass surrounding the windmills draw picnickers. It's the perfect place to relax with your dog away from the hectic center that quickly fills up with busloads of day tour visitors.
Where to Eat in Bruges with a Dog
As a foodie, I spend just as much time researching not only what to eat but the best places to eat it at. And after more than a decade traveling Europe extensively, I've learned that a little advance research and making reservations is necessary in order to not feel disappointed when it comes to restaurants. So let me guide you with some of the tastiest places to eat in Bruges, which also all are dog-friendly.
Mozart, More Than Just Ribs
Mozart, More Than Just Ribs specializes in – you probably guessed it – pork spare ribs! Most famous for their all you can eat ribs formula, it includes all the racks of spare ribs you can eat, salad and a baked potato with Mozart's famous herb butter. You choose your ribs prepared in one of three ways: nature (no sauce), Mozart sauce or classic. The refills come as nature, and the sauces are available on the table to slather on as you wish.
Always in search of barbecue ribs as good as we'd find back home in the US, the ribs at Mozart are so good we went back to eat here more than once!
And as the name suggests, Mozart is more than just ribs. On the menu you find a selection of various meats from steaks to Flemish lamb chops, a few fish selections and even a vegetarian quiche. They also have their own Mozart beer, and each menu items has suggested beer pairings for the food.
Not only is the food top quality and delicious, the restaurant is like a quirky library with floor to ceiling bookshelves lining the walls and a collection of antiques curated by the owners. It's very atmospheric, making the dining experience here a really enjoyable one.
Mozart, More Than Just Ribs. Sint Jacobsstraat 9. Reservations highly recommended, which you can easily make online.
Bierbrasserie Cambrinus
If you're looking for traditional Flemish cuisine and a mind-boggling selection of Belgian beers, look no further than Bierbrasserie Cambrinus. You'll find many traditional Belgian dishes on the menu and an assortment of small snacks if you're just looking for a little food with a beer tasting.
Cambrinus also has a selection of over 400 beers, and more than 20 on draft. They offer beer tasting flights of four beers you select from their draft beers. And you can even purchase souvenir growler bottles and beer on tap to take away.
Bierbrasserie Cambrinus, Philipstockstraat 19. Reservations highly recommend, which you easily request online.
Brewery Bourgogne des Flanders
In Bruges's brewing heyday, there were more than 30 breweries within the city limits. But there are only three working breweries left in Bruges today, and Brewery Bourgogne des Flanders is a must-visit for some beer and snacks. Sit on the canal-side terrace with a tasting flight and some of the brewery's tapas while you watch the canal boat tours go by.
The brewery is open for tours of their brewing facilities, or you can just stop by for glass in their bar. The bar also offers a tasting flight, which includes 6 tasting glasses (12cl) of their beers from tap. The tasting flight selection changes regularly. The brewery also offers some light snacks, tapas and a charcuterie board for some daytime nibbles.
Brewery Bourgogne des Flanders, Kartuizerinnenstraat 6.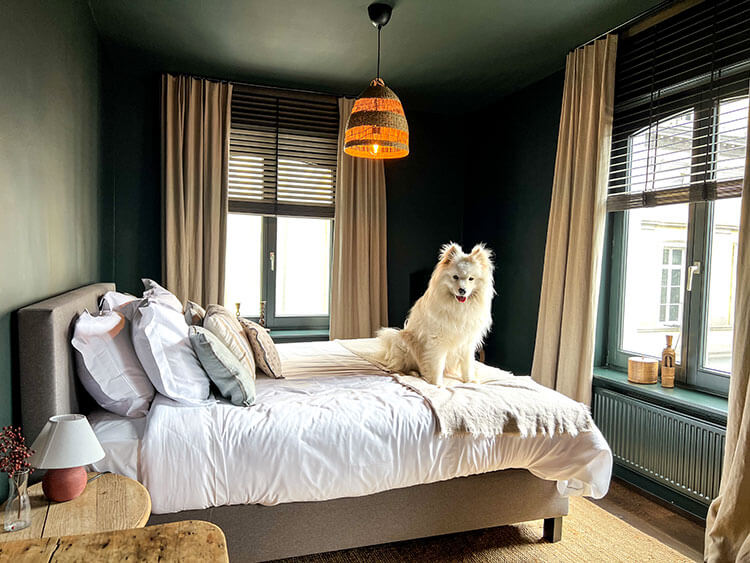 Best Places to Stay in Bruges with a Dog
With as compact a town Bruges is, there's no shortage of dog-friendly hotels and accommodations in Bruges.
The Doghouse Bruges
The Doghouse Bruges is set in a historic canal-side "Gentleman's House" with a protected facade dating back to 1750. It is conveniently located for sightseeing in the heart of Bruges's old town and its' dog-loving owners created the charming B&B to cater to dog-travelers and their adoring hoomans. The owners also have two adorable dogs that are more than happy to greet guests.
The Doghouse Bruges has two rooms: Roxy and Dexter. Both rooms have a private ensuite bathroom, and the Roxy has a little sitting area on their eco-friendly roof. There's free wifi for guests, English breakfast, and also a blanket and dog tray when you notify the B&B you're staying with your dog.
They also offer dog treats and Belgian dog beer for purchase. Additionally, there's an honesty bar where the hoomans can also relax with a Belgian brew in the courtyard.
The Doghouse Bruges does charge a €10 fee per dog per night.
The Bank 1869
The Bank 1869 is a B&B set in a historic building just 200 meters off the Market Square, and located on the top two floors above a top-rated coffee bar. The Bank 1869 is in a perfect location for exploring Bruges, with a parking garage (paid) nearby. The B&B is dog-friendly and welcomes dogs for no additional fee.
The guestrooms are spread over two floors, and each has its own private ensuite bathroom. There is complimentary wifi for guests and breakfast is available if staying on the days the coffee bar is open.
How to Get to Bruges with a Dog
The train station of Bruges is located just a 15-minute walk from the historic center and dogs of all sizes can travel on Belgian trains, so taking the train to Bruges is easy and convenient. If arriving in Belgium by plane, you can take a direct train from Brussels Airport to Bruges in about 1.5 hours.
Small pets in a carrier travel for free on Belgian trains, and dogs on a lead travel with a pet ticket for €3 per trip. A muzzle is not mandatory for dogs on a lead, but conductors have the right to request you to muzzle your dog. So be sure to carry a muzzle with you.
You can also access Bruges by car, and there are a number of car parks in and near the historic center.
Once in Bruges, the historic center is easily explored on foot. Dogs on a lead are allowed on the Brugge De Lijn bus network, and they ride free.
This is a UNESCO World Heritage Site. For more info click here.
You can see all the UNESCO World Heritage Sites we've visited here.
This article contains affiliate links. When you shop on Amazon or book on Booking.com or Viator through our affiliate sites, we earn a small commission at no additional cost to you.