Have you ever wanted to hike a long distance trail? Then you need to give the Dolomites Alta Via 1 (High Route 1) in Italy a look. It starts near the Austrian border and heads south through the beautiful and rugged Dolomite Mountains for 80-90 miles.
The best part about backpacking this distance trail is each night you stay in a rifugio (mountain hut) so you don't need to carry a tent, sleeping bag, cook set and many other items you would normally need on a typical backpacking trip. The rifugios vary in size and accommodation, but all offer a good night sleep, a shower, and tasty local food dishes.
Just because your pack may be a little lighter, don't think for a minute that this hike will be easy. Everyday you'll face steep climbs and descents, various trail conditions including rock, sand, boulders, mud, cliffs and snow chutes. But along with all of those challenges, you'll be rewarded with some of the best views in all of Italy.
When to go
Rifugio's open the third week of June each year and stay open until early September, depending on the weather. In June and even in July, expect to encounter snow. We actually had to alter our route one day as the main path was covered in snow and impassable without proper safety gear.
Have you heard of a Via Ferrata route? 
Via ferratas are steel cable routes that were created in the first World War so that the troops could ascend and descend steep faces. There are multiple options to add the via ferratas along the way, but they are not required to complete the route. You do need a climbing harness, via ferrata set, and helmet to attempt any of the via ferrata routes. I don't recommend them unless you have previous climbing experience and aren't afraid of heights. The Via Ferrata routes are maintained by the CAI (Club Alpino Italiano or Italian Alpine Club).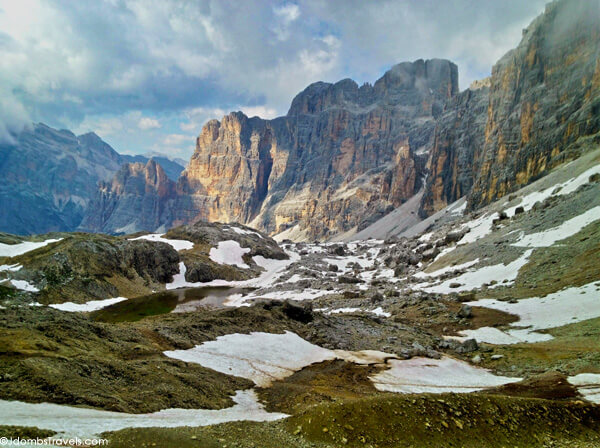 Plan your trip early and book the rifugios as soon as your figure out your route. Some only have room for 20 people, so they can fill up quickly. The good news is that most are within a few miles of each other, so you usually have another option if you haven't booked in advance. Most refugios are set up like hostels but many also have smaller rooms for 2-4 people that can be booked as well. Not all of them have potable water but they will have bottled water to purchase instead. Rifugio' offer a half board which includes bed, breakfast, dinner and sometimes the shower too. The food was very good as well and was made up of dishes typical of the area.
10 Tips for Hiking Italy's Dolomites Alta Via 1
Learn from my experience and follow this tips for tackling the trail:
1. Invest in some trekking poles.
If you haven't used trekking poles before, have no fear. You'll figure out how to use them right away. The Dolomites Alta Via 1 is a difficult trail with varying terrain and steep ascents and descents. Trekking poles will help you power up hill, keep your balance when you slip in mud, and reduce the strain on your knees and feet with every step you take. I had good luck with Leki poles, but any poles will be better than none.
2. Pack light.
Scrutinize every item you bring and bring only the essentials. Remember, you'll be carrying whatever you pack for around 90 miles and for 6 – 12 hours each day through the challenging Dolomites.
3. Bring sandals.
Most the rifugios require you to remove your boots before entering the main areas of the hut. Also, you'll want them for showering to avoid getting athlete's foot. Plus, they are great for taking your shoes off on longer breaks or when you find a nice cold stream to soak them in.
4. Quick drying clothes.
Since carrying a full wardrobe would make your pack unnecessarily heavy, bring clothes that are quick drying so you can wash them at the rifugios at the end of each day's hike. Ex Officio make some great clothes that will be comfortable and designed for adventure travelers. Don't forget your quick drying towel either.
5. Don't skimp on socks.
Be sure to bring multiple pairs of hiking socks. I recommend swapping them out for a fresh pair at lunch – I promise that your feet will thank you. Hang your old ones off the back of your pack so they will air out and dry. It's amazing the difference that a pair of new socks can make for your comfort.
6. Get a pack that fits comfortably.
A quality hiking pack that properly fits can make or break the comfort of your trip. You'll most likely be carrying around 25-35 lbs for 90 miles, so get a pack that fits you. Gregory and Osprey both make some quality packs that are priced well. Go to a store and check them out by filling them up with gear and walking around for a few minutes to see if they are comfortable.
7. Prevent chaffing and blisters.
This a topic that most don't want to talk about, but let's face it, after hiking 90 miles there will be some parts of you that rub a bit. Whether it's blisters on your feet or chaffing in your thighs, some preventive maintenance with products like chaffing creams and body rubs can prevent a miserable experience before it starts. Body Glide and Gold Bond
both make anti-chafe products that apply like a deodorant and work great.
8. Trail runners vs. hiking boots.
Personally I recommend some comfortable hiking shoes or trail runners. Boots tend to be heavy and trap heat and sweat around your foot. After a long day in them you're going to have some lazy feet (as I call it) and start stumbling on the trail. A pair of quality trail runners will be lightweight, comfortable, and give you great grip. I had great luck with my Vasque trail-running shoes but footwear really comes down to personal fit. Just make sure you choose something that fits well and give it a test hike prior to your trip. My last footwear tip is to ensure you trim your toenails prior to the hike. The steep downhills on Dolomites Alta Via 1 trails can put a pounding on your toes and even cause you to loose toenails over the course of the trip if they aren't trimmed.
9. Get an early start.
Afternoon storms are the norm in the Dolomites and the northern areas in Italy, so start your hike early in the day. That leaves you a safety cushion should you get delayed during the hike and also leaves you more time to relax in the wonderful atmosphere at the rifugios.
10. Enjoy the food.
Rifugios make some great food that will certainly satisfy your appetite on the trail. If you normally eat a big meal, consider the half-board option. It usually comes with a pasta as a starter then a hearty meat course like goulash stew or local sausage. Plus, it comes with a dessert. If you don't want to pack lunches for the whole trip, just plan your route to stop at a rifugio for lunch as well. They make some great sandwiches too.
Know Before You Go
This book Trekking in the Dolomites: Alta Via routes 1 and 2, with Alta Via routes 3-6 in outline has some great information about the trail and was very helpful when planning the route.
The times listed for each section of hiking are fairly aggressive, so allot yourself some extra time than listed.
This website has some great info for each of the rifugios: Dolomiti Rifugio Website
I highly recommend pirchasing maps of the route. The Tabacco maps are the best and you'll need maps 03, 24, 25, and 31 to cover the whole thing. Also if you come across a junction you're not sure about while on the trail, just check the map, this would have saved us a couple hours along the way.
Last but not least, beware of the fences along the trail. I did lose a battle crossing one that turned out to be electric.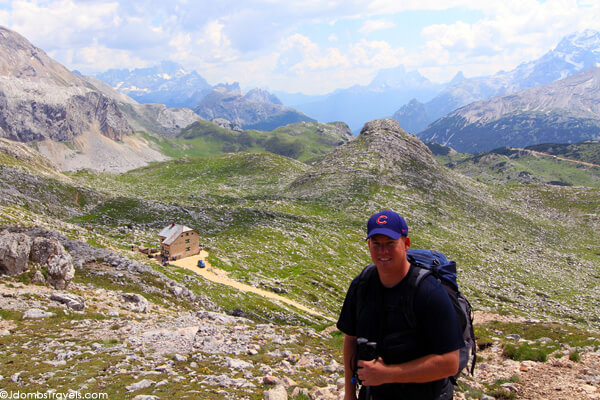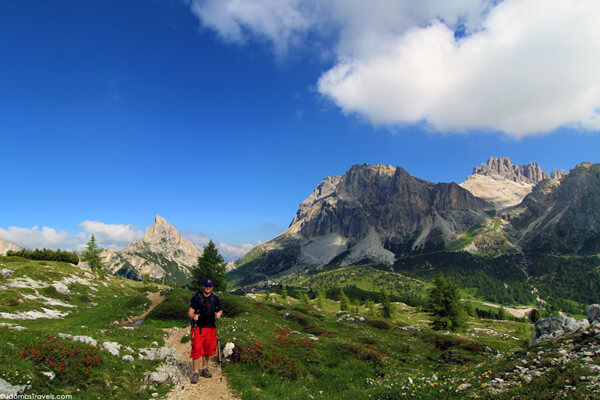 Shop This Post

This article contains affiliate links. When you purchase anything on Amazon
through our affiliate site, we earn a small commission at no additional cost to you.