Have you ever wanted to hike a long distance trail? Then you need to give the Dolomites Alta Via 1 (High Route 1) in Italy a look. It starts near the Austrian border and heads south through the beautiful and rugged Dolomite Mountains for 80-90 miles.
The best part about backpacking this distance trail is each night you stay in a rifugio (mountain hut) so you don't need to carry a tent, sleeping bag, cook set and many other items you would normally need on a typical backpacking trip. The rifugios vary in size and accommodation, but all offer a good night sleep, a shower, and tasty local food dishes.
Just because your pack may be a little lighter, don't think for a minute that this hike will be easy. Everyday you'll face steep climbs and descents, various trail conditions including rock, sand, boulders, mud, cliffs and snow chutes. But along with all of those challenges, you'll be rewarded with some of the best views in all of Italy.
When to go
Rifugio's open the 3rd week of June each year and stay open until early September, depending on the weather. In June, and even July, expect to encounter snow. We actually had to alter our route one day as the main path was covered in snow and impassable without proper safety gear.
Have you heard of a Via Ferrata route? 
Via ferratas are steel cable routes that were created in the first World War so that the troops could ascend and descend steep faces. There are multiple options to add the via ferratas along the way, but they are not required to complete the route. You do need a climbing harness, via ferrata set, and helmet to attempt any of the via ferrata routes. I don't recommend them unless you have previous climbing experience and aren't afraid of heights. The Via Ferrata routes are maintained by the CAI (Club Alpino Italiano or Italian Alpine Club).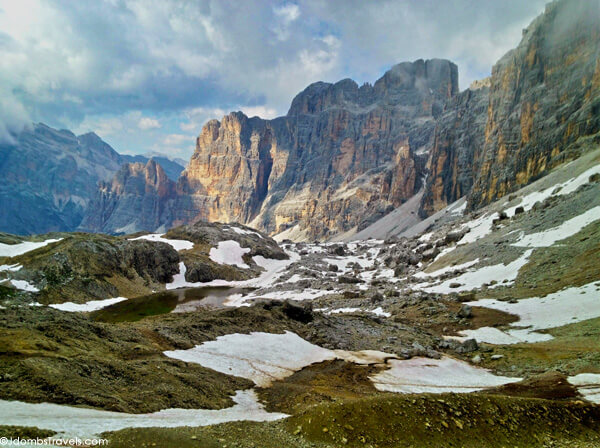 Plan your trip early and book the rifugios as soon as your figure out your route. Some only have room for 20 people, so they can fill up quickly. The good news is that most are within a few miles of each other, so you usually have another option if you haven't booked in advance. Most refugios are set up like hostels but many also have smaller rooms for 2-4 people that can be booked as well. Not all of them have potable water but they will have bottled water to purchase instead. Rifugio' offer a half board which includes bed, breakfast, dinner and sometimes the shower too. The food was very good as well and was made up of dishes typical of the area.
Know Before You Go
This book Trekking in the Dolomites: Alta Via routes 1 and 2, with Alta Via routes 3-6 in outline has some great information about the trail and was very helpful when planning the route.
The times listed for each section of hiking are fairly aggressive, so allot yourself some extra time than listed.
This website has some great info for each of the rifugios: Dolomiti Rifugio Website
I highly recommend pirchasing maps of the route. The Tabacco maps are the best and you'll need maps 03, 24, 25, and 31 to cover the whole thing. Also if you come across a junction you're not sure about while on the trail, just check the map, this would have saved us a couple hours along the way.
Last but not least, beware of the fences along the trail. I did lose a battle crossing one that turned out to be electric.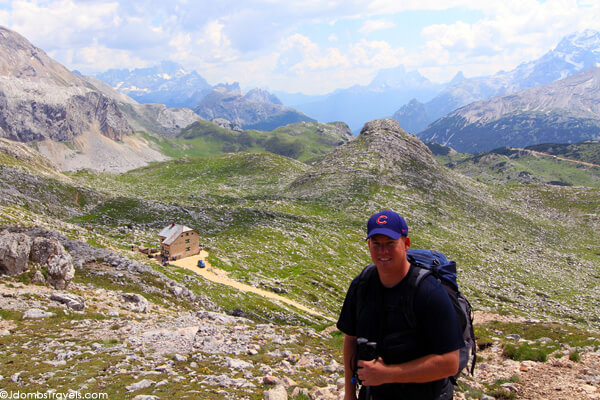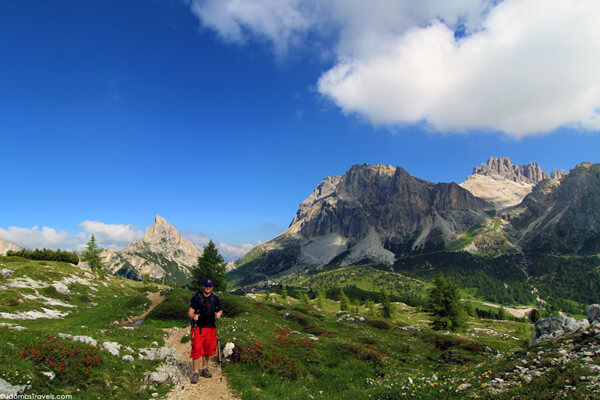 Would you like to do a long distance hike on the Dolomites Alta Via 1?
This article contains affiliate links. When you purchase anything on Amazon
through our affiliate site, we earn a small commission at no additional cost to you. It just helps us keep things running here at Luxe Adventure Traveler!