Of all the islands that spec the Greek Aegean Sea, Mykonos is the most favored among a wide range of people, from jet-setters, celebs, and A-lists to sheikhs, prime ministers, and, well, plain mortals with somewhat full pockets. What is not to love about Mykonos anyway?
Besides a world-renowned party mecca and the meeting place of those appreciating a vibrant night scene for their summer vacations, the Queen of the Cyclades is also home to varied, raw, natural beauty and more beaches and coves than one can count. It is, literally, the land which combines so many things that can please the tastes of even the most discerning ones who step foot on it.
As for those whose lifestyle is closely intertwined with luxury, elegance, style, and glamour, they will find a wealth of exclusive properties offering the prerequisites of a palatial stay.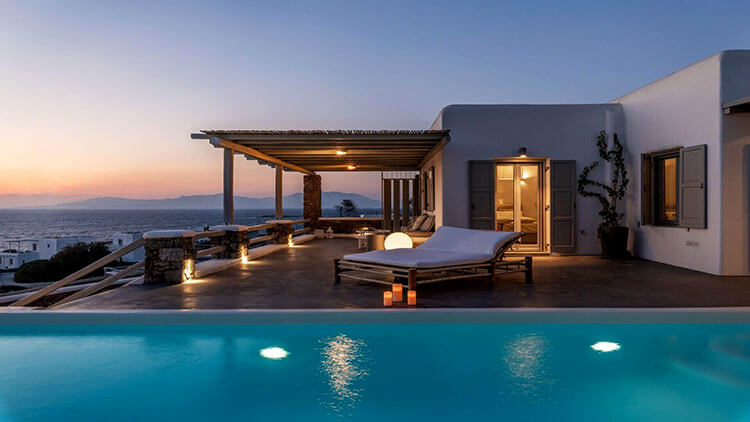 Villa Temptation
It can be easily defined as the epitome of grandeur and quintessence sumptuousness. With an irresistible minimalistic design that blends beautifully with the clean lines of the traditional Cycladic architecture, Villa Temptation is indeed set to tempt all of your senses, with exquisite panoramas of the shimmering sea spreading below your feet, absolute comfort, and a rejuvenating sensation delivered through the carefully-selected features and amenities.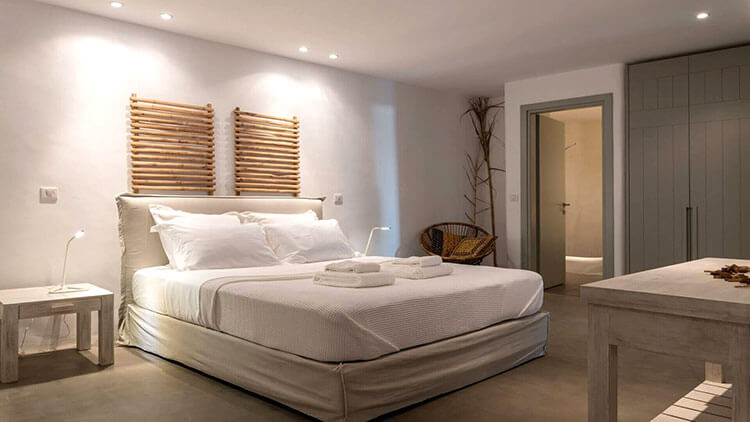 Enjoy serenity and moments of total unwind and relaxation with a glass of champagne at hand from the massive balcony while watching the sun slip behind the horizon in the lap of luxury for the perfect closure of the day. You will find it in the privileged Kanalia area.
Villa Caitleen
Nestled on a charming hillside at Elia region, away from the hordes of tourists, yet within an arm's reach from all the famous, cosmopolitan beaches that make Mykonos the go-to place for the crème-de-la-crème, Villa Caitleen impresses in more ways than one. From heart-stopping 360-degree views of the Aegean Sea and sheer comfort infused with a sense of utmost privacy and tranquility to a fine mix of modern facilities and lavishness, everything is well-taken care of and selected for your maximum satisfaction and fulfillment.
A more economical option for those wishing a holiday home of slightly smaller proportions than its Kanalia sibling that lacks neither the style nor the allure and magnificence of properties with a larger square footage.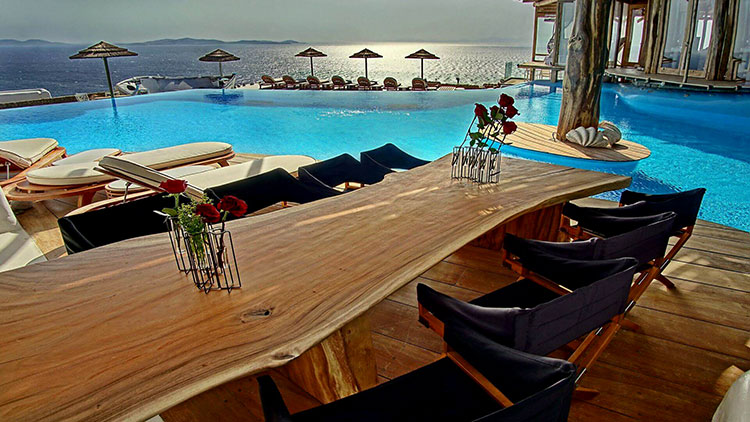 Villa Maristella
Specifically designed to cater to the needs of large groups of friends or families with the comforts, convenience, and splendor you are used to. This dazzling gem feels as if it has become one with the surrounding landscape and the glittering sea that is enveloping it so graciously. Without ever feeling restricted or limited by the presence of 26 more people around you, Villa Maristella has ample space for your dining, sunbathing, entertainment, or other needs.
An extraordinary abode with attention to detail, ensuring ultimate privacy and holiday excellence. Savor your VIP vacations at the largest infinity pool on the island, the magnificent underwater bar, the private caves in the outdoor area, the most complete and biggest private gym on Mykonos, a dozen lavish en-suite bedrooms, the extravagant Royal Suite, and many more. Or just let yourself immerse in unique experiences and spectacular seascapes.
About the Author
Thanasis Mougios adores traveling and Greece. As founder of Kinglike, a travel design and personal concierge services company, he combines these passion to create the finest individualized travel experience for your holiday in Greece. Every aspect of your stay is devoted to your contentment, from booking the villa or yacht of your dreams to making arrangements for your greatest wish or your smallest caprice.