In the very north of Italy where we live, the Dolomite mountains practically rise up from our backyard and the borders of Austria and Slovenia are a mere hour away. Winter time is much colder and more harsh here than most of the Italian regions to the south. It might surprise you that while pasta is still plentiful in the region, the cuisine focuses a lot on meat with influences from the Venetian, Austro-Hungarian, and Yugoslav cultures. The goose was an important winter staple because it provided the necessary fats and proteins to the people. The small Friulian village of Morsano al Tagliamento is known throughout Italy as the capital of the goose because just about every family kept a goose farm. The town is often even called Morsano dell'Oche (Morsano of the geese) and is host to the Sagra dell'Oca di Morsano al Tagliamento.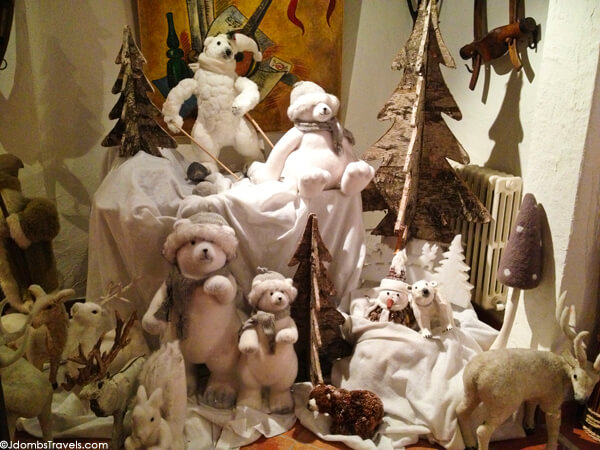 The Sagra dell'Oca di Morsano al Tagliamento is one of the oldest goose festivals, which takes places on weekends throughout the month of November. You can taste traditional recipes like gnocchi with goose ragu, roasted goose, and salami made from goose.
The Sagra dell'Oca di Morsano al Tagliamento is held at the Borgo dei Conti della Torre in conjunction with a fairytale like Christmas village and market. The Borgo is a beautiful historic mansion dating from the 1600s and the rooms are decked out in holiday finest. Some rooms might be an entirely white winter wonderland full of snowmen and polar bears while others are an exhibition of beautiful Christmas trees. Vendors from around the Friuli Venezia Giulia region set up shop throughout the mansion selling everything from vintage ornaments to trains and other animetronic Christmas decorations to handmade chocolates.
It was a bit crowded in some of the rooms, but the Sagra dell'Oca di Morsano al Tagliamento was the best local Christmas Market we've been to. It has an excellent selection of handmade gifts along with a truly magical setting. A little November dusting of snow would make it even more so! Don't miss the Christmas Goose Festival if you are in the Friuli Venezia Giuli region.
Know Before You Go
The Sagra dell'Oca di Morsano al Tagliamento and Christmas Market take place on November 7-11, 14-16, 21-23 from 10:30am – 8pm.
Entrance is €5. Proceeds go to a local charity.