Between the harsh weather challenges and costs, it's tough for Antarctica to gain a top spot on the bucket list of many travelers. Nevertheless, it's often a wild dream come true for many passionate travelers to be able to visit this white icy wonderland. It's absolutely possible to explore the bottom of the earth in your lifetime and it's time to make that dream a reality.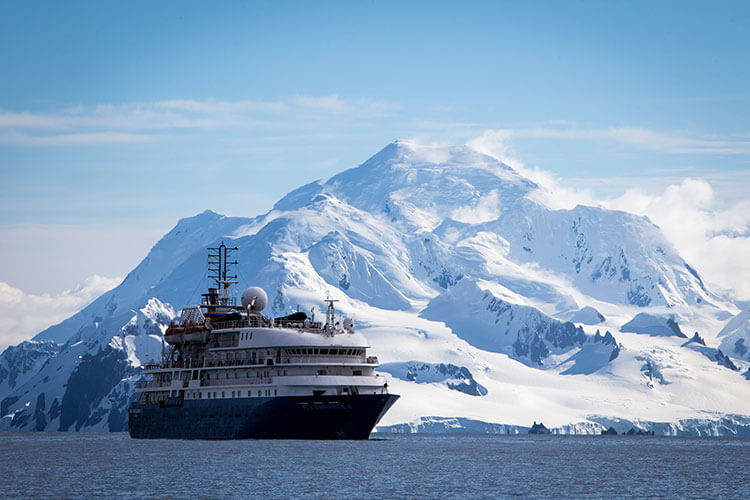 Though the most typical way to visit Antarctica is on a cruise, your trip to White Continent doesn't have to be boring. If you imagine just sitting around on a cruise ship while sailing past icebergs and sea life, think again. Choosing Poseidon Expeditions for your cruise to Antarctica is choosing the right ship that offers exciting adventure options, unique experiences, and a comfortable stay.
An expedition cruise ship is the easiest way to explore the seventh continent. You can expect to see penguins, polar landscapes and icebergs but with a deeper experience coming in direct contact with nature and wildlife. Some experiences you'll definitely want to include on your once-in-a-lifetime trip to Antarctica are:
Camping
You might be shocked at the mention of 'camping' as one of the ways to explore Antarctica. But spending the night in the polar wilderness is definitely a once-in-a-lifetime experience. Camping in Antarctica will leave you in a fairly elite group of travelers with the bragging rights to say you've slept alongside penguins on the seventh continent.
There's just nothing like sleeping under the star-filled night sky, detaching from the world, and having the most serene experience in one of the most remote places on the earth.
Antarctic cruises operate from October to March, as the weather is the most favorable for adventures like an Antarctic camping adventure.
Kayaking
Everyone has their own definition of a rejuvenating experience, but for passionate kayakers nothing can beat a calming paddle exploration in Antarctica. There's something magical about paddling with sea life nearby and surrounded by humongous icebergs.
Paddling next to icebergs and glaciers could be the most profound and humbling experience for travelers. Nature and wildlife have their own ways to take your breath away, and you will witness exactly the same in a close-knit kayaking group.
In case you don't have prior kayaking experience, it's recommended to get comfortable with some kayaking basics before embarking on your trip to Antarctica.
Science Research Station
As one of the most remote places on the earth, there is no permanent population in Antarctica. But there is always research going on in Antarctica. A seasonal population of academics and scientists live across 70 permanent bases maintained by over 29 countries.
You can plan a visit to a few of the stations during your cruise, and will have the opportunity to take a tour of the station. You'll learn more about Antarctica and the ongoing research from one of the resident scientists. One such popular place is the Vernadsky Research Station. 
Not only did scientists discover the hole in the ozone layer here, but the .Vernadsky Research Base is also home to the southernmost bar in the world. You definitely won't want to miss the opportunity to have a drink in one of the most remote bars on earth.
Scuba Diving
Not for the faint of heart, it is possible to go scuba diving during an Antarctica cruise. You will need to have specific dive certifications prior to your cruise if you do want to challenge yourself on a cold water dive. You will get to witness the magnificent marine life, clear waters, and shining icebergs located only at the bottom of the earth in a way even fewer people on this planet ever have.
Photography
Leave only footprints and take only photos. And those photos will be some of the most extraordinary photos you take in your life.
Antarctica is a place that looks as magnificent in the photos as it looks in real life. You do not have to be a professional photographer to take stunning photos of this white wonderland. Most travelers to Antarctica say you simply cannot take a bad photo here.
With a once-in-a-lifetime trip like this, you'll want to invest in a good camera to do it justice with the photos. Be sure to practice with you new camera before your trip and pack an extra memory card (or two) for all the photos you'll undoubtedly take.
Zodiac Cruising
Want to witness the massive beauty of Antarctica and its wildlife up close and get the most out of your trip? In that case, don't miss the opportunity to get off of the ship and step into the environment with a zodiac cruise. 
Zodiacs are small but heavy inflatable boats that can carry up to 12 people at a time. Zodiacs give you the most peaceful and pristine experience, and are completely safe. It's a great way to explore the larger-than-life icebergs, wildlife, and secluded polar regions. You can expect to encounter whales, seals, and other marine life during your zodiac cruising.