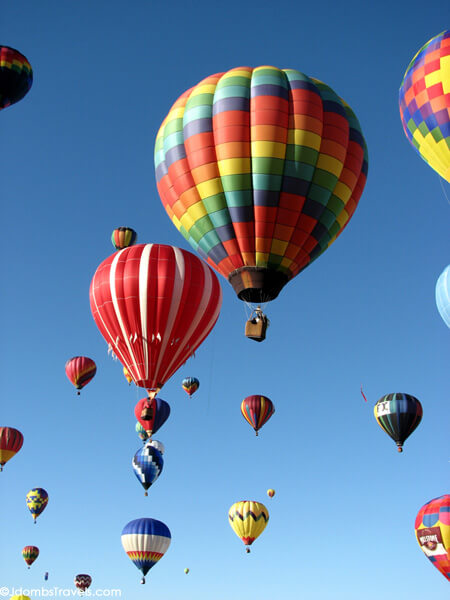 The annual Albuquerque International Balloon Fiesta started today and made me a bit nostalgic, so I thought I'd share our story and a few tips for visiting the world's largest hot air balloon festival. We've had a long love affair with hot air balloons. Literally. When we lived in Las Vegas, hot air balloons launched almost daily just down the road from our apartment near Red Rock Canyon. So when we had to move our wedding up a few months, we decided to do something totally nontraditional and get married in a hot air balloon.
Unfortunately, it was so windy that day that we couldn't even inflate the balloon for our wedding photos yet alone go for our post ceremony flight. That was 2002.
Fast forward six years and we made a trip to the world famous Albuquerque International Balloon Fiesta just a few months before moving to Italy. We spent two days at the festival. Our first night, we bundled up for the Night Glow and wandered the massive field with hot chocolate in hand as blasts from the burners lit up balloons of all shapes and sizes.
The next morning, we were up before the sun to see the Mass Ascension in which all participating balloons launch in two waves. What a beautiful sight to see the sun rising from behind the red mountains and hundreds of balloons in a colorful parade across the sky!
The Special Shape Rodeo was my favorite event. Balloons shaped like everything you could possibly imagine from pigs to beer steins to Noah's Ark floated by. When the Special Shapes Rodeo event first launched in 1989, there were only 28 special shaped balloons to participate. On our visit in 2008, there were over 100!
What we still didn't get to do was take our first hot air balloon ride together. Only one balloon company, Rainbow Ryders, is authorized to launch from Fiesta Park. And at a price tag of $395 per person, it was just a little too steep for us at the time.
Fast forward another four years and if you've been following along with us for a while now, you know that we celebrated our 10 year wedding anniversary in February. We tried yet again to go on a balloon flight just days before our anniversary and were met with bad weather yet again. So we're still waiting to take that very special first flight together.
Know Before You Go
The annual event runs for one week each October. The best days to attend are on the weekend when events such as the Night Glow, fireworks, Special Shapes Rodeo, and races are happening. Be sure to check the Program of Events to plan your visit.
Tickets are sold individually or in five packs. Each ticket grants entry to Balloon Fiesta for 1 session (morning or evening session). If you plan to attend multiple sessions as we did, we recommend the five pack.
There is a break in the days' events typically between the morning Mass Ascension and afternoon races. Take this time to explore some of Albuquerque's other great attractions like the Albuquerque Aquarium or get a view from high above by taking the Sandia Peak Tramway.
Bundle up! It can get quite cold in the early morning and evening hours.
Bring folding camp chairs and blankets for the Night Glow and fireworks.