When I think of the ancient inhabitants of Europe, I immediately think of Attila the Hun, the Vikings, and the Romans. But before even ancient Rome spread its empire, beech trees covered the continent. Though most of the forests were cut down to make way for Europe's famous cities like Berlin and Prague, Germany is still home to some 4300 hectares of sprawling ancient beech forests. The five Ancient Beech Forests of Germany, a UNESCO World Heritage Site, provide a unique glimpse into the original landscape of Europe.
There are a total of five ancient beech forests of Germany. If you have just a day to explore them like we did, head to the Grumsin Forest in Brandenburg's Schorfheide-Chorin biosphere reserve. It is just an hour's drive from Berlin and a diverse mix of sprawling forests and open countryside; the deep valleys and prominent peaks of the Grumsin Forest are a testament to the impact of glaciers in the last ice age. At just 2.3 square miles, it's easy to wander the various hiking trails and explore the various lakes, bogs, and ponds between the towering trees all in just a day's time.
You can just plug Grumsin into your GPS and it lead us to the forest, but if you want to pick up a map with trails marked head to the Tourist Information Point in Altkunkendorf. Blink and you'll miss this charming village, but it is worth a stop to pick up information about the area and for a stroll around the town. You'll also find free parking here and can start your hike or bike ride on the trails from Altkunkendorf.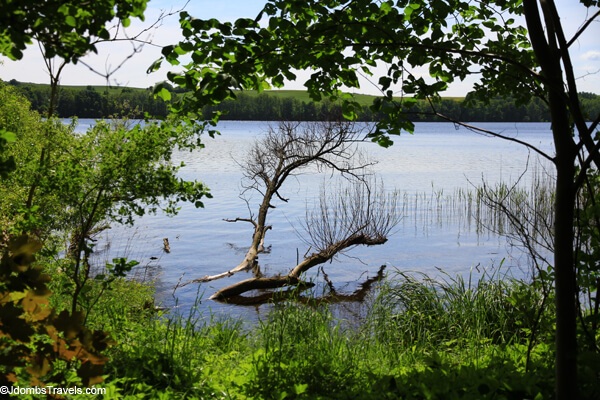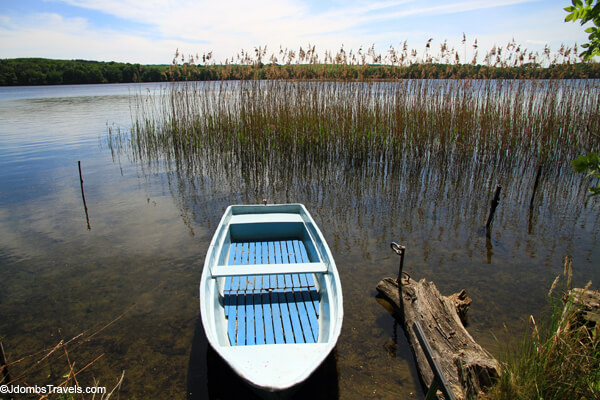 There are plenty of lovely spots with picnic tables to enjoy a picnic lunch you've brought along and if it's warm enough, to take a dip in the various ponds and lakes. You might even find some row boats for rent for a row out into the lakes. The quiet trails offer beautiful spots to just gaze out and soak in some tranquil moments. It's romantic, really, which is probably why the only others we encountered were couples easily strolling hand-in-hand.
Picnicking isn't the only option. If you have a more voracious appetite from hiking or cycling the trails, head to Angermunde, a town of around 10,000 set amongst the ancient beech forest. Here the residents live with respect and dedication to protecting the land and agriculture is done in accordance with such. We wandered into Gut Kerkow Steakhaus, which has a fascinating history of its own. It was first mentioned in the 16th century and was lost from its original owners in a game of cards to the Knights of Kerkow. It changed hands throughout history, but became a farm in the 1930s and has been ever since. The cattle are all raised on the farm and grains, vegetables, and more are farmed. It doesn't get more farm to table than this charming restaurant and inn.
Our day at the Ancient Beech Forests of Germany was definitely a wonderful escape from hustle and bustle of Berlin. These gorgeous and atmospheric landscapes are worth renting a car for the day to see.
This is a UNESCO World Heritage Site. For more info click here.
You can see all the UNESCO World Heritage Sites we've visited here.

Our UNESCO Natural Sites and Proud Cities trip was hosted by the German National Tourist Board in order to bring you this story. As always, all opinions about the places visited are entirely our own.