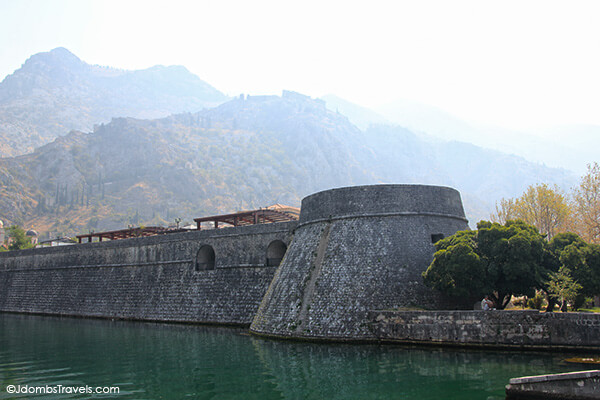 The Bay of Kotor is said to be Montenegro's most beautiful bay and despite the temperatures reaching near 100 F during our visit, we were prepared to brave the scorching heat and climb the 1350 steps up to Kotor's formidable fortress. But when we arrived in the bay, we could hardly see the fortress due to a heavy blanket of haze caused from the wildfires burning across the Balkins. We were totally willing to complete the strenuous climb to St. John when we thought our efforts would be rewarded with stunning views over the bay, but the stifling heat and lack of visibility had us quickly chucking that plan right into the bay.
Instead, we decided to have a quick lunch and wander around the Old Town. We found a little restaurant near the 13th century Buca Palace with tables shaded by umbrellas and a menu offering pizzas and sandwiches. The Mexican pizza, which we both ordered, at Cafe Bar Mmmm was delicious! It had just the right amount of kick with spicy sausage and chili peppers.
Of course after stuffing ourselves on pizza, the haze cleared up slightly but the heat felt even more stifling without even a hint of a breeze. So we wove our way around the narrow streets inside the fortified walls. We marveled at the Cathedral of Saint Tryphon, the numbers 809 on one of its bell towers as a reminder that it is built on the same site where an older church had already existed long ago.
The Pima Palace, which dates from the 17th century, shares Flour Square with the Buca Palace and is a detailed example of Renaissance and Baroque style architecture in Kotor.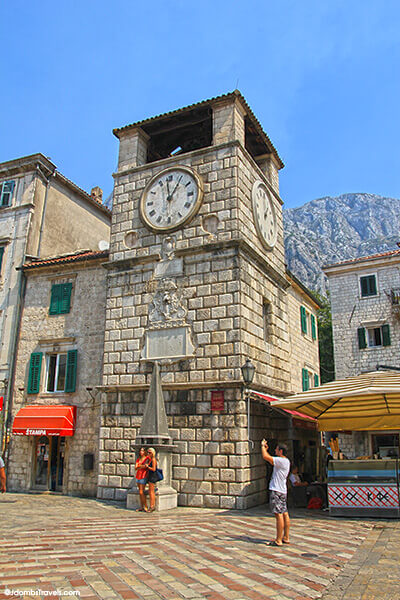 The clock tower's pillar of shame is noteworthy because it was once used to punish Kotor's unlawful citizens. I'll leave it to your imagination just how unlawful citizens were punished.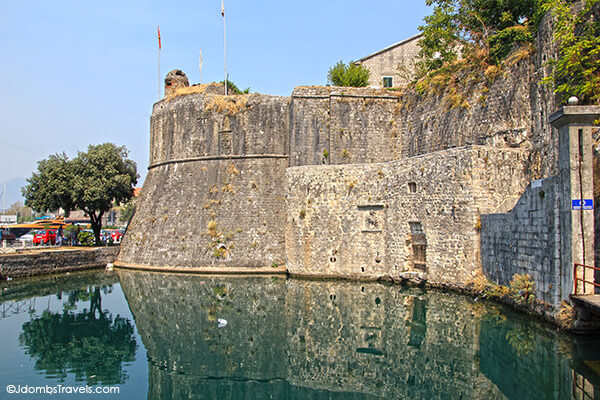 Three miles of fortified walls surround Kotor and stagger up St. John's mountain to the fort. Seaward facing towers once protected the city from invaders from the sea.
A farmer's market sets up daily along the outside of the fortified walls and the colorful array of fruits and vegetables made me wish we wouldn't still be on the road so I could take some home. But a kiwi granita from the market hit the spot to cool us down as we strolled along the water's edge.