Yaroslavl was honestly the least favorite of the cities and villages we visited during our time in Russia. Perhaps it was because we were there on the day we had the worst weather of our entire trip. Had we had better weather, I would have liked to take a river cruise or wander through the city's parks. We'd come from staying overnight in Rostov and were leaving Yaroslavl on an overnight train to St. Petersburg, so had no hotel room to retreat to in order to escape the wet and cold. Having come down with some sort of virus to top it all off, we spent most of our afternoon holed up in cafes drinking tea and just trying to stay dry and warm.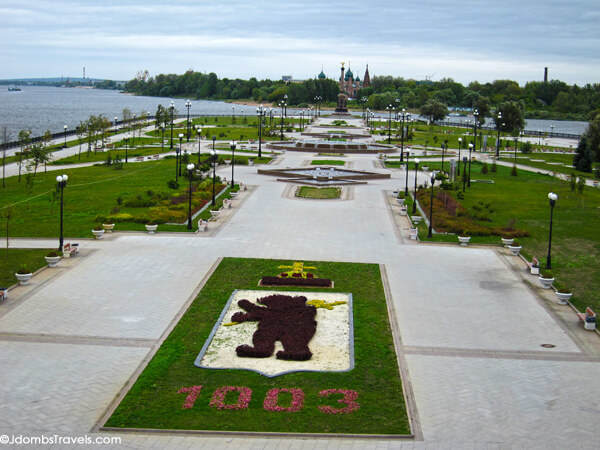 We did have a guided tour of the Spaso-Preobrazhensky Monastery and visit several churches with a local guide. But the thing I noticed most about Yaroslavl was that there seemed to be a bear wielding an axe in its paws just about everywhere we went. At first, the others in our G Adventures group didn't even notice the tiny bear appearing on statues and monuments. Then we came to a huge balcony overlooking Strelka Park and the bear couldn't be missed.
As the story goes, Prince Yaroslav was sailing down the Volga River and noticed a tribe had settled on a plateau where the Volga met the Kotorsol River. The Prince immediately recognized the trading potential of the confluence and set out to take the land from the tribe. The tribe had a bear that they considered sacred and to be their secret defense weapon. They released the ferocious bear on Prince Yaroslavl the second he came ashore.
A battle between man and bear ensued, though the bear fell when the Prince struck it over the head with his axe. With their idol now dead, the tribe didn't put up further fight for their land and the new Christian city of Yaroslavl was founded. The bear has served as the symbol of the city ever since.
Normally in better weather, the Strelka Park is packed as couples stroll around and children play in the dancing fountains. The park was built as part of Yaroslavl's 1,000-year celebrations in 2010 and is no doubt the loveliest part of the urban city.
Our trip to Russia was sponsored in part by G Adventures. As always, all opinions are entirely our own.