Bergamo is a two-tiered city made up of the Citta Alta (upper city) and Citta Bassa (lower city), with the two parts connected by a funicular or by a winding footpath along the city's defensive walls.
Citta Alta is surrounded by 17th century cyclopic defensive walls, fortified by the Venetian Republic. Piazza Vecchia is the heart and jewel of Citta Alta and contains the city's most interesting architecture. The 12th century, which still chimes 100 times nightly at 10pm in memory of the past age, when the town gates were closed at night for security reasons, offers stunning views over the city and beyond with a climb up its stairs. Palazzo Nuovo, also known as the Biblioteca Angelo Mai, was designed by Vincenzo Scamozzi in the early 17th century but was not completed until 1928. Palazzo della Ragione has the lion of St. Mark on its facade, testifying to the long period of Venetian dominance. It also connects Piazza Vecchia with the Piazza del Duomo by its 12th century portico.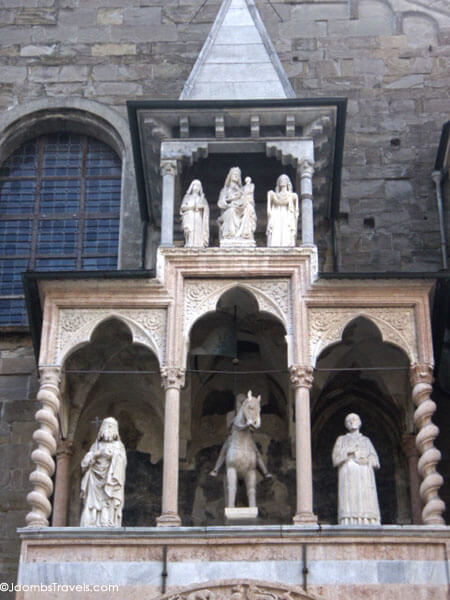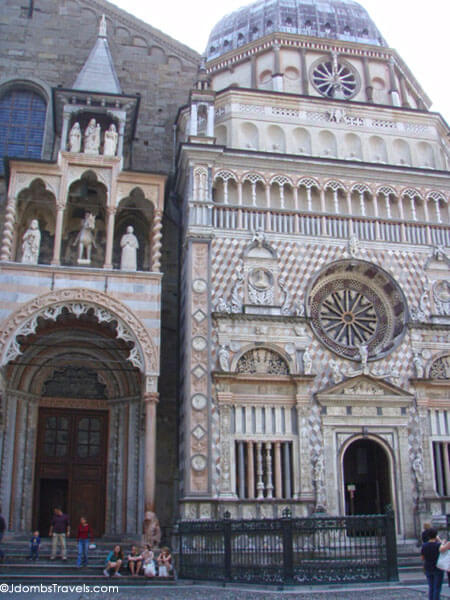 Piazza del Duomo opens up to reveal the Basilica della Santa Maria Maggiore. Giovanni da Campione's porch in the left transept, which is supported by columns departing from lions in Veronese marble, is quite notable. The arch has a frieze with hunting scenes. A loggia houses statues of St. Barbara, St. Vincent, and St. Alexander. At the peak is a Gothic niche by Hans von Fernach (1403) with the Madonna with Child flanked by St. Esther and St. Grata (1398). Next door is the Cappella Colleoni which is characterized by the use of tarsia and polychrome marble decorations in white, red and black lozenges. Over the main portal is a rose window, flanked by two medallions portraying Julius Caesar and Trajan.
From the Colle Aperto, another funicular runs up to Colle San Vigilio. A short walk on Via Castello brings you to the ruined Medieval castle. Stop to admire the views of the Citta Alta and Citta Bassa below with the foothills of the Alps to the north.
A foot path leads around the fortified walls of Citta Alta and to Porta San Giacomo, the main gate to Citta Alta. From Porta San Giacomo, you can continue down a cobbled path between the fortified walls to the Citta Bassa. It is quite a long way but well worth the walk! Continue along Via Sant' Alessandra to Piazza Pontida, a very lively piazza to relax by the fountain with an Italian granita to cool down with after the long hike down. Then wander down Via XX Settembre to window shop until reaching Viale Vittorio Emanuele, lined with some of the Citta Bassa's most stunning palazzos.
Know Before You Go
Bergamo can be reached by direct train from Milan in about 50 minutes and from Venice in the summer. Or it can be reached by car.
The funicular is €2 each way and tickets can be purchased from the funicular station.