Remember Apple's buzz-worthy phrase "There's an app for that." used in the first iPhone commercials? Well, in 2014 there's more like a dozen or more different apps for whatever that is. Truth be told, our busy travel lives would be a lot more chaotic without the arsenal of travel apps that help keep us organized. We're finally dishing on the best travel apps that help us be the savvy travelers we are and that you shouldn't travel without.
Trip Planning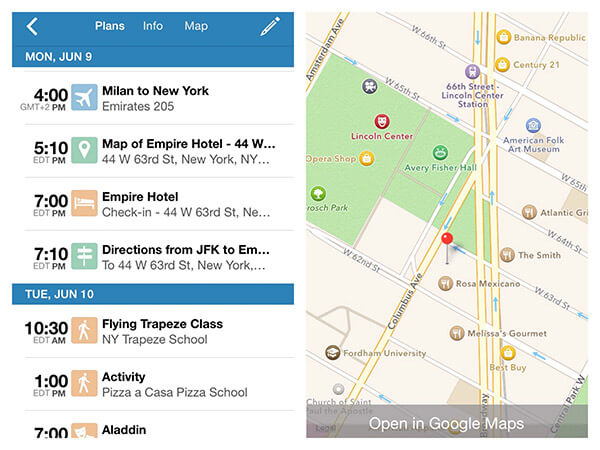 TripIt: TripIt is a travel itinerary planner and it is our favorite travel app. We literally could not function without it. Half the time anymore I wake up by shooting straight up in bed and wondering where in the heck I am. If I don't even know where I'm sleeping, how on earth can I keep where I'm supposed to be when straight? TripIt to my rescue!
TripIt imports all my bookings right from my email to build a complete trip itinerary with everything from flights to dinner reservations to activities. It also includes a handy map, which opens up in Google Maps with the click to help navigate to my various destinations. There is also a paid TripIt Pro version that monitors flights for schedule changes, notifies us when check-in is available and lets us check-in right from the app, has real-time flight monitoring (it often knows which gate we've arrived at before I step off the plane), and tracks your various loyalty program points.
TripIt (free) and TripIt Pro (annual subscription $49) are available for iPhone/iPad, Android, BlackBerry, and Windows Phone.
Packing Pro: I may wait until the very last second to actually pack, but once I have my itinerary pretty much set I am off and making my packing list. I use the Packing Pro app, which allows you to save your packing lists and use them as a template for a future list. It also comes in super handy for those times when lost luggage happens and the airline asks you for a list of items inside.
Packing Pro is $2.99 and is only available for iPhone/iPad.
Google Maps: Google Maps is a GPS in the palm of your hand. I'm including it in the best apps for travel planning section because I'm about to share a handy trick. Got your pencil ready? Here's what you do. Look up the the directions between two points on your Google Maps and then go to the search bar again. Type in "OK Maps" (without the quotation marks) and you can save this map for offline use later when you might not have a data connection. Handy, right?
Google Maps is free and is available for iPhone/iPad and Android.
ViaMichelin: If you're a roadtripper like us, you'll love the ViaMichelin app. While it works like a GPS similiar to Google Maps, ViaMichelin also estimates any tolls and your fuel costs for your trip. It's super helpful for trip planning when you're trying to figure out whether flying, taking the train, or driving is the most cost effective way of getting to your destination.
ViaMichelin is free and is available for iPhone and Android.
Once You're There

XE Currency: Most of us need to know how much money we're spending and doing math, even if you know the current currency exchange rate, is probably the last thing you want to be doing on your holiday. With internet the XE Currency app is updated in real time and the free version allows you track 10 different currencies at the same time.
XE Currency is free and is available for iPhone/iPad, Android, BlackBerry, and Windows Phone.
FourSquare: FourSquare helps you locate restaurants, bars, and more based on your current location, when you have internet. Even better, travelers that have come before you have left their helpful tips to make your experience a better one. I love FourSquare for a couple of reasons: if a place has locked wifi, you can often find the password in the tips courtesy of a traveler that previously sleuthed it and a restaurants' best dishes to try (and sometimes dishes to avoid) have usually been also been left as tips. Some businesses even have exclusive FourSquare specials; just show the discount on your phone to redeem it.
FourSquare is free and is available for iPhone, Android, and Windows Phone.
Uber: In most cities you can't just hail a taxi like you can anywhere in NYC. And have you every actually tried to hail  a taxi in NYC? Uber hails a taxi for you right from your phone, while you stay nice and warm (or cool if it's summer) waiting inside. Uber has a variety of options from a regular taxi to ride sharing to a private car and is available in many cities throughout the world.
We love that you store a credit card on your account or connect your account to your PayPal. We never have to worry about having cash on hand and collecting all those receipts we'll need later for our business expenses. It's all stored right in our account.
Uber is free and is available for iPhone, Android, and Windows Phone. Use the promo code gat6p to get your first ride free (up to $10).
Google Translate: Google Translate lets you translate 58 languages and can be very helpful in a pinch. I've had an entire conversation with a Russian when trying to find out information about a festival when we were in Moscow as we communicated entirely using my Google Translate app.
Google Translate is free and is available on iPhone and Android.
Staying Connected

What's App: What's App is a text messaging app that works on wifi and is free to text any of your contacts that have also downloaded What's App. A feature we love is that you can ping a contact with your location and your friend can open that up in Google Maps.
What's App is free and is available for iPhone, Android, BlackBerry, and Windows Phone.
For Fun

Spotify: We road trip a lot and we love to have our favorite tunes to jam out to on the road. Spotify is our new favorite music streaming app because it lets us create playlists, add the newest music, and even download and listen to our playlists offline with the Spotify Premium service.
Spotify is free and is available for iPhone/iPad, Android, and Windows Phone. Spotify Premium is $9.99 per month.
What are your favorite travel apps that you would add to our list? Leave us a comment and tell us what your best travel app is and why you love it. We may just update our list and include it!