The men you will see in front of Buckingham Palace (and other locations like the Tower of London Jewel House) are not just ceremonial guards but also serving soldiers. While upholding the traditions of the past, they also perform duties throughout the world as professional soldiers and are known as some of the most elite and skilled soldiers in the British Army. The soldiers are drawn from one of the five regiments of Foot Guards in the British Army: the Scots Guards, the Irish Guards, the Welsh Guards, the Grenadier Guards and the Coldstream Guards.
The Changing of the Guard is when a new guard exchanges duty with the old guard. The handover is accompanied by a Guards band. The music played ranges from traditional military marches to songs from films and musicals and even familiar pop songs.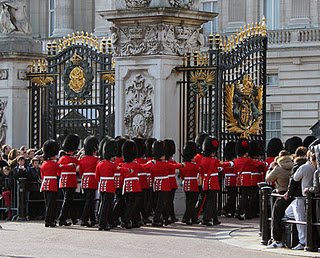 The guards march out of one gate, around the Victoria Memorial, and back in to the other gate in front of the Palace. The Horse Guards parade down the Mall to the Admiralty Arch and back before exchanging duty. The whole process takes approximately 45 minutes.
To get a good spot, you must arrive very early at Buckingham Palace. The Changing of the Guard takes place in front of the place at 11:30am daily from May through July and on alternating days the remainder of the year.