"And on the seventh day God rested from all the work he had done." Twelve years of Catholic school has the Book of Genesis burned into my brain. But in America, not much is actually closed on a Sunday. As Americans our 24/7, go-go-go, need-it-now mentality makes us forget that time practically stands still on Sundays in other parts of the world. Italy is one of those places and outside of the major cities like Rome, Venice and Florence, you won't find much open on a Sunday. Certainly not wineries! Except for one Sunday each year when wineries across every region of Italy open their doors during Cantine Aperte and no reservation is required for a tasting. Here are 7 must visit wineries to visit in the Friuli Venezia Giulia and Veneto regions for Cantine Aperte: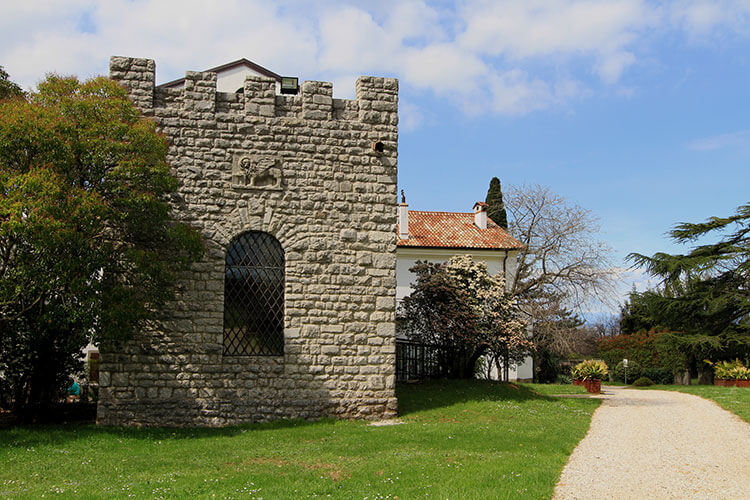 1. Castelvecchio
Castelvecchio Winery, located in Sagrado, has an incredible history. The grounds were the location of a World War I battle that ultimately took these lands away from the Hapsburg Empire. The villa even served as the Italian command headquarters and you can see graffiti from the soldiers preserved on its walls.
Try: The Friuli Venezia Giulia is known for its whites, but try the 2005 Sagrado Rosso, a blend of Terrano, Cabernet Franc and Cabernet Sauvignon from the vineyard's best years.
Castelvecchio Winery is located at Via Castelnuovo 2, Sagrado (GO) 34078
2. Fratelli Vogadori
A small family run winery with some of the most stunning views we've seen from any tasting room we've visited so far, Fratelli Vogadori is located in the Veneto's Valpolicella. Fratelli Vogadori even has a charming bed and breakfast. Each apartment has a balcony overlooking the vineyards and village of Negrar, which is situated close to both Lake Garda and Verona.
Try: Always a fan of Amarone, the 2008 Amarone Forlago stole my heart. It is only made from the best year's grapes and has to be a nearly perfect Amarone. It is aged 1 year longer than Amarone Classico and has aromas of chocolate and vanilla. It tastes of chocolate and has just the slightest hint of sweetness.
Fratelii Vogadori is located at Via Vigolo 16, Negar (VR) 37024
3. Paladin
The Paladin wine estate is run by brothers and sister Carlo, Lucia and Roberto. They follow their grandfather's wine making traditions since Paladin was established in 1962, though the love of wine and vinitculture in this unique area straddling both the Friuli Venezia Giulia and the Veneto regions dates back to the Roman ages.
Try: One of our favorite red wines is Malbec and it is typically used as a blending grape in Europe. Palladin's Malbech Gli Aceri has won awards and we're happy we don't have to travel all the way to Chile for a great bottle!
Paladin is located at Via Postumia 12, Annone Veneto (VE) 30020
4. Principi di Porcia
Principi di Porcia is much more than a winery. Principi di Porcia is a leading wine producer in the Fruili Venezia Giulia region, with the estate having two sales points: one at the Castello di Porcia and the other at the Fattoria Azzano Decimo farm.
Their 840 hectare Fattoria Azzano Decimo farm has several important projects that are sources of agro-energy and produces bio-gas for the entire community of Azzano Decimo. The cows play an important role at the farm too. Their manure is utilized to fertilize the grapes organically and the milk they produce daily is given to the Latterie Friulane for the production of Montasio cheese.
Try: The 2007 Titanus, a vintage from the Le Riserve del Castello, has a very velvety texture and hints of vanilla. It's aged in French oak barriques and has very long production process.
Principi di Porcia is located at Via Zuiano 29, Azzano Decimo (PN) 33082
5. Al Canevon
The Strada del Prosecco, winding along spaghetti thin roads in the Prosecco Hills of Veneto has some serious wow-factor and Al Canevon is located in the DOCG territory with an astounding 40 hectares. Here a vineyard that large is really something special and it's just one of the reasons they've made a success market for themselves since opening their doors in 1971.
Try: We don't drink Prosecco often, but the dry and elegant fruity Valdobbiadene Superiore DOCG Brut is perfect as an apertif or would be great with fish dishes. Perfect when served at a very cold 7 – 8°C, we can already imagine it being refreshing on a hot summer day.
Al Canevon is located at Via Prà Fontana 99, Valdobbiadene (TV) 31049

6. Vistorta
The Friuli Venezia Giulia is known, quite famously, for their white wines. So it might be surprising that there is a top notch winemaker focused on reds in the FVG. Brandino, Vistorta's winemaker, studied at Texas A&M and then interned in Bordeaux before returning to Italy and focusing his attention on the merlot grape.
Try: A red is a must at Vistorta and we are particularly fond of the 2009 Vistorta, made from 100% merlot. It's smooth and pairs wonderfully with baked pasta, medium-aged cheeses and, of course, meat dishes.
Vistorta is located at Via Vistorta n. 82, Sacile (PN) 33077
7. Cantina I Magredi
Originally purchased to be a fruit orchard, the Tombacco family started cultivating grapes for wine making in the 1980s. The wines produced at I Magredi are meant to enhance all the delicious flavors of the Friuli Venezia Giulia like San Daniele proscuitto and Montasio cheese.
Try: While I Magredi does produce some reds, whites are king at this FVG winery. Try the Divinotello Bianco, which pairs nicely with shellfish from the region.
Cantina I Magredi is located at Via del Sole, Domanins (PN) 33090
Know Before You Go
Cantine Aperte 2019 is on May 25th and 26th from 10am – 6pm.
Find all the participating wineries for Cantine Aperte all across Italy here.