With a commanding presence over the Gulf of Trieste, Castello di Miramare (or the Castle of Miramare) is majestic. Growing up, I used to pretend my house was a castle and as I begrudgingly did chores like the dishes, I would imagine I was Cinderella. Castello di Miramare practically fit the bill for the type of castle I would always picture myself living in. That is until I heard the legend of the ill-fated who sleep there…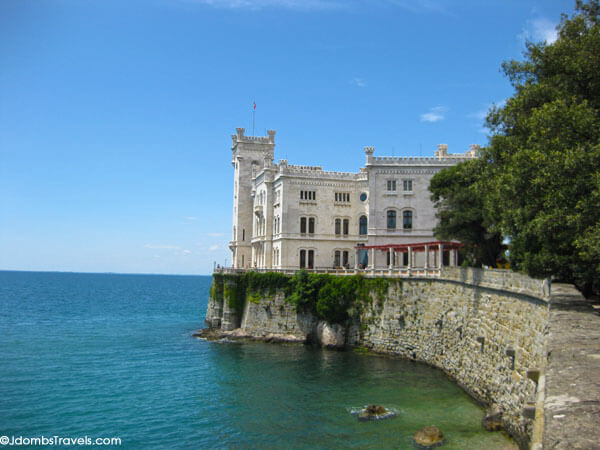 Castello di Miramare was built by Archduke Ferdinand Maximilian of Hapsburg for his beautiful wife, Charlotte of Belgium in 1860. He wanted a residence befitting his rank and fit for a queen. It was their love nest – isolated between the sea and the magnificent 22 hectare green park, most importantly, far away from the Hapsburg Court and their intrigues of the couple.
Maximilian closely supervised the construction of the castle and the park. He and Charlotte moved in to the ground floor well before its completion, which would only happen after Maximilian and Charlotte moved to Mexico in 1864. The Mexican monarchists had been after Maximilian to take the Mexican throne since 1859 and it was only after the French intervention in Mexico and under pressure from Napoleon III, that he finally consented. He and Charlotte became Emperor Maximilian I and Empress Carlota of Mexico in April of 1864 and took up residence in Mexico City.
Napoleon III ended French support of Maximilian and withdrew French troops from Mexico just three years after Maximilian took the throne. Refusing to abdicate the throne and leave Mexico, even at Napoleon III's urging, Maximilian was taken prisoner at Querétaro  in May of 1867 by Juarez's Republican troops. Little more than a month later, at the young age of 34, he was shot by order of Juàrez.. Charlotte went insane after Maximilian's death and spent the rest of her days in seclusion, deeply in love with her husband and hanging on to the possessions they shared.
From this tragic story, the legend was born that Castello di Miramare is cursed and anyone who sleeps there is fated to die a violent death at a young age and in a foreign land. While I have no doubt I'll live out my days in many foreign lands, I want to do so for many years to come!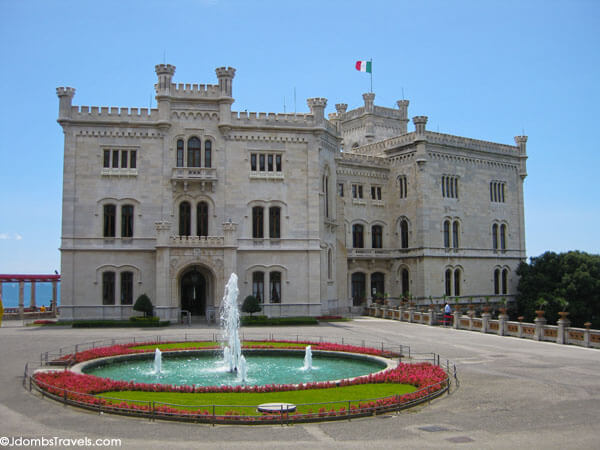 Despite the curse, it's safe to make a day trip to Castello di Miramare and visit the 20 or so rooms still furnished with the original furnishing of Maximilian and Charlotte. Photos aren't allowed inside the castle, even for us press card holding writers, so you'll just have to visit yourself to see the lavish interior.
And if admiring the sumptuous furnishings, imperial symbols decorated with coats of arms, and the rich tapestries aren't your thing (ahem guys), the balconies that hug the castle afford visitors stunning views over the Gulf of Trieste. It's a romantic spot to steal a kiss, admire the view, and score some points with your sweetheart. "Remember that time I took you to a castle…?"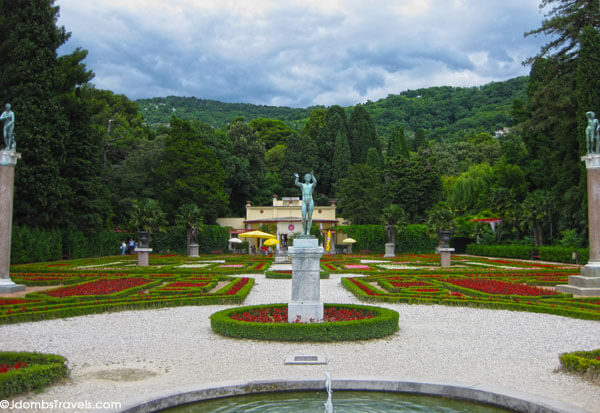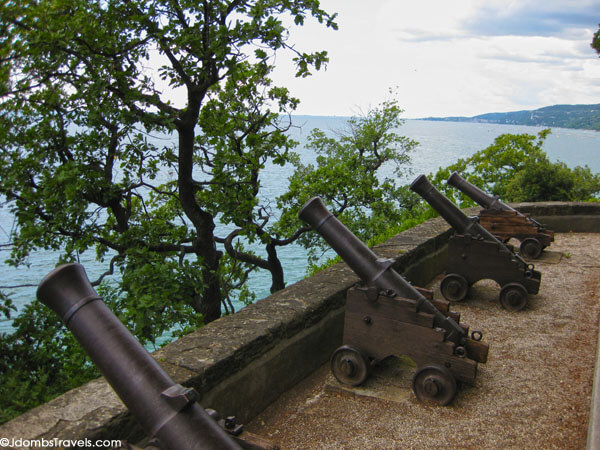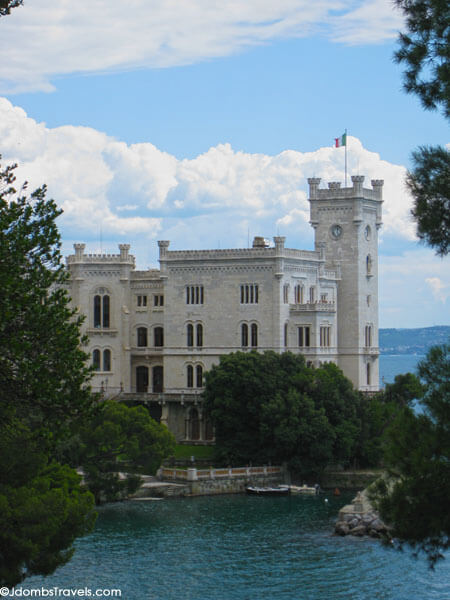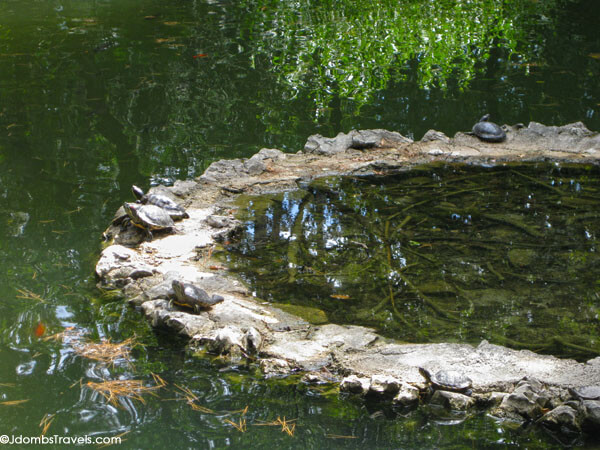 Miramare Park is huge and the gardens are immaculately groomed with bubbling fountains. There is a small bar selling cool drinks and ice cream, perfect for cooling off on a hot summer day. Be sure to wander down the various avenues of the park. You'll find cannons donated by Leopoldo l of Belgium, beautiful views of the castle, and little ponds where turtles sun themselves.
Know Before You Go
Opening Hours & Tickets
Getting There
Castello di Miramare is open daily from 9am – 7pm. The Park is open November – February from 8am – 4pm, March and October from 8am – 5pm, and April – September from 8am – 7pm.
Entrance to the castle is €4 per person and entrance to the park is free.
Audio guides are available in English for €3.50 or guided tours are also available in English for an additional €4 per person.
Castello di Miramare can be reached by train to Trieste Centrale and the by No. 6 (summer only) or No. 36 (year round) bus to Miramare – Grignano. It is then about a 15 minute walk to reach the castle. From June  – August, it is also possible to take the ferry from Trieste to Grignano. Tickets are €4.05 each way. View the timetable
here
. Castello di Miramare is also easily reached by car.