There's a lot to love about Sicily. From turquoise water that glistens like the Caribbean to ancient architecture that has been influenced by a host of nations and civilizations, there's always something to discover in Sicily. But of all the attractions on the Mediterranean's largest island, it's the Sicilian food scene that keeps visitors coming again and again.
Italian food is considered the king of cuisines, regularly topping lists of the world's best food cultures time and time again. The ability to take a few simple ingredients and turn them in to a work of culinary art on a plate has captivated our taste buds for centuries.
But ask anyone from Sicily, and you won't hear them utter the word "Italian". Though Italian cuisine certainly varies throughout Italy's 20 regions, the cuisine of Italy's southernmost island is so distinct in flavor that any local will proudly and loudly tell you it's Sicilian. Influenced by nearby nations and conquering armies that included the Phoenicians of North Africa, the Islamic Moors, Greeks, Romans, Normans and even the Spanish – just to name a few – it's really no wonder that the flavors and ingredients of Sicily can be found no where else in Italy.
Even for me, a previous resident of Italy for seven years, Sicilian cuisine is a bit of a mystery. Cannoli and arancini are world famous, gracing the cases of practically any Italian specialty shop from NYC's Little Italy to even my local Sunday market here in Bordeaux. Caponata, Sicily's answer to ratatouille, is arguably the island's most famous culinary export and is an apertivo staple. But beyond these few most famous Sicilian dishes, I admittedly didn't know much. I turned to Streaty Food Tours of Italy to introduce me to the Sicilian cuisine unique to Catania.
Catania Food Tour
Spilling from the base of Mount Etna, Catania is nestled between Europe's largest and most active volcano and the Ionian Sea. Inhabited for some 2700 years, Catania was supposedly (according to the Greeks) founded in 729 BC. The Sicilian city has been conquered, sacked, reconquered and changed identity so many times that it was even part of the Spanish Empire for a brief period before officially becoming part of the newly unified Italy in 1861. With such a contorted history of identities, you can only imagine the influence all of that history had on the cuisine.
Well, actually you don't have to imagine at all. You can practically taste 2700 years of history with Streaty.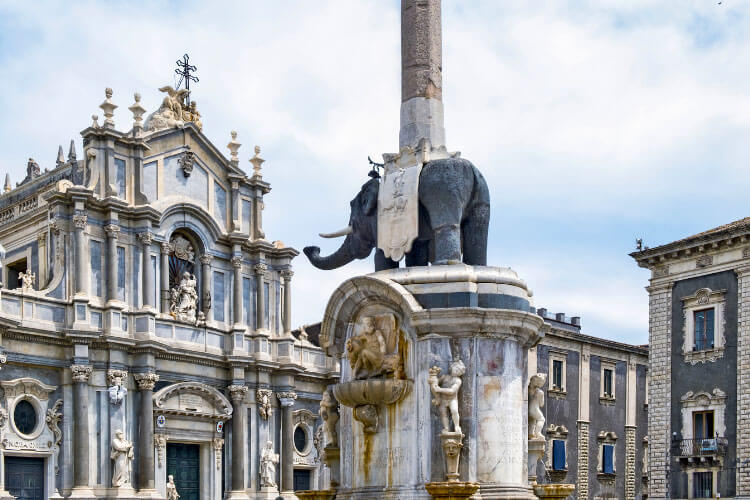 I met our local Streaty guide, Agata, in the Piazza del Duomo right in the heart of bustling Catania. And for the next three hours, Agata delighted our small group from all around the world with some of Catania's tastiest bites sprinkled with a fascinating history lesson. You'll just have to go on one of Streaty's food tours in Catania to fully dive in to the native Sicilian cuisine there, but I will share a few favorite bites and stops from the food tour.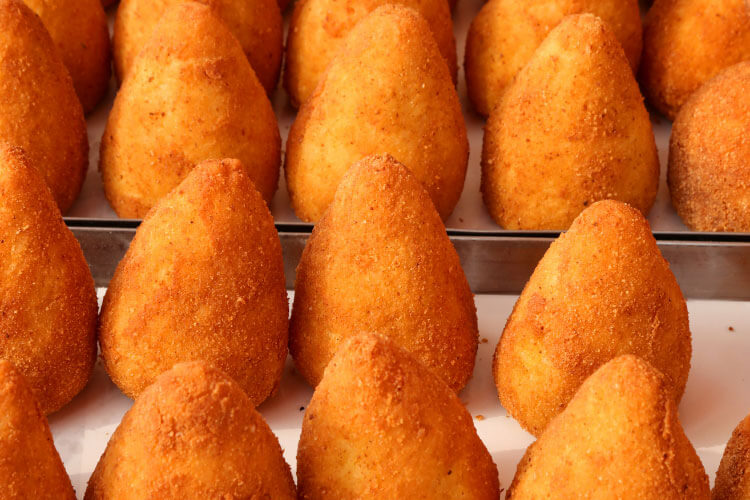 Arancini
Of course, you can't come to Sicily and not taste its most iconic street food. I'd been gobbling up this delicious Sicilian snack from some of my favorite bars and at festivals for years while living in Italy. But I'd never had arancini – said to have originated in Sicily in the 10th century – actually in Sicily. Since I'd already committed this cardinal sin on a previous trip to Sicily, I was thrilled an arancini stop was included on our Streaty Catania food tour.
Arancini, the name meaning "little oranges" because that's what they look like in some provinces, are rice balls that are stuffed with a filling and deep fried. Arancini – the plural of these delicious rice balls – are either round or shaped like a cone. And even depending on where you're at in Sicily, there's a slight variation in the name. Want to sound like a local? When you're in Catania, order a single arancino, but if you're in Palermo call it an arancina.
As you'll learn on the tour, arancini dates back to the 10th century during the Arab rule. Though arancini wasn't quite the invention it is today. It likely was sweet in the 10th century before becoming savory around the 12th century as fisherman and farmers started using up leftover risotto by frying balls of it as a portable and high-energy snack. Adapted over time with ingredients from the west, arancini became the delicious Sicilian street food we know today.
The most typical filling is ragu, with beef and peas. But in Catania, you'll even find aracini with fillings of pistachio or eggplant.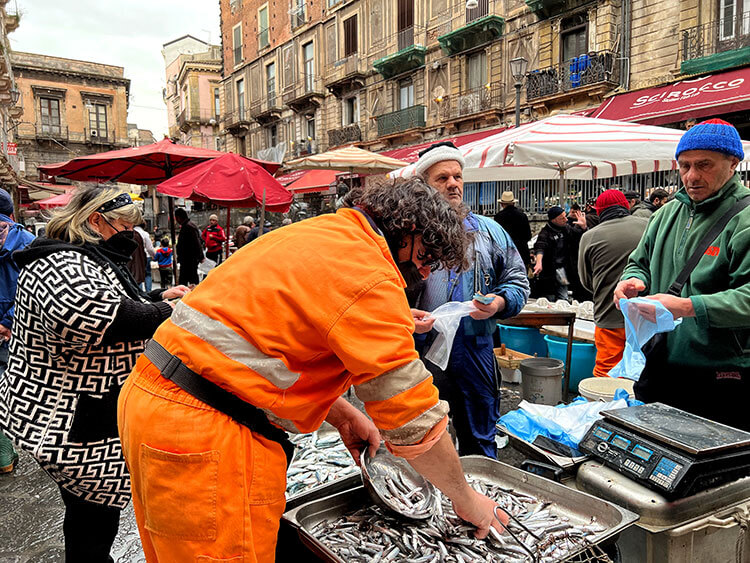 Fritto Misto at Catania Fish Market (La Pescheria)
First, I have to say I've been to a lot of fish markets around Europe from the impressively progressive fish auction in Palamos, Spain to my weekly outdoor market where fisherman sell their fresh catch. I have never seen anything like the Catania fish market – and it's not even the largest. That distinction goes to another fish market in Sicily: the fish market of San Benedetto.
Basically the beating heart of Catania, the fish market is one of the largest of Sicily. Located adjacent to the Piazza del Duomo, La Pescheria (Italian for fish market) is where our Streaty Catania food tour began. Nearly as old as Catania itself, much of the customs of the fish market haven't changed in hundreds of years. Fishmongers bark out their prices and haggle with customers in their Sicilian dialect. It's lively, it's gritty and it's chaotic.
Thanks to our Streaty guide, Agata, what would seem overwhelming to just about anyone who's not a local quickly made sense. The Catania fish market is divided in to several sections. There's the area where chefs buy in bulk from catch so fresh many of the fish are still flipping and writhing about. Then there's the stalls that cater to the public where you'll see many housewives negotiating their price for some a fish or some seafood for dinner. And there's the frozen section where fisherman sell their catch that has been immediately frozen right on their boats, much of which is sold to wholesalers and chefs.
The variety of fish and seafood laid on the ice-filled tables is mind blowing. There's octopus, tiny clams, silvery sardines, and shrimp so teeny-tiny that a humorous fisherman pops the still wriggling little shrimp right into his mouth raw with the shells and all. The fish largely come from from Mazara del Vallo, Italy's largest fishing port located in southwest Sicily. Then there are fish from smaller ports famed for specific things like swordfish from Favignana and anchovies from Sciacca. Seeing every form of fish and sea life you could possibly imagine is a testament to just how important seafood is to the Sicilian table.
We stopped by one stall to taste the salt cured anchovies and some giardiniera, which is pickled vegetables and very typically eaten as part of apertivo to get the digestive juices moving. Always a fan of giardiniera growing up in an Italian-American family, this was the best one I've ever had.
While fish and seafood is the main product at La Pescheria, the fish market is these days much more. You'll find fruits and vegetables produced locally in Sicily, butchers, cheese, stands selling freshly squeezed juice and more. Of course, you'll find pistachios. Grown only in a handful of countries around the world, pistachios were introduced by the Moors in the 9th century. The nuts took to the rich volcanic soil and have been laboriously harvested in the exact same way ever since – by hand, one by one.
Back to the fish, Agata talked a bit about some of the ancient fishing methods Sicilian fisherman still hold on too. And while many things here at La Pescheria quite literally haven't changed in hundreds of years, there's pockets of modernization that Sicilians have embraced. Like Scirocco Sicilian Fish Lab, a newer addition to the fish market where you can actually eat the fresh catch fried on the spot.
Obviously popular with the locals since every table was already full well before lunchtime, Scirocco offers up cones of perfectly fried fish. The sea cone without fish bones has shrimp, squid, swordfish and fish of the day. Having consumed my fair share of fritto misto not only during my years living in Italy, but already on this road trip, Scirocco was some of the best I've had. It's safe to say this little fritto misto restaurant in the heart of the bustling fish market was one of my very favorites of the Catania food tour.
Cipolline
Just as the cuisine is varied across Italy's 20 different regions and each has its' own specialties, there are specialties to be found within Sicily's nine provinces. The cannoli, famous for being a Sicilian specialty, actually is a specialty of and originated in the Palermo province. And Catania has its own specialty you simply can't miss: cipolline.
Cipollini are a type of onion from Catania that are sweeter and more mild than yellow onions. And the Catanese make a delicious savory puff pastry with the cipollini onions aptly named cipolline. This is the most typical Catania street food you can try, and locals consume this pastry any time of the day from breakfast to having it as a midnight snack.
After eating their way through Catania to find the best of the best, the Streaty team chose Bar Mazzini as the best cipolline in Catania. While I only tried the cipolline on the tour, I have to say they were a delicious surprise. I don't know that I'd select an onion pastry on my own, and I definitely would have been missing out.
Minne di Sant'Agata (Saint Agatha Cake)
Any food tour worth its weight in salt will end with something sweet. This being Sicily, and before you know much about Sicilian food, you might expect that dessert would be cannoli. But I already mentioned that cannoli actually originate from Palermo on the other side of Sicily.
Instead, we discovered another Catania specialty: minne di Sant'Agata (Saint Agatha Cake). The name actually translates to Saint Agatha's breasts, and there's a story as to how these little ricotta filled cakes with their candied cherry "nipple" came to be.
Saint Agatha is the patron saint of Catania. As the story goes, Agatha was a local Christian girl in Catania during the period of intense Decian persecution. The prefect Quintianus's pride was stung when Agatha refused to marry him. Quintianus reported her for being Christian, and Agatha was jailed and tortured. Just one of the many torturous things Agatha endured was that her captors cut off her breasts. Agatha was often depicted carrying her breasts on a plate.
Saint Agatha is celebrated with one of the largest religious processions in Italy from February 3 – 5 each year. And these little cakes, that ever so slightly resemble breasts, are made for this occasion.
More Than Food…
Food tours are truly my favorite way to discover cities. I've indulged in food tours from Cambridge to Barcelona, and everywhere in between. Not only are food tours are great way to discover local gems from actual locals, but you learn a lot too (all while eating your way through the city, of course!).
With Agata, our small group visited one of the hidden underground rivers still coursing through a lava cave beneath Catania. The lava cave dates from an eruption in 1629 and it's located beneath a cool bar. We also discovered some of the street art by some of the more popular street artists around Catania. And we briefly visited the Castello Ursino, with its lava rock moat surrounding it.
The Streaty Catania food tour was definitely a great introduction to Catania. And while I only visited Catania itself briefly while staying in Taormina, the Streaty tour left me wishing I had more time to discover Catania. Next time, because I will definitely be back to Sicily again someday!
Know Before You Go
Streaty
offers food tours in Catania, but also throughout Sicily in Palermo and Taormina and in Italy such as in Naples and Venice. Be sure to book in advance as their small group tours do book up regularly!
Streaty Catania food tours are offered in the morning (the fish market and surrounding) and the evening for those who want to hike Mount Etna during the day. The tours are 3 hours and suitable for just about everyone. Be sure to ask in advance, but the tour was dog-friendly and Coco the Traveling Samoyed did also go.
I was a guest of Streaty in order to bring you this story. However, Luxe Adventure Traveler maintains full editorial control of the content published on this site. As always, all thoughts, opinions, and enthusiasm for travel are entirely our own.