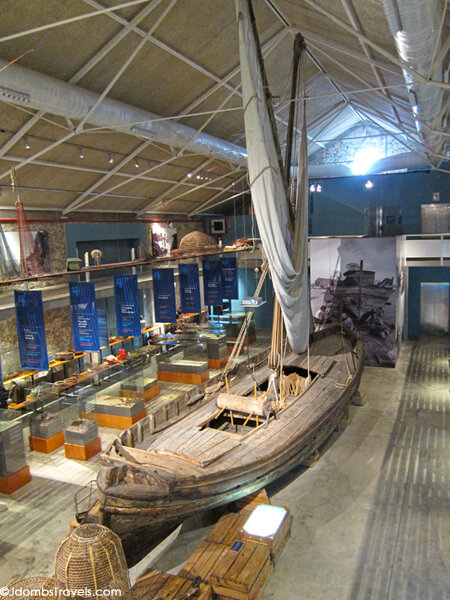 The town of Palamós has been a fishing port for many centuries and I got a firsthand look at the process of how fresh fish goes from the Palamós Port to your plate.
My visit to Palamós began at The Fishing Museum (Museu de la Pesca) located at the Palamos Port. I can't claim being clever enough to coin the phrase "port to plate" myself; it was a catchy phrase used in a short video that runs through the history of fishing in Palamós in the museum's theater. The museum also houses an exhibition of many artifacts and scale models of the various fishing techniques.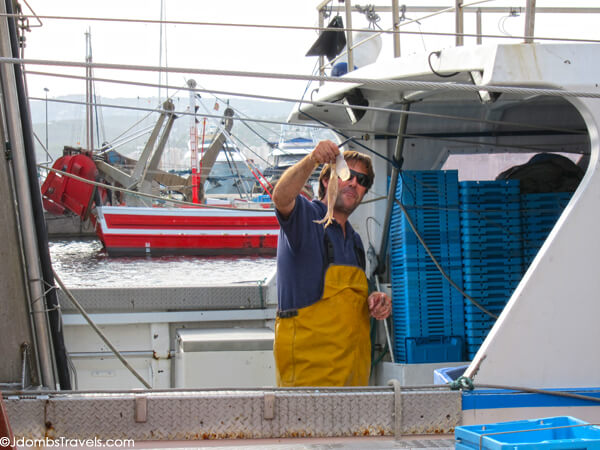 Just outside the museum at the port, hang around between 3pm – 6pm Tuesday – Saturday to see the fisherman coming back in from fishing with their catch. I watched in awe as the fisherman quickly sorted their catch into various bins, prepping for the Fish Auction. One fisherman cleaning a squid spotted me snapping away and proudly held the squid up!
I was particularly fascinated by the Fish Auction. There's no yelling at this auction (unless you count the one woman yelling at our group to leave since the auction is supposed to be closed to the public); restaurant and fish shop owners bid for various types of fish and seafood using an electronic remote. The price displays on a large screen hovering over a conveyor belt on which the bins of the day's catch roll by.
In the gourmet kitchen, the chef prepared a special fish dish (snack) for us each to try completing our lesson on port to plate. I'm usually fairly picky with my fish, but the lightly breaded mackerel with a sweet and sour vinegar sauce was absolutely delicious!
We ended our visit to the port with a stroll around the Palamós Fish Market. You truly know the fish is fresh when the fish market doesn't smell fishy in the least bit. Prawns, squids, lobsters, and monk fish all sat on beds of ice ready to be bought, brought home, and cooked up for someone's dinner.
And there you have it! Port to plate.
Know Before You Go
The Fish Museum is Tuesday to Sunday from 10am to 1:30pm and 3pm to 7pm.
Exhibits at The Fish Musuem are explained in 5 languages: Catalan, Spanish, English, French and German.
The Fish Museum has a viewing window where you can observe the Fish Auction.
The gourmet kitchen isn't open daily as part of the museum visit, but cooking demonstrations are available for groups and schools.
Thank you to the Costa Brava Girona Tourism Board  and The Fish Museum for hosting me. As always, all opinions are entirely my own.