More than 300 known caves snake beneath the surface of the Guadalupe Mountains in the Chihuahuan Desert. At Carlsbad Caverns National Park, the scenery is underground in a series of 113 caves, two of which are are some of the largest and most magnificent underground formations in the world. More than 30 miles of the passageways have been explored by cave scientists and more are constantly being discovered. Visitors to the National Park can explore about three miles of the caves, some tours like the Big Room Tour, easily accessible on nicely paved trails. But we wouldn't be exploring on paved trails; Tim had something a bit more adventurous in mind. We were ready to get dirty while wiggling ourselves through tight spaces caving in Carlsbad Caverns on the Lower Cave Tour.

The Lower Cave Tour is not for the faint of heart and definitely not for the claustrophobic. We were headed far below the surface, to the lowest part of Carlsbad Caverns that a National Geographic expedition wrote about in 1924. Our first challenge was to descend 80 feet on a slippery slope of smooth flowstone using a knotted rope. And there was definitely no turning back as we climbed down another 50 feet on a series of three ladders.  We were now more than 6 stories beneath the surface on the cave floor.
Water formed this underwater world more than 4 million years ago and drop-by-drop limestone-laden moisture decorated the caves with incredible formations, some stretching from the cave floor all the way to the ceiling above.
Led only be the light of our headlamps, our group of adventure seekers squeezed through tiny openings before emerging one-by-one into huge open chambers.
We crept through narrow corridors, being careful not to break any soda straws (stalactites) delicately dangling from above. We continued past clear pools and cave pearls formed from calcite crystallizing on tiny grains of sand.
The formations in the lower cave are smaller than those soaring stories high in the Big Room, but we thoroughly enjoyed our rugged caving adventure. Streaks of cave mud on our clothes and completely exhausted from the hike to the cave and squeezing our bodies through tight passages for 3 hours, we couldn't have smiled any bigger as we emerged from Carlsbad Caverns.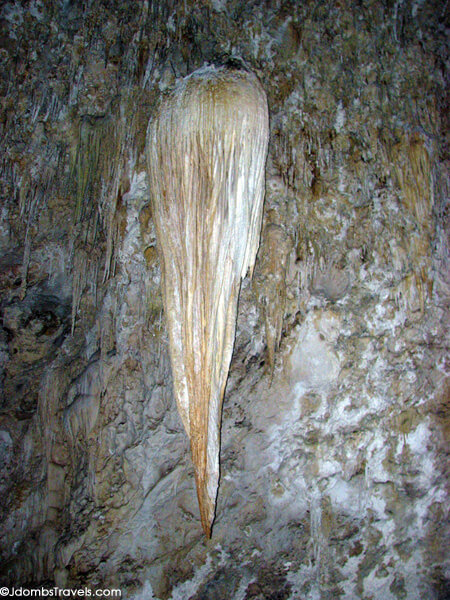 Know Before You Go
Carlsbad Caverns is located off US 62/180, 20 miles southwest of Carlsbad, New Mexico.
The Visitor Center is open from Labor Day through Memorial Day weekend 8 am to 5 pm and from Memorial Day weekend through Labor Day 8 am to 7 pm.
The Lower Cave Tour must be booked in advance and is limited to 12 participants. Tickets are $20 plus the required general admission and tour ticket at $10 per person. Children under 12 years of age are not allowed.
Lower Cave Tour participants must bring 4 AA batteries with them for the headlamp and sturdy shoes or hiking boots are required.