The United Arab Emirates (UAE) is still a very new country, 41 years young in fact. UAE National Day, celebrated December 2, marks the UAE's formal nationalization from British Protectorate Treaties which ended on December 1,1971 and the unification of the seven emirates which combined to form the modern-day country. In short, National Day is a lot like the United States' Independence Day. I've never spent a 4th of July in Washington DC though I've attended my fair share of 4th of July barbecues and fireworks, but I've honestly never seen a display of national pride like we witnessed during the National Day festivities while we were in Abu Dhabi.
We were told the Corniche was the best place to join in the festivities in the capital, so we headed to the beachfront strip. There we saw thousands of creatively decorated vehicles showing off the country's colors and adorned with head shots of their beloved Sheikh parading down the streets as they blared their horns. A group of expert sandcastle builders were carving a sand sculpture of the seven founding Rulers of the Emirates. A makeshift souk was set up selling arts and handicrafts as various dancers, singers, and jugglers wowed the crowds.
Every single person proudly displayed the UAE colors with dresses and shirts adorned with the flag, wigs, mohawks, and hats, all waving UAE flags. Little children proudly displayed the UAE facepainted on their cherub cheeks.
Even the skies were painted in the UAE colors with a fly-over by a seven-member UAE airforce aerial acrobatic team.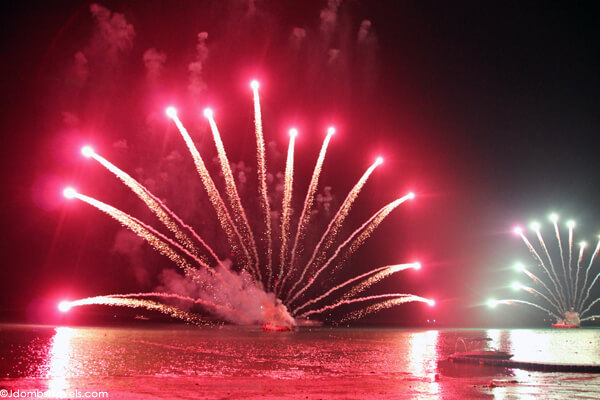 We took to the beach shortly before the scheduled 8:30pm fireworks display, scoring a front row spot just in front of one of the barges where the fireworks were being set off.
Just before piling into our taxi at the Shangri-la Abu Dhabi where we were staying, the staff warned us about the bubbles. Not entirely sure what that meant at the time, we soon found out that children and adults alike stock up on cans of silly string and foam bubbles that erupt out like shaving cream at the press of a button. One little boy giggled as he sprayed passersby with his can of bubbles and then squealed as he set his sights on me and chased me down the street!
We laughed at the bubble wars going on between the patriotic cars inching their way down the bumper-to-bumper Corniche. We waved our flags at the hundreds of people spread out along the promenade on their carpets (why bring a beach blanket when you can roll out your Persian carpet?!) barbecuing and making pots of Arabic tea. We were so happy to take part in this national celebration! I can't think of a better way to truly experience the culture.