Christmas in Paris is simply magical. Paris at Christmastime is as refined as the city itself. Every corner of every quartier has its own special enchantment from lively outdoor ice skating rinks to the many charming Christmas markets that line the streets and squares. Paris isn't called the City of Light for nothing, and especially so at Christmas. Here are just a few of the things not to miss in Paris at Christmastime: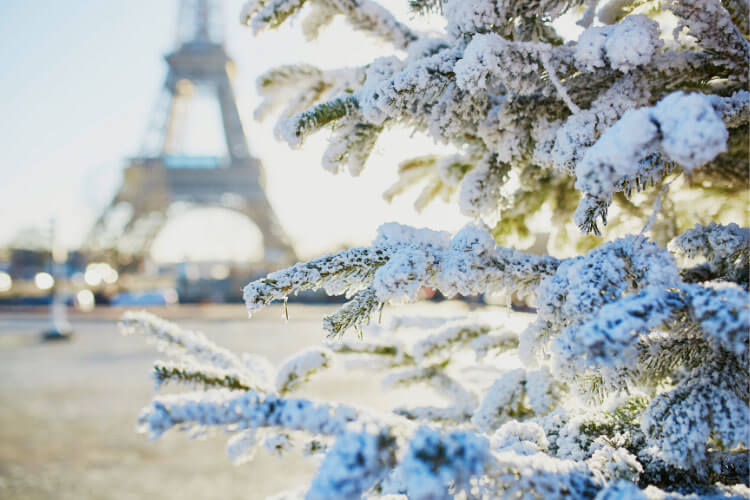 Paris Christmas Markets
Europe's Christmas markets are magical. A favorite part of the holidays in Europe, Christmas markets are a long tradition that dates back to the Middle Ages. Traditionally held in the town square, the Christmas markets were a bright spot during the short winter days that ushered in the Advent season.
While Christmas markets originated in Germany, they're now found all of Europe. And Paris is no exception. The city has a number of Christmas markets from some of the largest in the Paris region to quaint, boutique Christmas markets tucked away from the normal tourist trodden streets.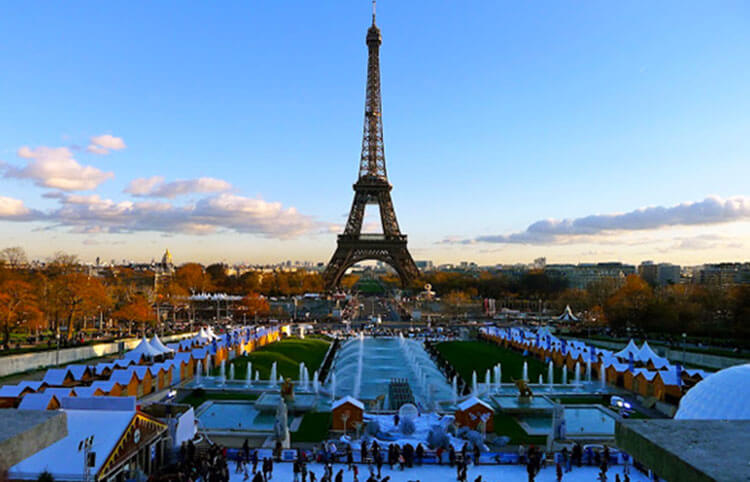 Eiffel Tower Christmas Market
The Eiffel Tower Christmas Market at Quai Branly offers Parisians and tourists alike the opportunity to soak up a little Christmas spirit. Visit the 120 chalets for a wide selection of gifts, treats and decorations for the holiday season.
Not to be missed is the outdoor ice skating rink. Nothing is more romantic than skating hand-in-hand at dusk as the Eiffel Tower twinkles near by. Warm up afterward with some vin chaud (hot mulled wine) while admiring the Eiffel Tower as the glittering lights cascade up and down it like golden bubbles in a champagne flute for the hourly show.
The Champ-de-Mars Christmas Village takes place December 2022 – January 2, 2023.
La Magie de Noël Tuileries Garden Christmas Market
The former Champs-Elysées Christmas Market that stretched from the Arc de Triomphe to the Place du Concorde was cancelled in 2017 after a dispute between the organizer and the city of Paris. But it was re-imagined starting in 2018 as the Tuileries Garden Christmas Market with more than 100 chalets set up in the Tuileries Garden next to the Louvre.
It's not Paris' biggest Christmas Market, but not to be missed when visiting Paris at Christmastime. Santa himself will make an appearance to delight the young and old alike. Each year the Tuileries Garden Christmas Market promises to be better than ever as both a traditional Christmas market and a fun fair.
The Tuileries Garden Christmas Market is open November 19, 2022 – January 8, 2023.
La Défense Christmas Market (Le Village de Nöel sur le Parvis de la Défense)
Another of Paris' biggest Christmas Markets (if not THE biggest in the Paris region), La Défense has more than 350 chalets with artisans from all over France selling their wares spread over 13,000 square meters. Each year since its launch in 1995, La Défense Christmas Market has grown bigger and better. This year's edition promises a minimum of 20% of local exhibitors in chalets labeled Origine France, selling artisanal products.
Energy saving LED lights illuminate immersive light displays created especially for Paris La Défense. Like Christmas magic, they switch on and off as you walk past leaving visitors feeling like the experience was created for them personally.
The ice skating rink atop the Grand Arch also returns, along with visits to Santa for the little ones and an animated village that will enchant everyone from 1 to 92.
La Défense Christmas Market is open November 23 – December 24, 2022.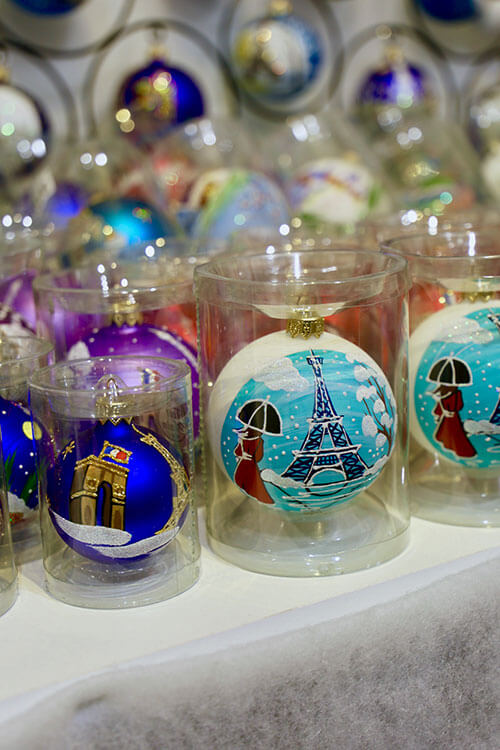 Saint Germain des Prés Christmas Market
Away from the crowds of the Champs-Elysées and a favorite Parisian neighborhood of many Paris insiders, a Christmas Market has appeared alongside the church of Saint Germain des Prés since 1999. The small, but quaint Christmas Market again returns with merchants delight visitors with a selection of French crafts and gastronomic specialties.
The Saint Germain des Prés Christmas Market is open November 26, 2022 – January 1, 2023.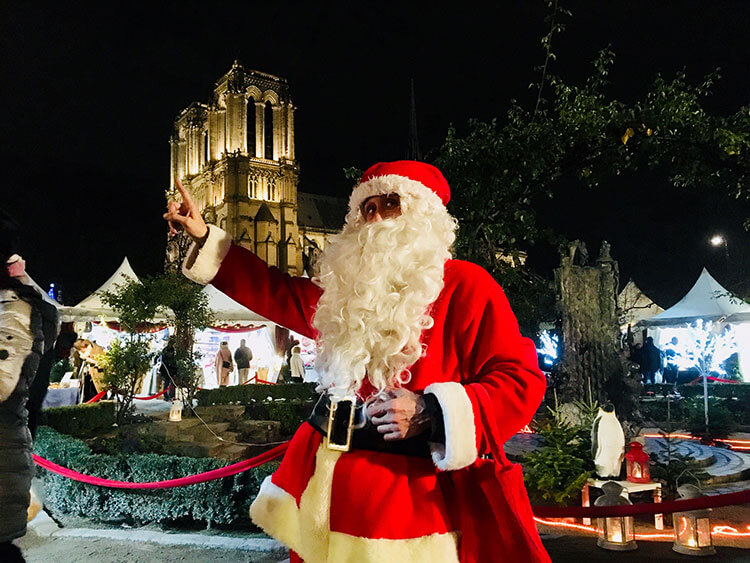 Notre Dame Christmas Market
Notre Dame may have suffered a devastating fire in 2019, but the annual Marché de Noel Paris Notre Dame still sets up at the Square René Viviani. Considered one of the most picturesque Christmas markets in Paris, visitors find a quaint Christmas market with around 30 stalls. It's here you'll find true French artisans and craftsmen, along with a selection of regional French specialties to sample. Santa Claus also comes on the market for the little ones to get a photo with.
The Marché de Noel Paris Notre Dame is open December 19 – 26, 2022.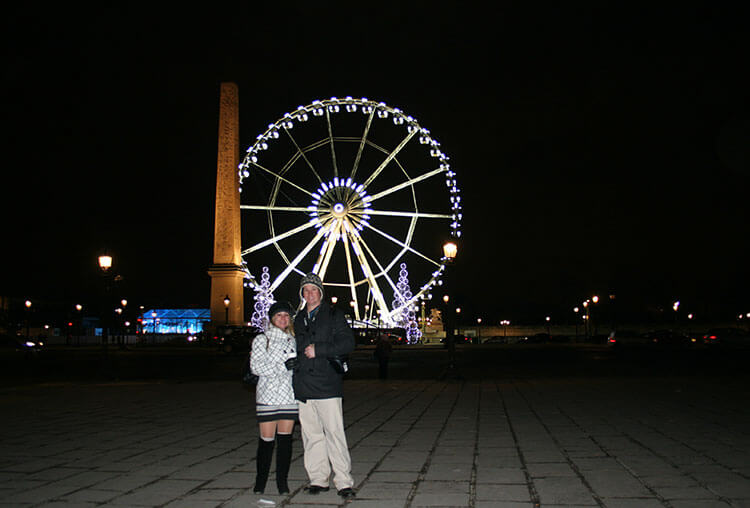 Paris Christmas Light Displays
Champs Elysées
While many streets in each arrondissement are decorated, the Champs-Elysées is one of the most popular and festive of the Parisian light displays. The most beautiful avenue in the world transforms into a Christmas wonderland with lights.
For 2022 the Christmas Lights on the Champs Elysées are officially switched on November 20 in a ceremony beginning at 5pm. The Champs Elysées is even car-free for the occasion, so that visitors and Parisians alike can gather right in the middle of the Champs Elysées.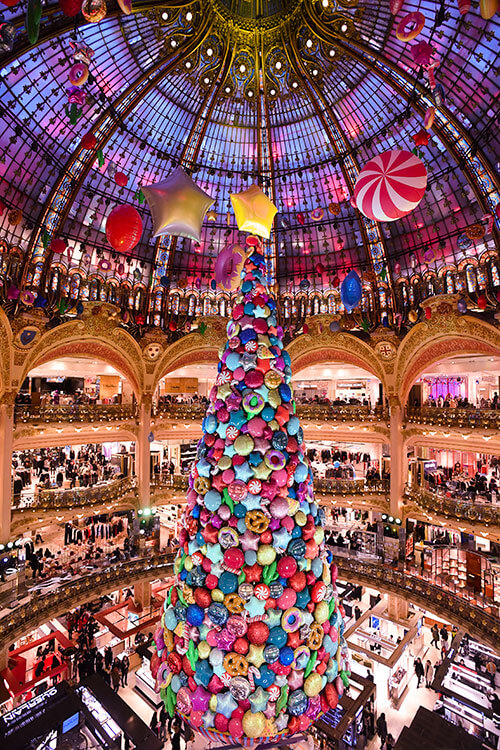 Galeries Lafayette
Don't miss Galeries Lafayette for holiday lights and windows that arguably rival those of New York City department stores. Every year the theme changes. and past themes have included classic American musicals.
There's not a more mesmerizing sight than window displays with with animated scenes like the Radio City Rockettes dolls wearing Santa suits, gold clogs and red tams or bathing suit clad teddy bears with snorkels and fins dancing away to the tunes of Mamma Mia. No matter what the year's theme, Galeries Lafayette knows how to enchant window shoppers from near and far.
Inside, the famous 20 meter Christmas tree under the glass dome is gorgeously decorated to Instagram perfection.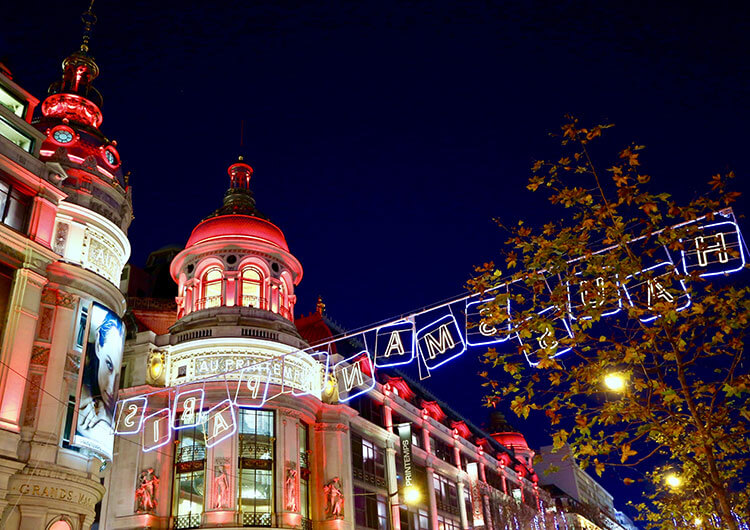 Printemps Paris Haussmann
It's "A Very Curious Christmas" at Printemps Paris Haussmann this year! The French department store known for its selection of beauty, fashion and accessories has created a magical world with amazing animals with contagious energy. Spot the Longchamp Christmas racehorse or Jott's crazy colorful parrots in Printemps' window displays, and find Printemps exclusives created by these brands inside for the perfect gift for someone back home (or for yourself as a souvenir from your trip to Paris.
You can take the perfect Instagram shot with one of the 12 original scenographies to try to win a gift card each week worth €250. And on Saturdays and Sundays until Christmas, Santa will be stopping by Printemps ready to pose for a selfie with you.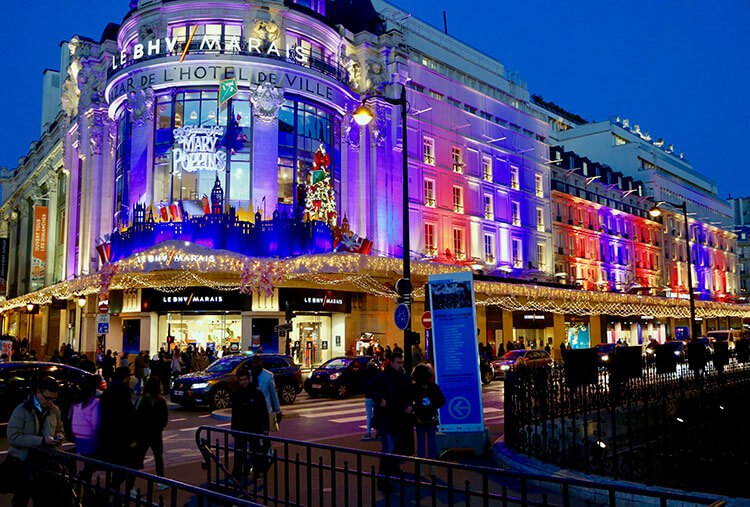 Le BHV Marais
Le BHV Marais department store transports Parisians and visitors alike to Switzerland with their Swiss themed Christmas window displays for 2021. Switzerland knows Christmas; you'll find at least one Christkindelsmarkt in every Swiss City. And Bern, home to Switzerland's oldest Christmas market, has had a Christmas market livening up its medieval streets for centuries.
It's all brought to life with fondue, window displays featuring Swiss peaks and more from November 9 – December 31, 2021. Warm up with cheese tastings, fondue and vin chaud while enjoying the window displays.
Le Bon Marché Rive Gauche
On the Left Bank, department store Le Bon Marché Rive Gauche celebrates Christmas with four windows of the Rue de Sèvres side decorated in gingerbread Christmas scenes.
The star this year is a gingerbread man named Aristide, named for Le Bon Marché founder Aristide Boucicaut. Four postcard scenes with dancing gingerbread men and candy canes have the following themes: musical, cheerleader, hip hop and cabaret burlesque.
See the window displays from October 29, 2021 and the interior Christmas decor from November 11, 2021.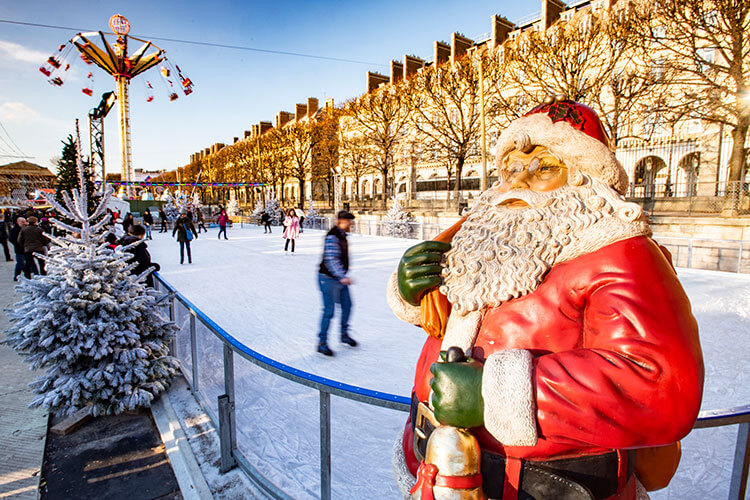 Ice Skating in Paris
One of my favorite holiday activities is ice skating. It immediately transports me back to my childhood when I'd impatiently wait for our pond to freeze so I could lace up my skates and practice my figure eights. The magic of twirling around the ice definitely hasn't escaped Parisians, and a number of rinks pop up around the City of Light during the festive season.
Grande Arche Rooftop Ice Skating at Paris La Défense
The rooftop of Paris La Défense's Grande Arche gives visitors a 360-degree view of some of Paris' most beautiful monuments. Worth a visit for the panoramic view anytime of the year, the Grande Arche is even more magical when the 110 meter high rooftop ice skating rink opens for the holiday season.
The ticket gives visitors to the rooftop, exhibition and ice skating rink. Just don't forget to bring gloves, which are mandatory to ice skate on the temporary rink.
La Défense Grande Arche ice rink 2022 dates TBD.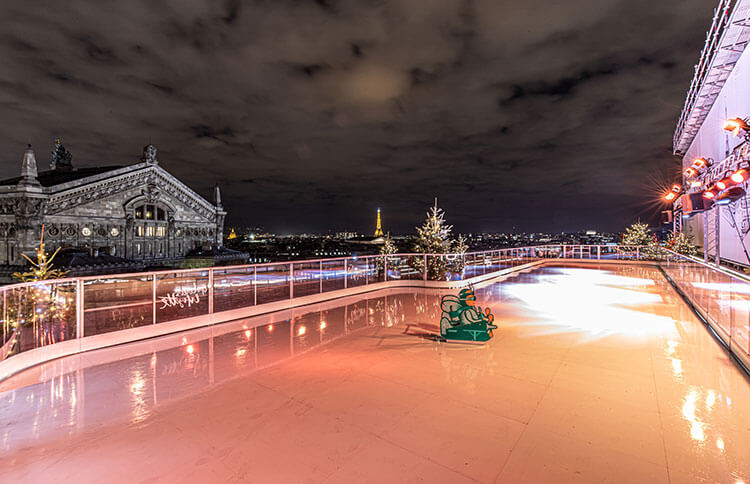 Galeries Lafayette Rooftop Ice Rink
Galeries Lafayette is one of Paris' most famous department stores. But you don't have to be a fashionista to appreciate the 8th floor open-air rooftop rink with unobstructed views of the Paris Opera and Eiffel Tower. Best of all: the Galeries Lafayette rooftop ice rink is free to access.
The rink can have up to 88 ice skaters at one time, and even has cute little honey bee aides to helps littles skate around the rink.
The Galeries Lafayette rink 2022 dates TBD. All ages welcome.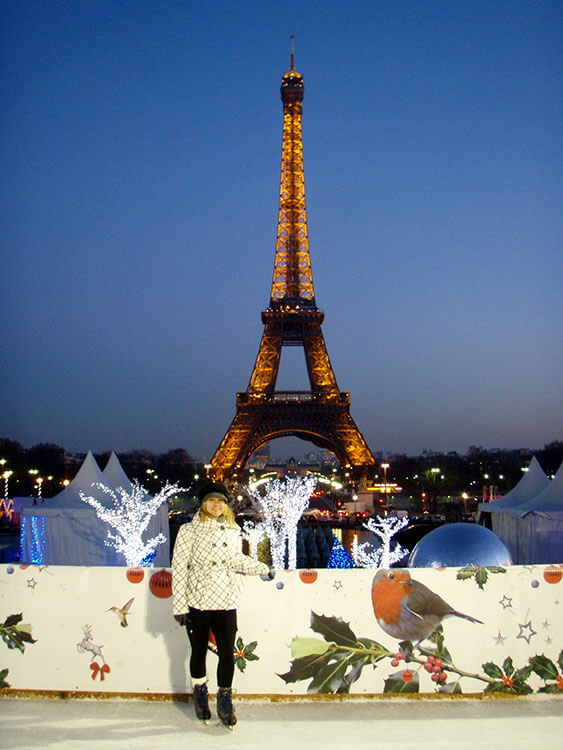 Champ-de-Mars Christmas Village Ice Rink
One of our favorite outdoor ice skating rinks in Paris is the one at the Champ-de-Mars Christmas Village. The ambiance of the Christmas Village and the stunning views of the Eiffel Tower across the Seine make for a romantic spot to twirl around the rink with a loved one.
The rink at the Champ-de-Mars Christmas Village is open to all ages. We recommend going around dusk when the Eiffel Tower twinkles for its hourly show for the first time of the evening.
The Champ-de-Mars Christmas Village is open December 2022 – January 2, 2023.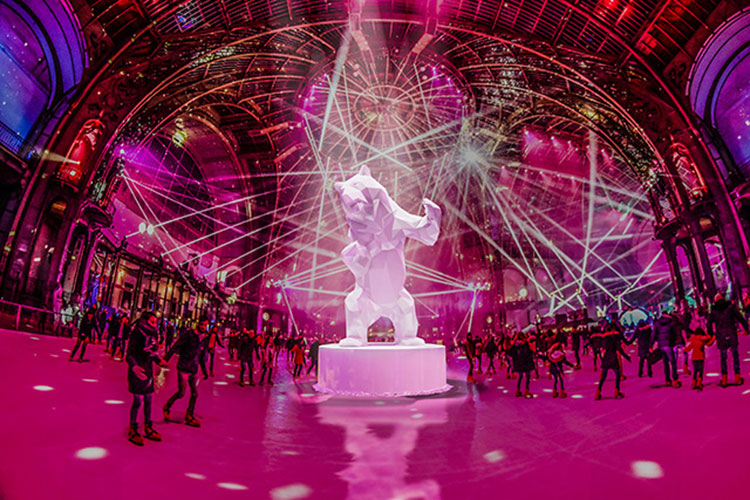 Le Grand Palais des Glaces
For the holiday season, the Grand Palais turns in to the largest ice skating rink in the world with 3000 square meters of space to jump and twirl. By day, the light filters through the famous glass roof. But by night, ice skating is illuminated with over 1000 lights.
From 8pm, Le Grand Palais des Glaces turns into one giant dance party on ice skates just like the skate parties of my childhood. A DJ spins tunes as a disco ball and light show illuminate the night.
The onsite cafe offers a hot chocolate fountain and snacks like waffles and French hot dogs.
Le Grand Palais des Glaces 2022 dates TBD.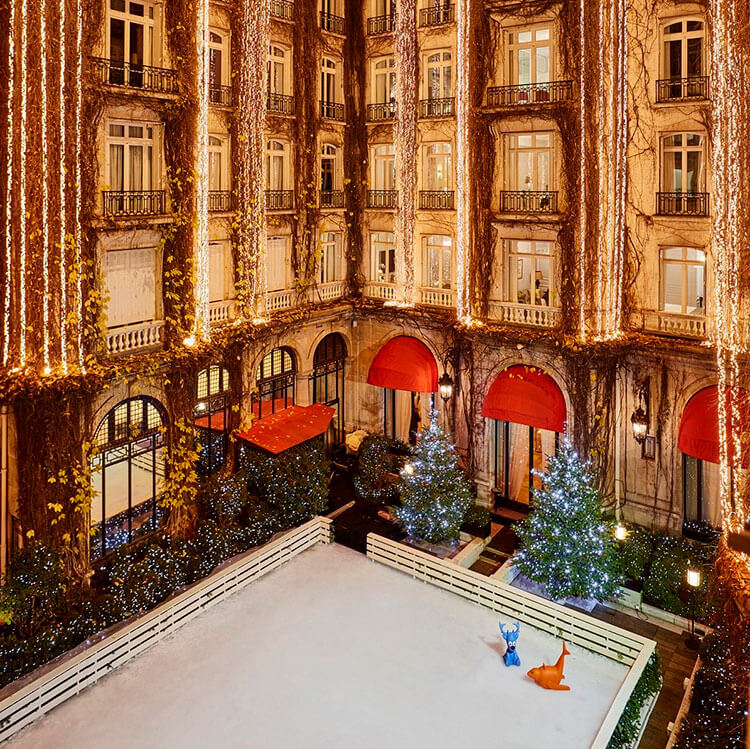 Plaza Athénée Ice Skating at La Cour Jardin
Plaza Athénée makes afternoon tea even more special with a 100 square meter ice rink just for kids aged 5 – 12 to take a spin on. The rink is located in Plaza Athénée's La Cour Jardin, which is transformed into a magical fir-tree forest for the holidays.
Mainly dedicated to guests of the hotel, the rink is included with a Festive Afternoon Tea booking. Instructors are on hand to help the littles skate while the adults feast on tea and gorgeous holiday cakes created by the Plaza Athénée's pastry chef.
Festive Tea Time at Plaza Athénée is on from November 20, 2022.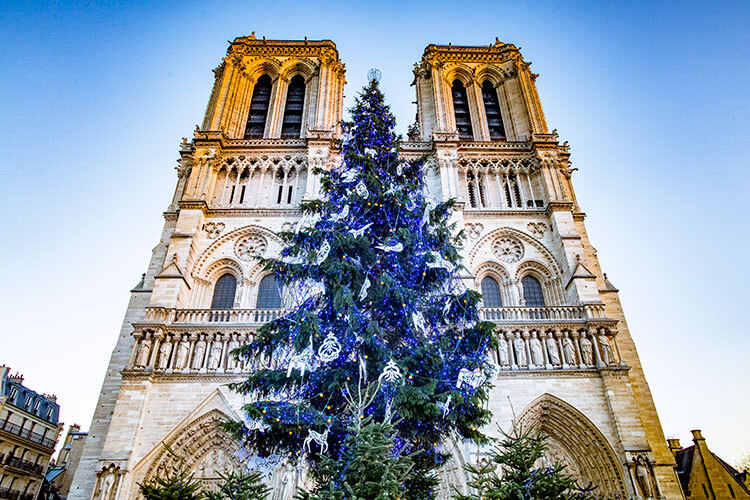 Things to Do in Paris at Christmas
While there's enough Christmas markets, Christmas light displays and ice skating to fill up any Christmas in Paris itinerary, these experiences are and extra special way to spend time in Paris during the holidays. From a Christmas treat filled foodie tour of one of Paris' best foodie neighborhoods to a cabarets that will definitely land you on Santa's naughty list. there's plenty to see and do in Paris during Christmas beyond the Christmas markets.
Take a Christmas-themed Food Tour of Paris
Did you know that the French have a tradition of eating 13 desserts at Christmas? Learn all about this unique French Christmas tradition while trying some of France's seasonal delights like nougat, gingerbread and a yule log on a walking food tour in the Saint Germain des Prés.
It's easy to feel overwhelmed by the sheer number of pâtisserie and specialty shops. With the help of a local guide, you'll be sure to eat the best Paris has to offer. Definitely a holiday experience any foodie will love.
The Paris Christmas Gourmet Food Tour is available November 26 – December 31, 2022. Tours are not available on Christmas Day.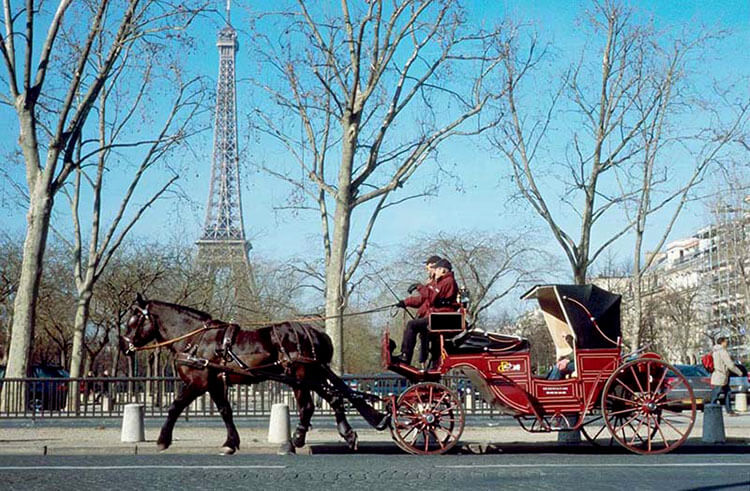 Go on a Horse Carriage Ride through Paris
The Christmas lights of the Champs Elysées are one of Paris' most magical holiday sights. Hop in a horse-drawn carriage for a ride along the Champs Elysées for a unique look at Paris' sparkling Christmas lights and monuments like the Eiffel Tower and Arc de Triomphe.
Upgrade the experience with a bottle of champagne to enjoy on the 1.5 hour tour of Paris while snuggling up with your special someone. It'll be a memorable way to experience Paris during the holidays.
Horse drawn carriage rides are available Wednesday – Sunday year round.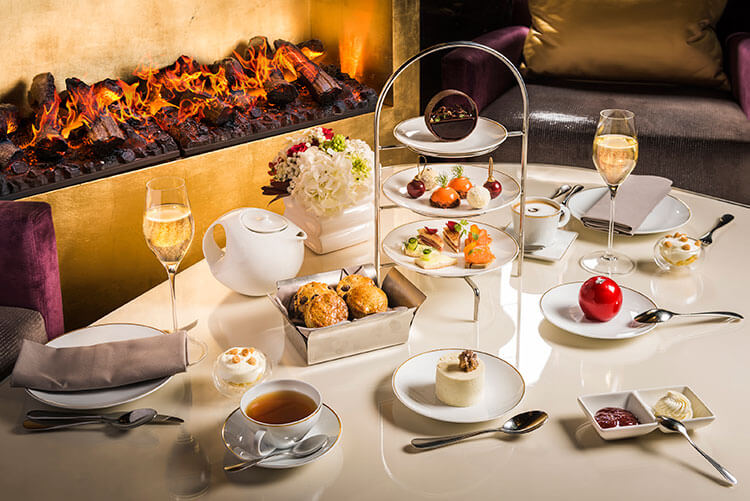 Winter Tea Time at Mandarin Oriental Paris
It can get chilly after a day shopping at Paris' Christmas markets and wandering the many sights of Paris. Head inside for the festive Winter Tea Time at the Mandarin Oriental Paris.
The delicious festive afternoon tea by Mandarin Oriental Paris' pastry chef Adrien Bozzolo features an array of savory delights. The tea includes the hot beverage and pastry of your choice (we recommend choosing the passion fruit yule log), plus salty and sweet treats such as: citrus gingerbread, a chocolate Christmas ball, a coconut snowman, flavored scones and more.
Winter Tea Time at Mandarin Oriental Paris is available daily at Camelia at 3:30pm.
Christmas Dinner at Moulin Rouge
Moulin Rouge is a living legend in Paris. As the birthplace of the can-can, the lavish champagne-filled parties that famous dancers performed during have been attracting visitors since 1889.
The current show Féérie traces Moulin Rouge's history with 80 dancers (yes, they are topless) adorned in feathers and rhinestones. The cabaret attracts some 600,000 visitors every year who feel like they're stepping in to the Paris of days gone by.
A special Christmas menu is served during the holidays, though the Féérie show itself is the same. But if you're looking for an adult night out, don't miss dinner and a show at France's most famous cabaret.
The Moulin Rouge Christmas dinner is served from December 22, 2022 – January 4, 2023 The Moulin Rouge show Féérie is nightly year round.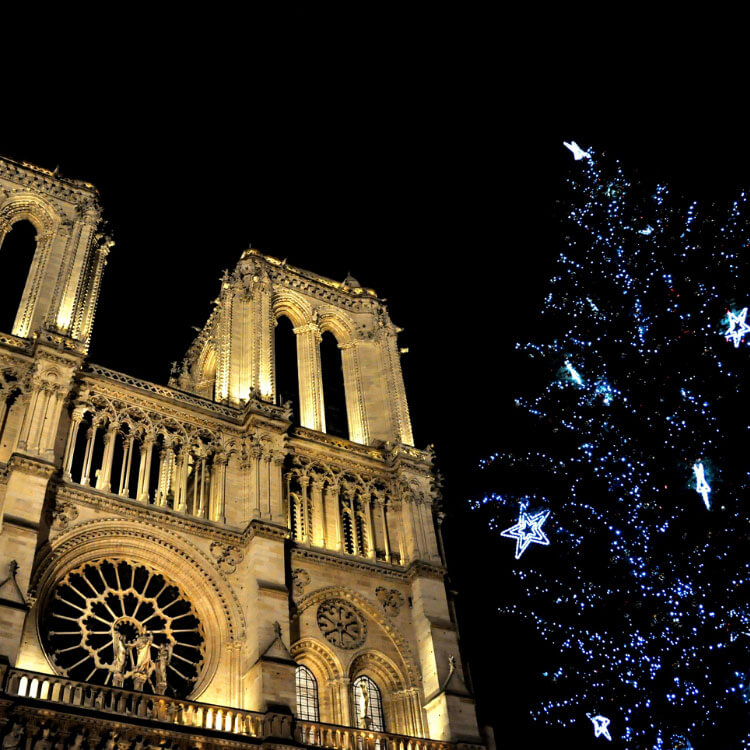 Take a Seine River Christmas Cruise
Paris is at its most beautiful as the lights come on. With monuments like the Eiffel Tower reflecting on the Seine and the night lit up with colorful Christmas lights, you won't want to miss out on a Seine River Christmas cruise.
Choose to cruise either at lunchtime or dinnertime on December 24 and December 25. A 5-course gourmet feast of holiday French dishes with wine awaits as you cruise the Seine, which has been called Paris' most beautiful avenue. Live entertainment is a nice enhancement to the Christmas lunch or dinner experience.
The Seine Christmas Cruise is available December 24 – 25, 2022 for lunch or dinner. A nightly Seine dinner cruise is also available year round.
Attend a Classic Concert in Sainte-Chapelle
There are a number of churches worth visiting in Paris, but Sainte-Chapelle simply can't be missed. Commissioned by King Louis IX, Sainte-Chapelle is not only the very first royal chapel to be built in France but also considered the finest royal chapel to built in France. The chapel's more than 1100 stained glass windows depicting scenesfrom the Old and New Testaments and recounting the history of the world are worth marveling at on any trip to Paris.
But Christmastime in Paris brings some extra magic to Sainte-Chapelle. Imagine enjoying in a classical concert in this beautiful Gothic chapel. You can even enjoy champagne and appetizers (for an extra fee) ahead of the concert. But be sure to book tickets well in advance, as they sell out quickly.
Eat a Galette des Rios for Epiphany
The Galette des Rois (King cake) is found in Paris at Christmastime. Its most notable feature is the hidden fève (prize), usually a porcelain figurine, in the cake. Whoever finds the fève in their slice of cake gets to wear a paper crown and be King (or Queen) for the day.
I can imagine that in the US a hard, pointy figurine baked into a cake would be considered a safety risk, but that's not at all the case here in France with lines of galette-hungry customers snaking out of every bakery that you pass. Tim found one of these porcelain collectibles in his cake and was king for the day! Of course, we only learned of the tradition after he thought a piece of the mixer had fallen into his cake.
Now as residents of France, having Galette des Rois is a must every January 6. Don't miss trying a Galette des Rois if you're in France during the holidays.
Where to Stay in Paris at Christmas
Just because you're traveling away from home during the holidays doesn't mean you need to end up in a boring hotel room that looks like it could be anywhere in the world. Some Paris hotels have some of the best Christmas decorations in Paris. Or if you're looking for a home to make your own, including whipping up your own Christmas morning pancakes, we've got some suggestions for holiday homes stay too.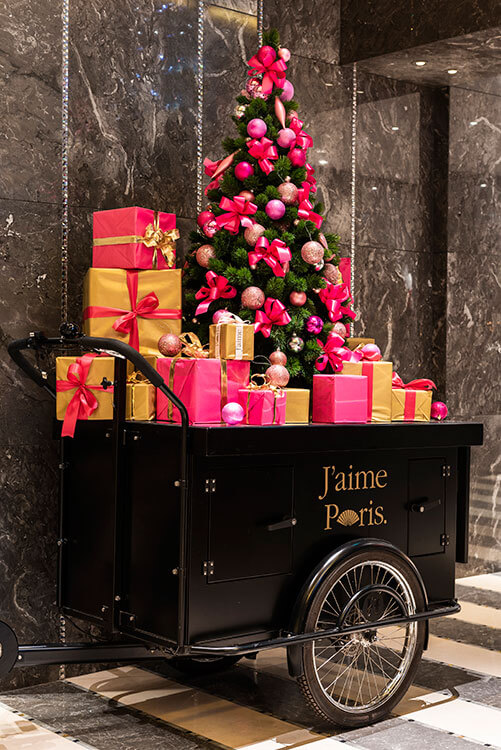 Mandarin Oriental Paris
Christmas is definitely in the air at the Mandarin Oriental Paris. The lobby and restaurants are turned into a winter fairytale every year with elaborately decorated Christmas trees and glittering baubles. You can typically expect a few holiday themed surprises from the MO Paris's pastry chef to pop up for guests, too.
And guests won't want to miss the yule log in collaboration with Gilles & Boissier, architects of their new signature suite: The Parisian Apartment. This year's yule log is chocolate and passion fruit, wrapped in a shiny chocolate glaze and decorated with edible golden dipped chocolate toys. It's *almost* too beautiful to eat!
We love the location in Paris's 1st Arrondissement and just two blocks from the Tuileries Garden. The Louvre, Opera Garnier and upscale shopping are all nearby.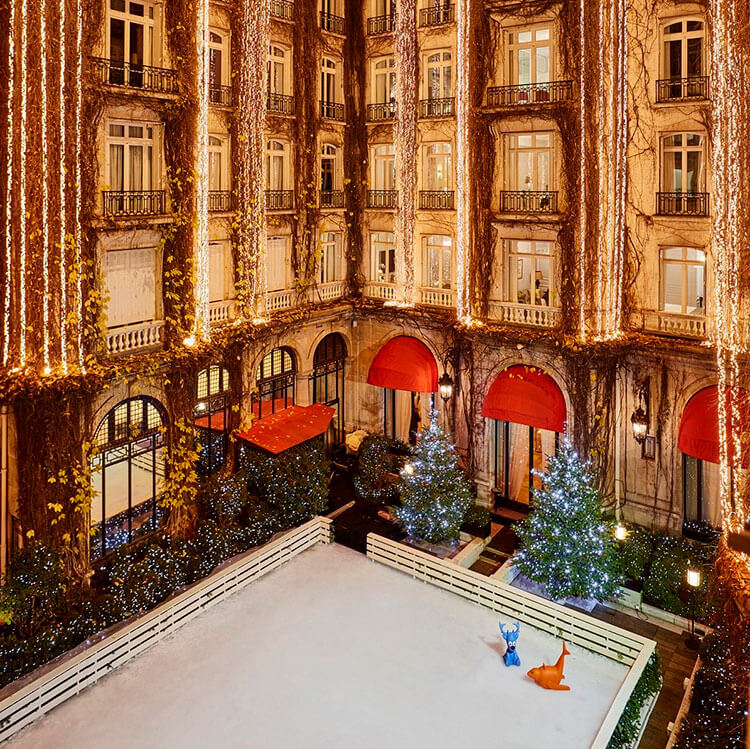 Hotel Plaza Athénée
Hôtel Plaza Athénée is one of the world's most legendary hotels. For more than a century, the hotel has been a chic fixture on Avenue de Montaigne every bit as fashionable as its neighbors like Dior and Chanel. Donning the ultimate distinction when it comes to Parisian luxury hotels, Hôtel Plaza Athénée is a grand palais hotel and even more desirable after a multi-year and more than 200 million Euro renovation.
A gorgeous experience any time of the year, Hôtel Plaza Athénée is transformed into a magical winter wonderland for the holiday season. The hotel is decked out in its holiday finest, and even has its very own private ice skating rink surrounded by twinkling Christmas trees in the hotel's La Cour Jardin.
Located in the 8th Arrondissement, being near the Champs-Élysées is one of our personal favorite parts of Paris to stay in. We love that you easily walk to just about any Parisian sight, or pop onto a number of metro lines with Charles de Gaulle–Étoile being a major artery in the Paris metro network.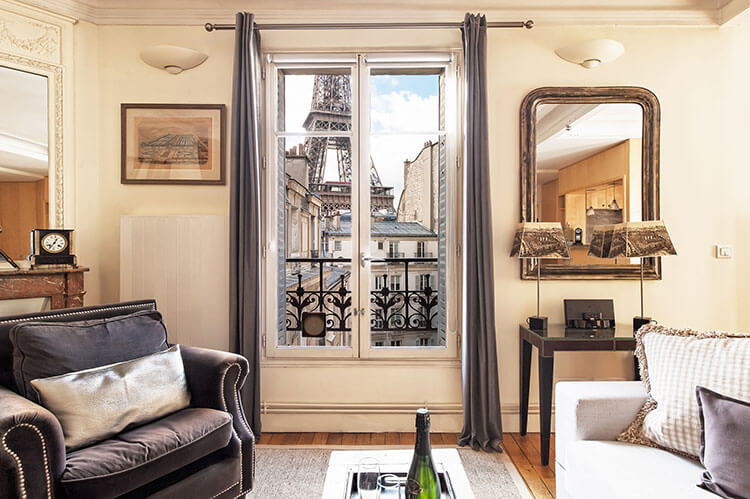 Paris Perfect Holiday Apartments
If you're headed to Paris with family and need a little more space than a hotel room or hotel suite, Paris Perfect holiday apartments offer the best of hotel meets an Airbnb-like experience. As Paris's premier vacation apartment rental company, you're assured a chic Parisian apartment in some of the city's most desirable neighborhoods.
With multiple bedrooms in many of the Paris Perfect holiday flats, the whole family will feel right at home. And with amenities like kitchens, you can even bring some of your favorite holiday traditions from home along on your Paris Christmas trip.
Paris Perfect's neighborhood guides definitely help you to find the best restaurants, shops, patisserie and more in your temporary Paris neighborhood. It's an excellent Airbnb alternative run by a small team of Francophiles who personally select, decorate and ensure everyone who stays in a Paris Perfect rental truly has the dream Parisian experience.
This article contains affiliate links. When you book on Viator or Booking.com through our affiliate sites, we earn a small commission at no additional cost to you.