Budapest remains our favorite European city even after three years of traveling extensively throughout Europe. We love the architecture, the mystery of the once secret caves snaking beneath the city, and the beautiful buildings spanning the banks of the Danube that twinkle as dusk sets upon the city. I love Christmas markets, so we decided to combine our love of the two by returning on another short break to experience the Christmas Markets of Budapest.
We've been quite lucky on our two previous trips to have gorgeous weather; this time the weather had a different plan. It was rainy and foggy the entire time we were in Budapest, but we still managed to make it out to two of Budapest's Christmas Markets: The Budapest Christmas Fair and the Budapest Basilica Christmas Market.
The Budapest Christmas Fair takes place on Vörösmarty Square in the heart of Budapest. We visited after taking a scenic Danube River cruise and despite the pouring rain, it was still lively with a band on the main stage entertaining market goers clutching mugs of mulled wine and hundreds of booths selling traditional Hungarian handicrafts, leather products, and Christmas ornaments.
The world famous Hungarian confectionery Gerbeaud draws crowds for its sweet treats year round, but in December the windows of Gerbeaud serve as Budapest's most famous Advent Calendar. In a grand display and to the tune of the chimes of Szilvia Kárászy, a new window is opened everyday precisely at 5pm to reveal a new contemporary work of art. Because of the rain, we sadly didn't spend much time at the Budapest Christmas Fair.
Our next evening the rain had finally stopped and so we headed out toward the Budapest Christmas Fair, stumbling upon Budapest's newest Christmas Market, the Budapest Basilica Christmas Market. The beautiful setting drew us in through the Advent Gate to another market sprawling around the central ice skating rink. We caught whiffs of the spices of mulled wine, the sweet, sugary scents of Kürtőskalács (chimney cake), and delicious roasting meats and sausages as we strolled around the wooden stalls.
We happily settled in to one of the wooden booths lining the ice rink, the blankets provided and hot mulled wine keeping us warm. We dug into fried Hungarian sausages and homemade Hungarian potato chips while listening to the Christmas music and taking in the beautiful lights in the square.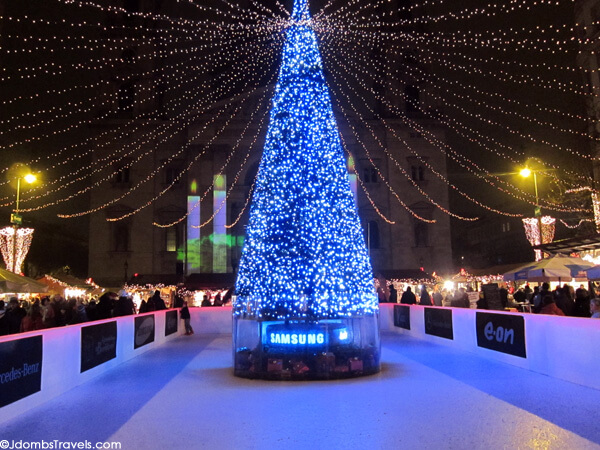 We were surprised to notice that both the rink and ice skate rental were even free at the picturesque market!
Our Mulled Wine Recipe

1 bottle red wine (we like to use Merlot)
1.5 cups boiling water
1/2 cup sugar
3 sticks cinnamon
3 whole cloves
1/2 lemon sliced
freshly ground nutmeg to taste
Combine all the ingredients in a stock pot and simmer for 20 minutes. Be sure it does not boil.
Strain out the cinnamon sticks and cloves.
Serve hot in mugs with a dusting of freshly ground nutmeg.
Know Before You Go
The Budapest Christmas Fair is open 10am – 9pm daily November 10 through December 31, 2017. Holiday hours: December 24 from 10am – 2pm, closed December 25 and 26, December 27 from 12pm – 9pm, December 31 from 10am – 4am.
Getting there: M1, M2, M3 metro lines Deák tér station (a short walk from there), M1 metro (yellow line) Vörösmarty tér station, tram 2 Vigadó tér stop (a couple of minutes walk form there), trams 47, 49 Deák tér stop.
The Budapest Basilica Christmas Market is open Monday – Thursday from 11:30am – 8pm, Friday from 11:30am – 10pm, Saturday from 10:00am – 10pm, and Sunday: 10:00am – 8pm November 24, 2017 through January 2, 2018. Closed December 25 and December 26.