Tim and I met in Las Vegas. I was living there to attend college at the University of Nevada, Las Vegas and Tim got stationed at Nellis Air Force Base as his first base. My apartment was located just one street over from Las Vegas Boulevard and both being pretty poor in those days, free shows on The Strip were a regular source of entertainment. We'd visit the lions at MGM Grand, see the volcano erupt at The Mirage, watch the pirates battle it out at Treasure Island, and of course be mesmerized by the romantic, dancing waters of the Bellagio Fountain. Dubai felt a lot like Las Vegas with fancy cars, its over-the-top buildings, and the Dubai Fountain.
The Dubai Fountain is set on the 30-acre Burj Khalifa Lake and like the world record setting, Burj Khalifa, which the lake takes its name from, the Dubai Fountain is the world's largest dancing fountain. Designed by California-based WET, the creators of the Bellagio Fountain in Las Vegas, it is synched with Arab and classical music.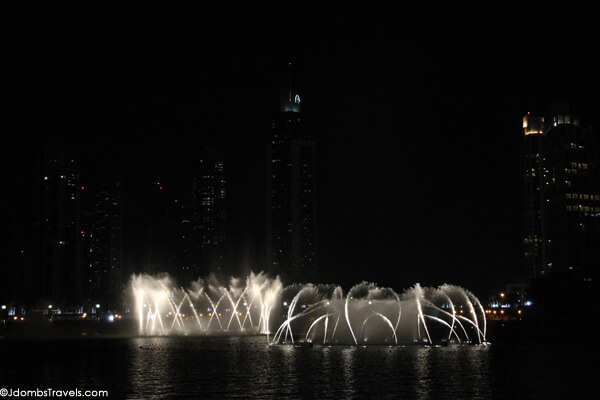 We patiently waited along the Waterfront Promenade as dusk settled on Dubai for the first show to start. The first strands of Sama Dubai, a tribute to Dubai's ruler Sheikh Mohammed, struck the air. Tiny, delicate sprays danced to the music and then suddenly huge gushes thundered into the air, punctuating the melody with a boom.
We oohed and aah-ed as the sprays shot up to nearly 500 feet in the air, almost as tall as a 50 story building. 6,600 fountain lights and 25 color projectors create a visual spectrum as the 22,000 gallons of water are airborne.
We watched the first show from the Waterfront Promenade outside of the Dubai Mall. After, we crossed the bridge to the souk and watched the second show from a far less crowded balcony there. The second show was no less impressive and even more romantic with "front row" viewing and a balcony practically to ourselves.
Know Before You Go
The Dubai Fountain show is at 1pm and 1:30pm daily and then every 30 minutes from 6pm to 11pm Sunday through Wednesday and 6pm to 11:30pm
Timings can change by a couple of minutes depending on the specific day's prayer times
We recommend the best place to watch the Dubai Fountain show is from the balconies of the souk