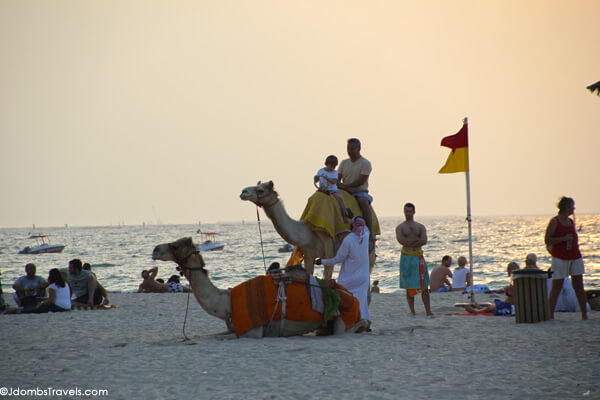 Amaseena is the Ritz-Carlton Dubai's tented Bedouin village on their private beach and we were thrilled to be invited to not only stay at the Ritz-Carlton, but dine under the Arabian stars. As the sun set on our first night in Dubai, we watched giddy children go for camel rides on the beach and then listened to the soft waves break onshore as we were seated in our own private Bedouin tent.
Chef ALHariri Hussam, who shared that his heritage is Lebanese and Syrian, personally gave us a tour of the buffet, explaining each dish. Every day he and his staff prepare 16 different kinds of mezzeh and appetizers alone! We happily filled our plates with hummus, tabouleh (a vegetarian salad of chopped herbs in a lemon vinaigrette), chickpea salad, and babaghanouj (roasted eggplant dip). Chef Hussam himself delivered hot, fresh bread from the wood-fire oven and hot mezzeh of falafel and cheesy kebeh finished off our first course. I could have eaten a dozen of the lamb fatayer (appetizer sized Syrian meat pies with ground lamb)!
Next, we sampled more of Chef Hussam's delicious food from the hot buffet. Lamb meatballs in a pomegranate syrup, fresh vegetables, breaded fish with sumac and garlic, potatoes, saffron rice…it was a feast fit for a king! I also couldn't resist a cup of pumpkin soup with star anise. The combination of spices was a taste explosion in our mouths and Chef Hussam graciously shared his secrets with us, but only after promising we would keep our lips (and fingers) sealed.
He then prepared for us a mixed grilled platter hot off the barbeque with lamb chops, lamb kofta, chicken, beef, fish and probably the best prawns I've ever eaten. It was all accompanied by a garlic sauce for dipping. Oh, how I am craving those prawns and lamb kofta now!
Even though we were completely stuffed by this point, the desserts beckoned to us. We were going to be good and only have one dessert each. That is until Hussam said otherwise! He filled plates for us with an assortment of baklawa (sweet pastry made of layers of filo dough), fresh mangosteen, lychee, melon, and pineapple, chocolate mousse, cheeses, and traditional Egyptian Um Ali (a type of bread pudding topped with sweetened milk). It was all heavenly!
All during dinner, sweet scents of apple wafted toward us. The aromatic scent was from the Apple Bahraini shisha, a flavored tobacco smoked socially from a hookah. We'd seen these smoked in various places we've visited and always been a bit curious, so we decided to give it a try.
The staff kindly explained how the hookah (water pipe) worked. The base is filled with water and the bowl at the top is covered with a perforated foil sheet. Hot coals are placed on top of the foil sheet, which causes the tobacco in the bowl to heat up and smoke. Sucking through the hose draws more heat on the tobacco and helps accelerate the heat transfer. Every 15 minutes the hot coals are replaced and the filter cleaned.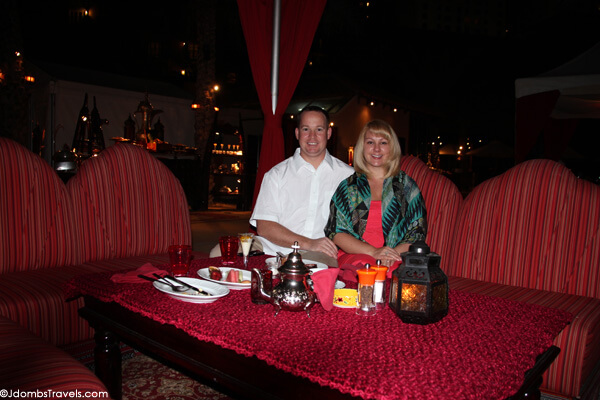 We relaxed with the shisha and a hot pot of Moroccan mint tea, savoring the soft sea breeze and sky full of stars as a live band played melodies of oud and tabla. It was truly the best meal we had in Dubai and was made even better by the kind hospitality of Chef Hussam. We even returned the next night for a pot of Moroccan tea and just to relax in the beautiful setting.
Know Before You Go
Amaseena open from 7 pm until 12 am nightly
Buffet is open from 7 pm until 11 pm
Buffet is AED 210 per person; beverages and shisha are additional
Call 04-318-6150 ext 6150 or email [email protected] for reservations
Thank you to the Ritz-Carlton Jumeriah Beach for hosting us and to Chef Hussam for his hospitality! All opinions are entirely our own.