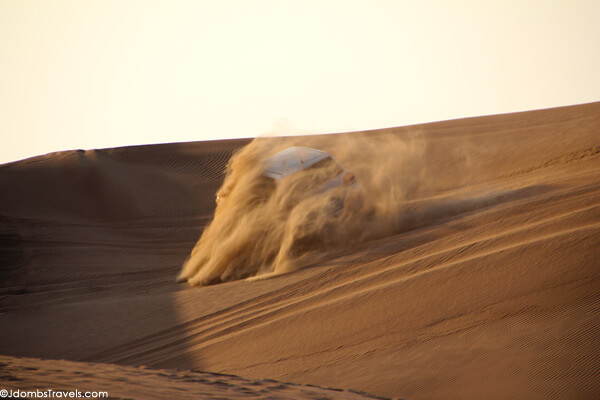 What happens when you put two Americans, two Russians, and two Scotts in a Land Cruiser with one crazy Arab driver and go dune bashing outside of Dubai in the Arabian Desert?  A whole lot of cussing in various languages!
We all piled into a Toyota Land Cruiser and headed out to the sand dunes about an hour outside of Dubai for a desert safari with Alpha Tours. Pulling over to the side of the road, our driver aired down the tires and climbed back in, giving us a wink. Dune bashing is a form of off-roading on sand dunes and we got a little preview of what we were in for while we fishtailed and slid down sand dunes on our way to the meeting point where all the vehicles gather.
Watching the rest of the vehicles come slipping and sliding in over the sand dunes, Tim got the idea to strap our GoPro to the side-view mirror of our Land Cruiser. I was convinced it would go flying off to be lost forever in the shifting sand dunes of Dubai. But it survived sand blast after sand blast as our driver got extra crazy.
It's a bumpy ride and wedged between one of the Scotts and Tim, I squealed and laughed while holding on to the roll bar above my head. Dune bashing definitely got our adrenaline pumping as we barreled down the dunes, feeling the tires gripping as we'd slide and watching our drive cut the wheel hard to the left or right to avoid rolling. Just as we'd crest the top of a dune, I'd wipe my sweaty hands on my pants and then quickly brace myself for the next heart lurching turn.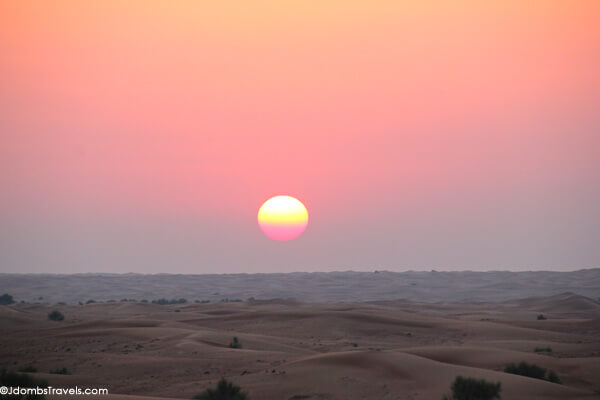 About 30 minutes into the dune bashing, we stopped on one of the highest dunes to all watch the sun, a blazing pink ball, sink below the horizon.
Back in the Land Cruisers, we bounced over the dunes for another thrilling 15 minutes or so before entering the private preserve where we spotted several Arabian oryx. Unfortunately, we didn't get pictures of them but it was a special sight. The Arabian oryx became extinct as a wild species in the early 1960's. However, the late H.H. Sheikh Zayed bin Sultan al Nahyan had a few captive animals that bred well, and today there are several herds roaming the Arabian Desert freely again.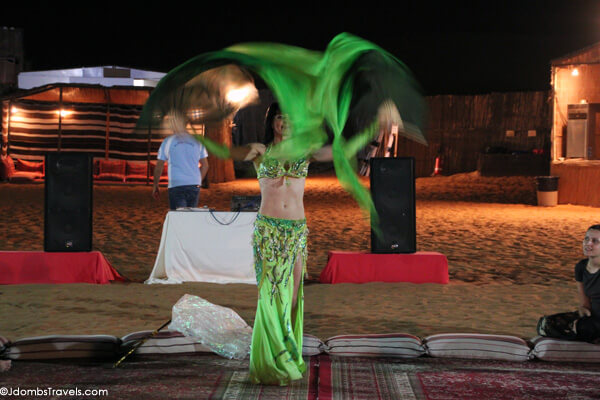 We ended our desert safari with dinner and a belly dance show in Alpha Tour's Bedouin camp in the Arabian Desert.
Know Before You Go
Alpha Tours desert safari is available daily at 3pm and AED 260 per adult, AED 190 per child
The desert safari includes dune bashing, free time for camel rides and sand boarding, dinner buffet, drinks, and belly dancing show. There is a small souk set up for souvenirs and purchases
Things really do get bumpy and you are tossed around a bit. If you are easily prone to motion sickness, dune bashing probably isn't for you
Return to hotel in Dubai is around 9pm
Thank you to Definitely Dubai and Alpha Tours for hosting us. All opinions (and potentially poor decisions to rig up expensive camera equipment on the outside of a Land Cruiser) are entirely our own.