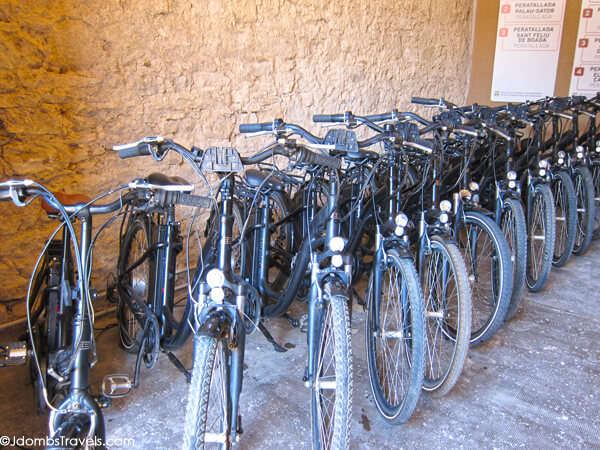 I loved biking as a kid. We lived out in the country and you were far more likely to see a horse galloping down our dirt road than another car. I'd ride my mint green 10-speed for miles. Today, I hoped the old saying "it's like riding a bike" was true because I would be e-biking around Costa Brava's medieval villages.
As I looked around the bus at my fellow bloggers while we sat for the short ride from Begur to Peratallada, I worried about running into a stone wall or making a total ass of myself by falling off my e-bike. Turns out I was worried over nothing. Not only did e-biking turn out to be incredibly easy and fun, but many of the other bloggers were feeling just the same. I didn't fall off or run into any walls, and I even snapped a few one-handed pictures along the way.
So what is an e-bike, you ask?
An ingenious invention, I tell you! An electric bike gives you that little extra oomph to easily make it up hills and be able to ride for miles and miles. And e-bikes are environmentally friendly too! It was as easy as switching my e-bike on with the key and hoping on! The e-bike kicks in when your pedal-power slows down a bit and off you zoom. There was no learning how to shift into e-bike mode and the brakes were on the handle bars just like any other bike.
We rode for about two hours through the Catalonian countryside, past farms and castles and through the medieval villages from Peratallada to Pals. It became a game as we zipped along to see who could pass who!
Around a bend, we spotted an apple orchard and workers harvesting the apples. One older man waved us to stop. His name was Narcis and he owned this apple orchard. Inviting us to each take an apple to snack on, he explained that these apples were all ones that had fallen off the trees and to the ground. They were being collected and would eventually become apple juice after being trucked to Barcelona. "Not my prize apples," Narcis quipped. They may not have been his prize apples, but they were delicious!
Refueled with apples, we pedaled on along the country roads, past more castles, down dirt paths, and through fields of bamboo toward the village of Pals.
Know Before You Go
E-biking is available in Peratallada with Roda d'or
Rentals range from €6 for 45 minutes to €30 for the day; guided tours are available
Winter – Spring rentals and tours are only available from 11am – 2pm and 4pm – 8pm on Saturday and Sunday. Open every day in summer from 10am – 1pm and 5pm – 8pm.
Thank you to the Costa Brava Girona Tourism Board and to Roda d'or for hosting me. All opinions (and decisions to endanger myself while snapping photos on the move) are my own.