In the words of HM The Queen, Bordeaux is "the very essence of elegance." It's a revived cosmopolitan city at the center of a legendary wine growing region. With modern fusion cuisine, some of the world's finest wines, culture like theater and art museums, and skiing, stunning beaches and hiking all within 2 – 3 hours of the city it's easy to see why Bordeaux was selected as Europe's Best Destination 2015.
Bordeaux was the docking point for the Viking River Cruises 8-day Chateaux, Rivers & Wine cruise I was about to embark on. I only had one day in the city and in true French fashion, most shops and wine bars were closed because it was a Sunday. Actually, due to the high water from the rains the week prior, we were staying docked in Bordeaux for two nights instead of sailing after lunch as had been planned on the itinerary.
I made the most of my time in the city by taking the additional time to explore on my own after the guided city tour; I wandered the various markets going on, cooled off in the miroir d'eau and ate macarons to my heart's content. I saw enough to know that I definitely need to come back to explore this city more.
When in Bordeaux, first things first. I was dying to sip a glass of red. I really loved the Hôtel Gobineau, home to Bar a Vin, right in the heart of Bordeaux. The building reminded me of the Flatiron Building in NYC and has outdoor seating with lovely views of the carousel, Grand Theater and Grand Hotel. Glasses of wine are quite reasonably priced with Margaux and Saint-Emilion appellations starting at €6 per glass.
Just across the Place de la Comedie and on the corner of the Grand Hotel, I popped in to Georges Larnicol. The shop is known in France for its chocolate masterpieces like the bottle of Bordeaux wine entirely made of chocolate on display, but it was the macarons that I couldn't resist.
The macarons gave me sustenance for wandering Rue St Catherine, France's longest pedestrianized street. Though on a Sunday most of the shops that line the street are closed, I did find a few cute boutiques to browse. Plus, I rationalized, the more I walked meant the more macarons and foie gras that I could eat without guilt.
Bordeaux also has wonderful public art sculptures and installations around the city. Sometimes they aren't even that obvious, like the Jaguar hanging out of the Victor Hugo parking structure complete with twisted metal and concrete smashed to pieces. A local told me that the art piece is meant to poke fun at the British for their bad driving.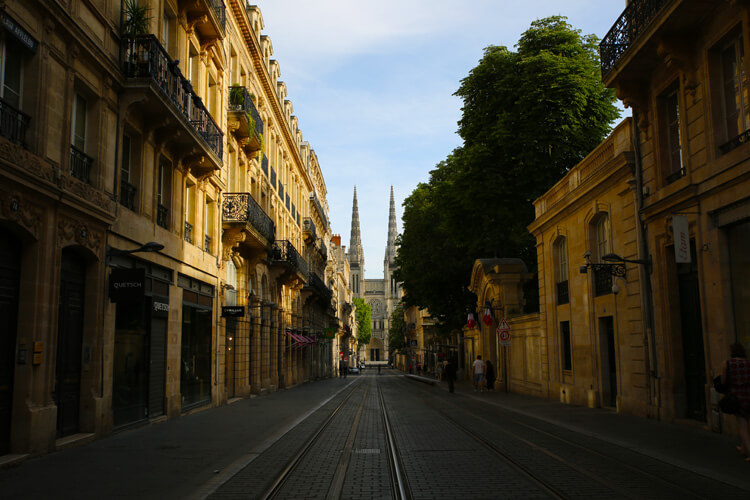 Just about half of the center of Bordeaux is a UNESCO World Heritage Site. Each cobbled street has its own charm with beautiful buildings that have been lovingly restored. They honey-colored stones of the facades practically glowed a golden hue with the sun blazing overhead. It was hard not to fall in love as I wandered the quiet streets.
Though the streets are mostly quiet on a Sunday, the markets are in full swing and I came across no less than three going on. There is a flea market every Sunday with everything from antique furniture to clothes spread out on the tables. But it was the food markets that lured me in with the delicious scents of French cheese and foie gras wafting on the air. There were even little pop-up stalls selling fresh oysters on the riverbank. Going hungry is one thing you definitely won't do in Bordeaux!
I saw many locals picking out cheese, salami and baguettes. With a bottle of wine and a blanket peeking out of their straw bags, off they would go presumably to one of the city's 10 public parks. I took some of my own French finds and followed suit.
The most happening spot in Bordeaux on a hot Sunday afternoon is the miroir d'eau . Kids run squealing through the shallow fountain as it changes from dancing spurts to mist and everyone brings blankets, baguettes and wine to just enjoy the lively environment. There was a music festival going on when I visited and I happily spent a few hours just reading, resting my tired feet and waiting for sunset so that I could snap the Palais-de-la-Bourse as the lights of the city twinkled on. It was the perfect way to end my 24 hours in Bordeaux before setting sail in to wine country.
In the end, the Bordeaux excursion offered by Viking was my least favorite of the inclusive excursions on my itinerary and I was really glad for the extra time we were docked so that I had time to explore Bordeaux a bit on my own. The Bordeaux excursion had included a driving tour, a museum visit and a short walking tour in the center to point out some of the main sights. If you're visiting Bordeaux with Viking, I recommend skipping the excursion and just exploring on your own.
Know Before You Go
Viking River Cruise
Getting Around Bordeaux
The 8-day
Chateaux, Rivers & Wine
cruise starts from $1856 per person and includes 6 guided tours and breakfast, lunch and dinner daily.
Bordeaux is a very walkable city, but they also have an excellent tram system. The tram picks up right in front of the quay only steps away from where my Viking ship was docked and a day ticket costs just €4.50, giving you unlimited rides until 1am.
My Chateaux, Rivers & Wine cruise was provided by Viking River Cruises in order to bring you this story. However, Luxe Adventure Traveler maintains full editorial control of the content published on this site. As always, all thoughts, opinions, and enthusiasm for travel are entirely our own.