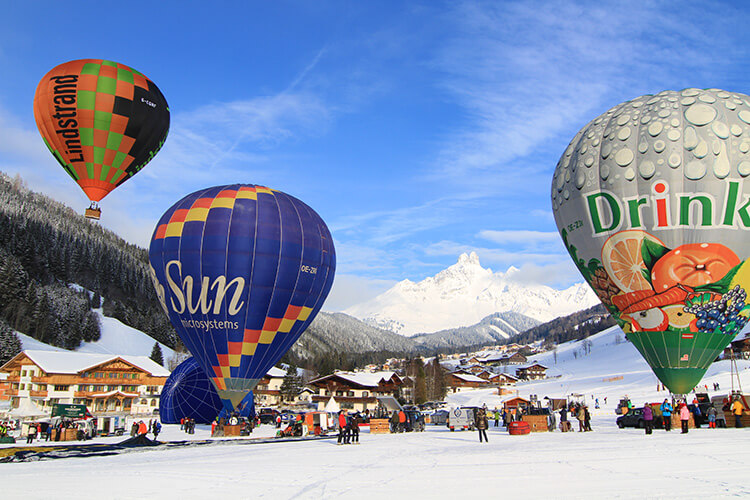 Being married in a hot air balloon will turn you into a balloon enthusiast, especially when you are about to celebrate your eleventh wedding anniversary and you have yet to actually fly in a hot air balloon together. We may still be waiting for our very special first flight after an extremely windy wedding morning left us saying our vows in just a balloon basket, but we were still thrilled to be invited to the opening day of the Filzmoos Balloon Week by Tourismusverband Filzmoos! We had a fantastic time and here are five reasons you should go to Filzmoos Balloon Week:

1. The mountain village of Filzmoos is nestled into the Salzburg Alps and with the Bischofsmütze Mountain as a backdrop, I can't picture a more idyllic setting for a balloon festival.
More than 40 balloon teams from all over the world make the pilgrimage to Filzmoos each January to take part in Filzmoos Balloon Week and the BP Gas Trophy races. Balloon enthusiasts love the challenging winds from the surrounding mountains and the fact that they can take off literally from the village center.
Not part of a balloon team ourselves (though Tim has looked into becoming a balloon pilot…hmm, around the world in a hot air balloon?), we loved that we could get up close and personal with the balloon teams and the balloons at the Hammerwiese launch site.
2. Grand Balloon Night
Hot air balloons set up from the Bograin Field on the edge of the village, throughout the village center, and in the Hammerwiese launch site, firing their blasters choreographed to live music and lighting up the night sky. The entire village turns into one big festival with snow bars serving up Glühwein (hot mulled wine), pretzels, wurstel (sausages), and Lebkuchen (gingerbread cookies) throughout the center. A fireworks display set off from the ski lift above the launch site kicks off the balloon disco party.
3. A week full of events
Balloons launch every morning (weather permitting) for a week each January. If you tire of watching the balloon teams set up and fly off over the snow covered mountains each morning (but how could you?!), there are plenty of other activities and events going on to keep you busy. Just a sampling of some of the activities are:
Guided snowshoe walk
Nordic walking tour
Curling
Night tobogganing
Horse drawn sleigh rides
We took a horse drawn sleigh ride with the snow coming down up to the charming Oberhofalm mountain hut, where we had time to warm with with gluhwein and hot apple strudel. We even saw deer in the forest on the way.
4. Hit the slopes after the daily balloon launch
Filzmoos is quiet village and we didn't observe queuing at the various lifts. Tim is a skier and I need more lessons, but the Bograinlift literally steps from our guesthouse Landhaus Filzmoos looked liked a great place for me to give it a real go. There are, of course, more challenging runs, snowboarding, and plenty of ski schools if you are just taking up the sport.
5. Delicious food
Being out in the cold and all the  great winter activities makes us hungry! We loved that the small size of the village made it feel so homey, yet there were plenty of choices for dining out. A bowl of Knoblauch soup (creamy garlic soup) hits the spot. Game meats are common on menus throughout the village. Try the venison stew at Hotel Bischofsmütze; it is in a creamy mushroom sauce with a cranberry pear and served with spaetzle (a German dumpling). The Austrians like their schnapps, so get in the spirit and end your meal with schnapps. It will certainly warm you up before heading back out into the cold!
Getting There
Filzmoos Balloon Week
Where to Stay
Tips
The nearest airport to Filzmoos is Salzburg. You can reach Filzmoos by car via the A10 motorway; exit Eben im Pongau and drive along the local road (11 km) to Filzmoos. You can also access Filzmoos by train to Eben im Pongau and then take a taxi or change to the local bus.
The 2017 Filzmoos Balloon Week takes place January 14 – 21 and Grand Balloon Night is on January 15.
Balloon flights are available. Visit Tourismusverband Filzmoos for booking information and prices.
Stay at
Landhaus Filzmoos
. Winter rates are €37 per adult, children under 2 stay free. Breakfast is included.
Stop in the
Tourismusverband Filzmoos
information office located right in the center of the village to pick up a list of the weekly events. Instructions for booking the various guided snowshoe and Nordic walks, sleigh rides, and tobogganing are detailed on the weekly events list.


Our trip to Filzmoos Balloon Week was provided by Tourismusverband Filzmoos in order to bring you this story. However, Luxe Adventure Traveler maintains full editorial control of the content published on this site. As always, all thoughts, opinions, and enthusiasm for travel are entirely our own.