There are a few things that are quintessentially Swiss and come to mind immediately at the mention of Switzerland: cheese, oh-so-yummy Swiss chocolate, and fondue. It seems a trip to Switzerland isn't complete without a delicious fondue, at least for us. But have you ever sat twirling your hunk of bread in the gooey melted cheese and wondered how fondue came to be national dish of Switzerland?
Read on to discover five fun facts about fondue, and for recommendations for the best places to eat fondue in Zermatt.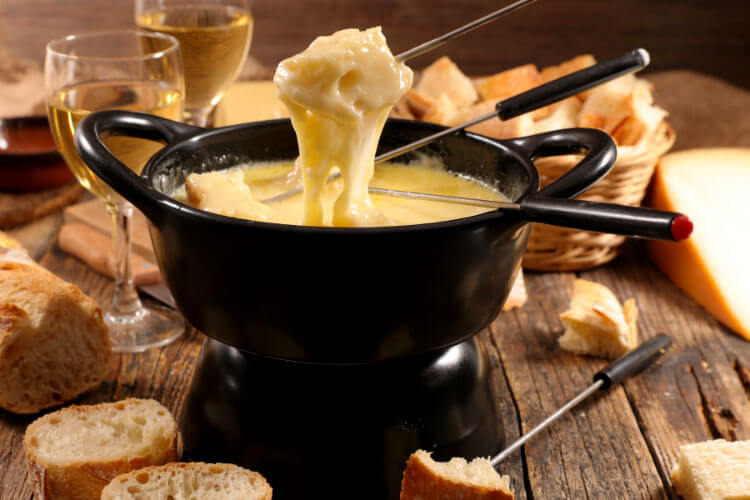 5 Fun Facts about Fondue
1. The history of fondue is centuries old!
Fondue began as a way to use aged cheeses and bread to feed people that had limited access to fresh food during the winter months. As the fall wore on, the cheese aged and bread became stale, making it much harder to eat. Local villagers discovered that if they melted their cheese with wine, garlic and herbs, and dipped the stale bread into the mixture, the bread would soften.
2. Fondue is the national dish of Switzerland.
Fondue became the national dish of Switzerland when the Swiss Cheese Union (Schweizer Käseunion AG) modernized it and campaigned fondue as a way to sell more cheese in the 1930s.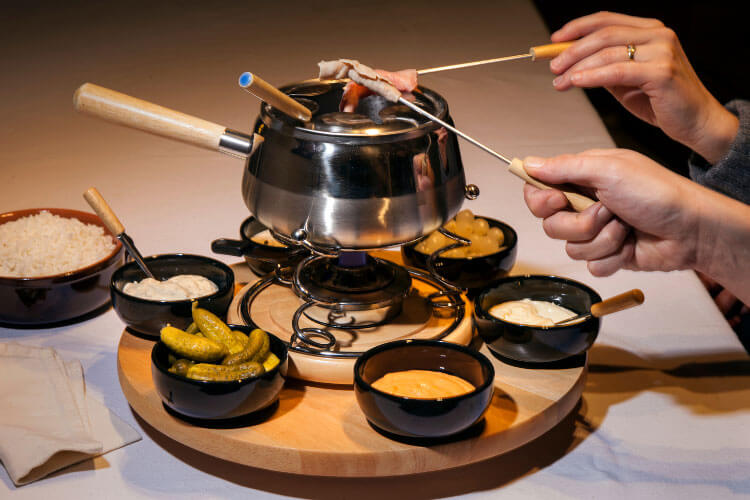 3. Cheese fondue isn't the only kind of Swiss fondue.
Fondue Chinoise was invented when a Swiss man was visiting China and was served a similar dish with broth instead of cheese. He reported back to Swiss chefs upon his return to Switzerland and the Court Bouillon was born.
Thinly sliced strips of high quality veal, beef, and pork are served raw to be cooked in the broth, and then dipped into an array of dipping sauces. At meal's end, the much flavored broth is served as a soup with or without sherry wine.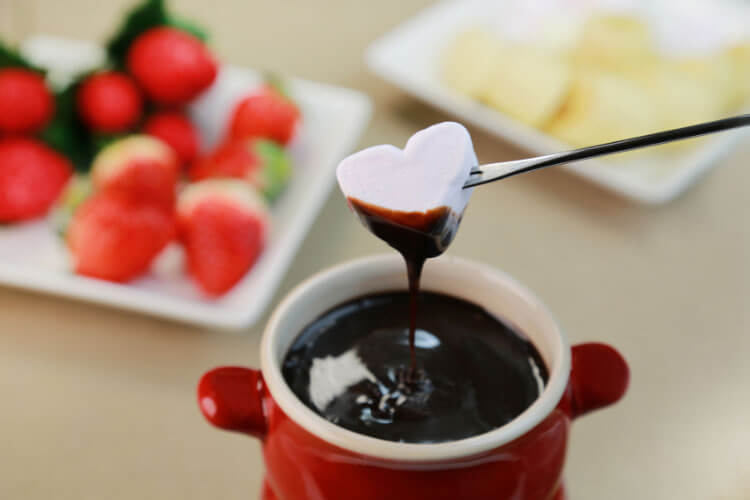 4. Chocolate fondue is Swiss-inspired, but it's an American dish.
Fondue became a fad in America in the '60s and '70s after it was brought back by a jet setter who had it on a ski holiday. It was the Americans that then invented chocolate fondue.
5. Don't lose your bread in the pot!
It's a tradition that if a man drops his piece of bread in the fondue pot, he must buy a round of drinks. If a woman loses her bread in the pot, she must kiss all her neighbors.
Where to eat Fondue in Zermatt
Zermatt might be a small village, but it packs a culinary punch with no shortage of top notch restaurants featuring a variety of cuisines from traditional Swiss to international and fusion. But if it's an entirely cheese-based meal, you'll want to make a reservation at these best fondue restaurants in Zermatt.
Iglu-Dorf Zermatt
For one of the most picturesque lunch spots in Zermatt, head to Iglu-Dorf Zermatt for a fondue lunch on their snow terrace with the Matterhorn as a backdrop.
The snow terrace is open to all for a fondue lunch or a selection of drinks, and is easily reached either on skis or on foot with a 15-minute walk from the Rotenboden station on the Gornegrat Railway. It's best to book the fondue lunch at Iglu-Dorf Zermatt in advance.
Ferdinand at CERVO Mountain Resort
CERVO Mountain Resort is definitely a top choice for a meal of fondue or raclette in Zermatt, and the resort offers fondue and raclette at both lunch and dinner.
Situated slightly above the village of Zermatt, you can ski right in to the CERVO Mountain Resort to enjoy lunch on the hotel's sunny terrace. By day, the terrace restaurant is called CERVO Kitchen and the menu includes a selection of the most popular dishes from CERVO's array of restaurants. But it's the fondue with a Matterhorn view that is the show stopper here.
For dinner, Ferdinand is the spot and offers a selection of different fondue varieties, blends and toppings. I can never say no to a truffle and champagne fondue, and reviews indicate many others agree with me.
Be sure to book a table well in advance for both CERVO Kitchen and Ferdinand. In fact, reservations at these Zermatt restaurants are so in demand that you'll need to leave a credit card number to reserve your table. Nothing is charged unless you're a no show, in which case you're charge 50 CHF for lunch and 75 CHF for dinner. So if plans do change, be sure to cancel your reservation at least 24 hours in advance.
saycheese!
When a restaurant's name is saycheese! you know that cheese isn't just a food – it's a way of life.
The menu features a variety of Swiss raclettes and fondues, all proudly sourced from Valais cheese producers. If you need something a little less cheesy, there's also a fondue Chinoise on the menu. And there's even a Toblerone fondue served with fruit and gummy bears for dessert.
You'll need to be at least a duo for any of the fondue selections. But if you're traveling solo, you can still enjoy a cheesy dinner with the various raclettes offered.
saycheese! is only open for dinner, and you should book this popular Zermatt restaurant well in advance.
Restaurant Stadel
Restaurant Stadel is ta charming and welcoming little restaurant with wooden tables and a view of the Matterhorn (when the skies are clear) right in the heart of Zermatt. The menu boasts three kinds of cheese fondue, Fondue Chinoise, Fondue Bourguignonne, and a seafood fondue.
We tried the Fondue Chinoise, with plenty of beef, veal, and pork to cook in the broth and were also served with mixed salad, fries, pickled veggies, and fresh fruit. It pairs wonderfully with a Swiss Pinot Noir.
Our trip to Zermatt was in partnership with Zermatt Tourimus in order to bring you this story. However, Luxe Adventure Traveler maintains full editorial control of the content published on this site. As always, all thoughts, opinions, and enthusiasm for travel are entirely our own. This article contains affiliate links. When you shop on Amazon or book on Viator, GetYourGuide or Booking through our affiliate partner sites, we earn a small commission at no additional cost to you.