We're not the sit-on-the-beach-and-sun-tan types. We love going to the beach, but we also love to be active. You get a tan while snorkeling, swimming, kayaking or stand-up paddle boarding, too. While we own our own snorkeling gear and swimming doesn't require any equipment, kayaking and stand-up paddle boarding has always been something we only do when we rent the gear or a resort has it available. Until we were introduced to Goosehill SUP.
An inflatable stand-up paddle board with all the accessories that packs down in to a backpack, which is even suitable both in weight and size for travel? Goosehill had our attention.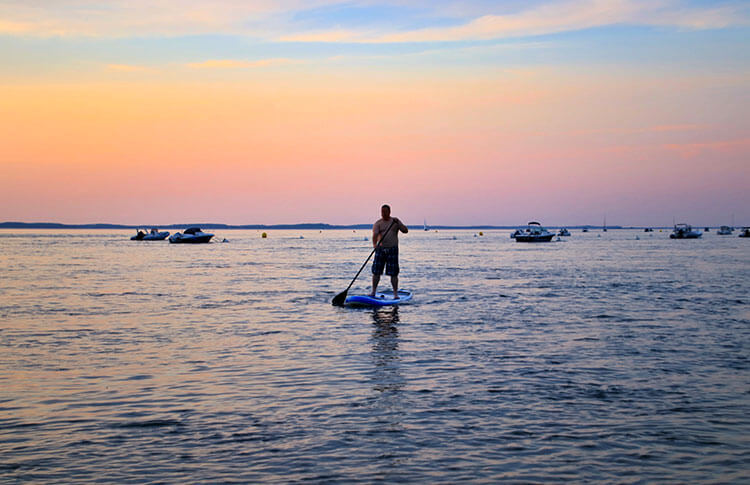 What is an iSUP?
While I'm pretty terrible at surfing, I love stand-up paddle boarding. You can paddle on the ocean, lakes, rivers and canals. With long, wide boards that are really stable, SUP (short for stand-up paddle boarding) is something just about anyone can do – even if you have trouble catching a wave like I did when I tried surfing lessons in Biarritz. And it's a great low-impact workout that combines strength, balance and endurance.
An iSUP, or an inflatable stand-up paddle board, makes paddle boarding even more accessible than just renting or as a resort activity. As city dwellers, there's no way we could have owned a rigid stand-up paddle board. First, we'd have no where to store it. And second, it really wouldn't fit in our compact VW Polo.
Goosehill Rainbow R iSUP Board
But an iSUP is an inflatable version of a stand-up paddle board that packs down in to a backpack when it's deflated. At 20.5 lbs, even I can manage to wear the backpack and carry it a reasonable distance. The backpack easily fits in the trunk of our car, and it fits easily in a closet for storage when we're not using it. It's even a size and weight that we can take with us as checked luggage on an airplane.
Goosehill Sport is a company that specializes in inflatable SUP boards. They offer a package with the inflatable SUP board and all the accessories for $399. This is an excellent price point, especially if this is your first paddle board and you're not sure how much you'll actually use it. Inflatable stand-up paddle boards can range in price from $200 – $2000 depending on the size, type and quality.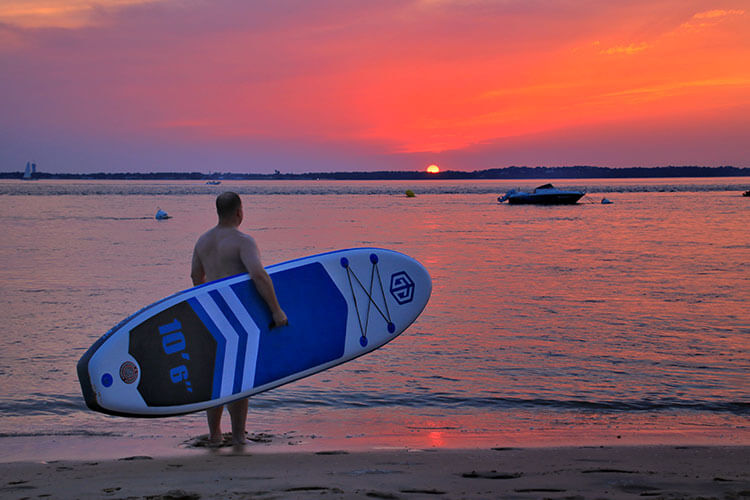 Goosehill's 10'6 iSUP board comes in 3 colors and the package includes:
10'6 x 32 x 6 inch (320 x 81 x 15 cm) inflatable SUP board
adjustable aluminum paddle
coiled safety leash
slide-in fin
pump with pressure gauge
patch kit
backpack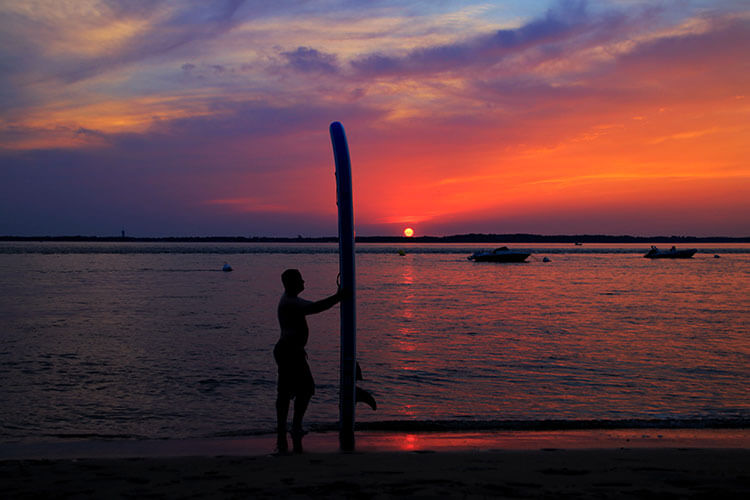 Goosehill iSUP Board Specifications
Model:  Rainbow R
Board Size:  10'6 X 32″ X 6″ / 320 X 81 X 15cm
Maximum Payload:  551 lbs / 250 kg
Volume:  300 Liters
Maximum Air Pressure:  27 PSI
Net Weight:  20.5 lbs / 9.3kg
The inflatable SUP board is made with SCE layer reinforcement technology, which makes it as lightweight as a single-layer board and as durable as a double-layer board. It's very durable thanks to Goosehill laminating a single-layer to an enhanced layer with their SCE technology. It's then sealed with heat technology to ensure an airtight seal.
Inflating and Deflating the iSUP Board
The board comes in a protective pouch and is bound with a strap to keep it easily rolled up. I first unrolled and inflated it in our apartment to inspect it, and to see how easy or difficult it would be to inflate. The pump easily attaches to the valve.
The board has two permanent fins that are protected from bending by two fin covers. You attach the larger center fin, which slides in and is secured by a pin, after the board is inflated.
What I didn't realize at first is that the hand pump with pressure gauge doesn't register anything until you've pumped enough air in it. I definitely didn't have enough air my first time out with it, which made it a bit wobbly. The proper PSI is written right around the board's valve so you don't have to remember, so just be sure to pump until it registers.
It's easy enough to pump up in about 5 minutes, then gets more difficult as you pump it up to the proper PSI of between 15-22 PSI for the next 5 minutes or so.
It deflates easily, though you do have to hold the valve down to release the air. I found that letting some air out first, then starting to roll it up while pushing the air toward and out the valve is the easiest. It deflates down and rolls back up in around 5 minutes.
I'm not sure that it's necessary to put the strap back around it or put it back in to the pouch, but I figure it keeps any sand still on the board out of the backpack.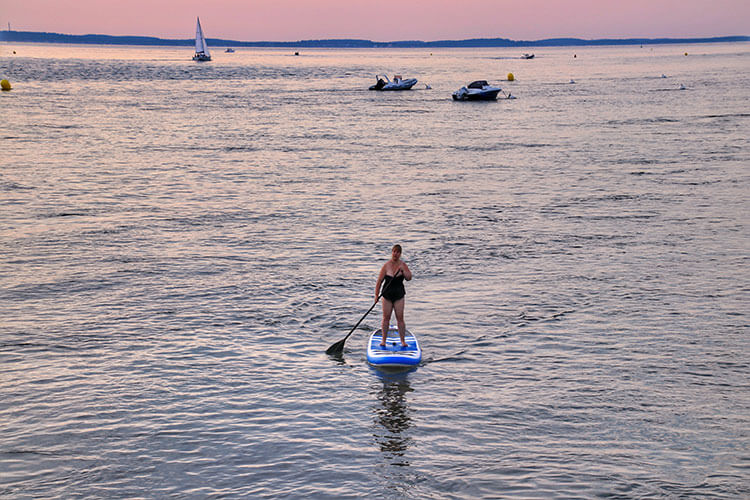 The SUP Board
Once pumped up with the proper PSI, the iSUP board is very stable. Even on waves with a strong current, we found the board very stable and easy to maneuver. It can handle a payload of up to 551 lbs, so two adults can easily utilize the board.
It has an EVA deck pad, which makes the paddle board super comfortable under foot and eliminates any slipping when the board is wet. We appreciate the d-rings and straps at the front of the board to attach a dry sack or water bottle.
The board has two small thruster fins permanently attached. A 9-inch center fin is included and easily slides in. It locks in place with a pin that is attached by a rope, and just as easily slides out to remove the fin.
A coiled safety leash attaches to another d-ring at the back of the board. The leash has a comfortable velcro band to wrap around your ankle to keep you tethered to your board, and the coil prevents the leash from dragging in the water. So far we haven't used it after testing it out, but you might want it when paddle boarding in choppier water.
The Accessories
The aluminum paddle snaps together easily with a push button lock system and breaks down to two pieces. It's adjustable from 175cm/68.9 inches to 215cm/84.65 inches in height, making the paddle it comes with suitable for just about any height.
It also comes with a hand pump with pressure gauge. Once you realize that the gauge doesn't read anything until enough air has been pumped in to the board, despite the board looking and feeling pretty solid, then the pressure gauge is easy to read. It's easy enough to use and no air escaped at all during the inflation process.
The Goosehill Rainbow R does come with a patch kit. We haven't needed it, but it's there just in case.
Everything comes in a backpack, which is the one downfall of the Goosehill Sport SUP package. The backpack gets the job done, but I'll be looking for a better one. It's actually too long for the paddle board. It's long and tall to wear, especially if you're short like me. It was comfortable enough to wear with the adjustable straps, waist and chest belts. But once everything shifts around, it doesn't stand up straight on its own anywhere because the backpack lacks study construction to force it in to shape.
There are wheels on the backpack, but the straps dangle down and get caught up in the wheels. I had to wrap the excess from the straps around them, which was then a bit of hassle when I got to the end of the paved pathway and had to unwrap the straps to wear it as a backpack.
That said, the price point of the board with the accessories is really good for the quality of the iSUP board. Not loving the backpack definitely isn't a deal breaker.
Goosehill has free shipping for every order over $99, and they can ship anywhere in the world. They also offer a 30-day money back guarantee if you're not satisfied with your iSUP board for any reason.
Goosehill Sport provided us with the Rainbow R SUP Board in order to bring you this review. However, Luxe Adventure Traveler maintains full editorial control of the content published on this site. As always, all thoughts, opinions, and enthusiasm for travel and gear are entirely our own.