The average city walking tour just isn't our thing. Unless it's a city tour that's active like a biking tour or a segway tour, or combines something like food and city sights, we much prefer a do-it-yourself tour. We can take our time taking photographs, we can linger as long as we want at interesting spots and move on quickly from those that just aren't that interesting. Best of all, we don't have to battle any other tour group members for the perfect angle or pretend to wait patiently while they snap selfies. So when the folks at GPSmyCity reached out and asked us to check out their app, it sounded like an interesting solution to toting around a guide book (we don't like to do that either) or having to Google on the go.
We decided to put GPSmyCity to the test right here at home in Bordeaux. It's a place we know like the back of our hand and we could really get a feel for the accuracy and usefulness of the app.
What is GPSmyCity?
GPSmyCity is a free app for iPhone or Android that says it has more than 5,500 self-guided walks and travel articles in 700 cities around the world. First, it is its own app. Then, inside of GPSmyCity you can search for cities. We obviously searched for Bordeaux, and there's another app, "Bordeaux Maps and Walks by GPSmyCity". Both are free, though you can upgrade the city apps like Bordeaux Maps and Walks for $4.99 and get access to additional features like location services, city maps and walking directions.
There are also user generated walks in GPSmyCity called articles. Basically, as a blogger we could sign up as a contributor and turn some of our blog posts in to self-guided walks in the GPSmyCity app. Like the walks created by GPSmyCity staff, there's an option to upgrade the articles for $1.99 and get access to the walk with directions to each place, monument or attraction from your location using your GPS enabled smartphone.
The folks at GPSmyCity provided us with some promo codes to upgrade their Bordeaux Maps and Walks app and an article called "Bordeaux Secret Sights Tour".
Putting GPSmyCity to the Test
We started with the Bordeaux Maps and Walks by GPSmyCity and since we're familiar with all the regular sights, we decided to try out the Chartrons Antique Hunting Discovery Walk. Though not far from where we live in the center, Chartrons is one of the neighborhoods we're not too familiar with.
The walk introduces itself with a brief overview of the Chartrons district. This neighborhood was formerly where the English settled when they came to Bordeaux to trade wine. There's a few sights, but the main activity in Chartrons is to wander the lively streets and go antique shopping in the many antique shops.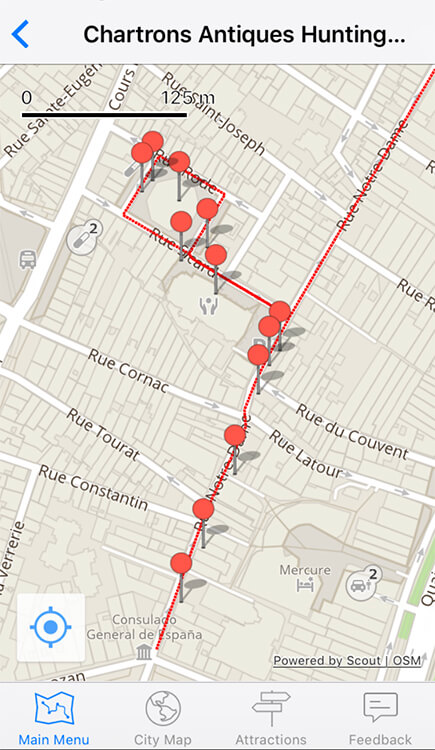 Admittedly, we don't know much about antiques but it's always fun to browse. The app lists 12 different shops with pinpoints on the map along Rue Notre Dame, Rue Sicard and the Place  du Marché des Chartrons. While we already knew the majority of the antique shops are on Rue Notre Dame because we live in Bordeaux, it's definitely helpful for a tourist interested in antique shopping. The tiny, cobbled alleys can appear deserted and it's easy to overlook the neighborhood entirely if you don't know to go there or where to go once you're there.
Where the Chartrons Antique Hunting walk fell a bit short is we wished that the pin pointed locations would have offered a bit more information than just an address. The shop name and hours definitely would have been helpful to know for planning a good time to do the walk as tourists might not know that most of these shops are closed on Sundays in France and many close during the day for a lunch between 12:30pm – 2pm.
Still undecided, we decided to check out part of the City Orientation Tour, included in the Bordeaux Maps and Walks by GPSmyCity. It does a good job of covering the major sites and providing a short history of each sight, though several of the walks could be combined and you might not necessarily know that unless you lived in Bordeaux. For example, the City Orientation Tour brings you to the Saint Andre Cathedral, but the Palais de Rohan which is located within seconds of the cathedral, is located in a different walk.

You can look through and read about all of the attractions in the various walks before your trip and then create your own custom walk by selecting the various attractions you're interested in from the map. You save it and then it creates a walking route, pulling in all the information boxes about each attraction just as the app does for the walks already part of it.
We also tried out the Bordeaux Secret Sights Tour, which is one of the tours created from a travel article by a local British blogger living in Bordeaux. It works in the same way as the Bordeaux Maps and Walks by GPSmyCity. With sights mentioned that you won't find in a typical guidebook or a map you might pick up at the Tourist Office, the location feature was particularly helpful in navigating you right to the more obscure sights. Some, like Cour Mably, could easily be overlooked since it is a courtyard hidden through a door you might not be sure you should enter if you're a tourist visiting Bordeaux.
The Verdict
GPSmyCity is a useful alternative to carrying around a heavy guide book and provides interesting information about a city's sights and attractions. We also liked the travel articles, which provide information beyond your typical guidebook like more obscure sights, shops, restaurants and more. We definitely couldn't have bought a guidebook for as little as $4.99, which is the cost to upgrade the various city apps.
As noted about the Chartrons Antique Discovery Walk, we spotted some improvements that can be made. GPSmyCity is doing a crowdfunding campaign to raise money to create what they're calling the world's 1st GPS-powered travel encyclopedia. Funds collected during the crowdfunding campaign will be used to double the number of cities available from 750 to 1500 and make improvements like adding an Android version of the app.
Lifetime Membership and Get 1 Free Upgrade
By pledging $60 in the crowdfunding campaign, you get a lifetime membership with access to all currently available and future walks and travel articles in GPSmyCity.
If you'd like to try GPSmyCity yourself, remember that the app is free. And you can get a free upgrade for a travel article of your choice until March 20, 2017. To get a free upgrade, contact [email protected] and mention that you've read about the offer here on Luxe Adventure Traveler.
We've been compensated to view GPSmyCity. However, Luxe Adventure Traveler maintains full editorial control of the content published on this site. As always, all thoughts, opinions, and enthusiasm for travel are entirely our own.