The province of Quebec is recognized as the leading producer of maple syrup worldwide and every spring Montrealers head out of the city for a true country hoedown at any one of the cabane à sucre (sugar shacks). But you don't have to leave Montreal to get the sugar shack experience. The ultraromantic and refined Hotel Nelligan, named after poet Émile Nelligan, imports the maple-flavored countryside into Old Montreal with their rooftop Terrace a Sucre. My sister-in-law, Heather, and I braved a blustery and cold night (it was snowing!) to take in the beautiful views and learn to play the spoons at the Hotel Nelligan Sugar Shack and it was definitely worth it!
After warming up in the pub-style street level bar, Méchant Bœuf, it felt like entering another world when we stepped onto the roof for the Hotel Nelligan Sugar Shack. Red and white plaid tablecloths decorated picnic tables and mason jars filled with homemade beets, ketchup, and pâté topped each table. Three friendly bunny rabbits beckoned guests to give them a cuddle and the house band made sure we had a foot-stomping good time with dancing and lessons on how to play the spoons.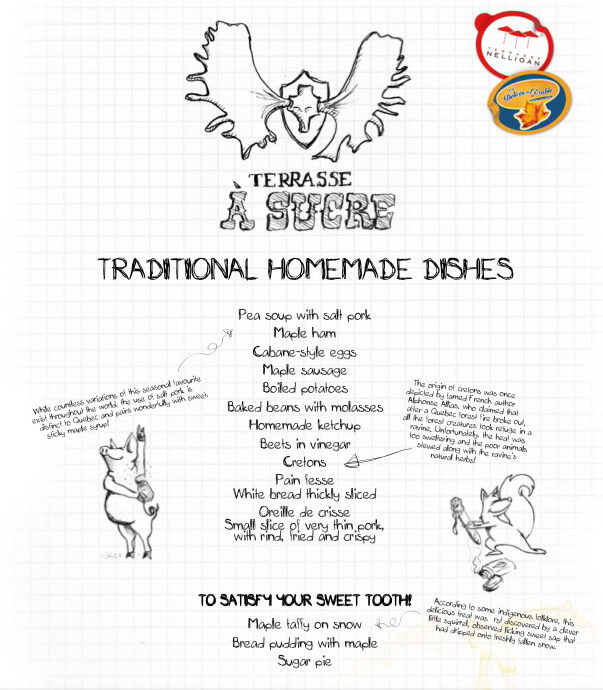 The real reason you go to a cabane à sucre is to eat and dance and it wasn't long before Daniel Boone was delivering us heaping plates of pork and maple. The feast of traditional Québécois food was originally the daily reward for the workers who trudged waist-deep in snow to collect sap. At its most traditional, the feast is made up of the sort of food you'd find in a larder at the end of winter: beans and salted pork, potatoes and eggs. The Hotel Nelligan Sugar Shack doesn't miss a beat with their menu of a hearty pea soup with salt pork followed by a plate of maple ham, soufflé eggs, maple sausages, crisp maple bacon, potatoes, and beans with molasses. As it turns out, maple syrup goes with everything and we generously poured it on.
We were stuffed long before dessert arrived, but couldn't resist the temptation of the maple syrup sugar pie. (Think of a pecan pie without the pecans baked in a crust!)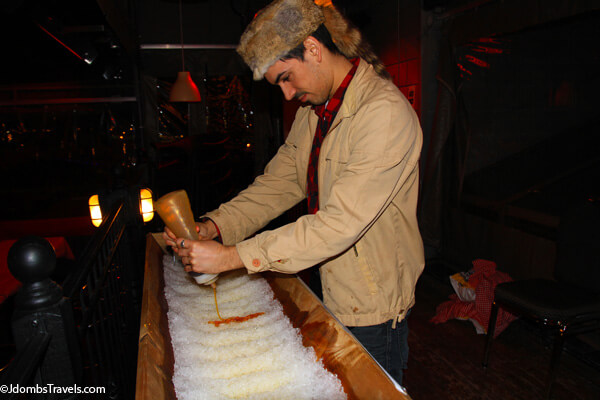 A few more folk tunes and lively lessons with the spoons and it was time to make our own maple taffy on snow. When maple syrup is melted to a certain stage, it is placed in a thin line on snow and turns to candy before your eyes. Just use a stick to roll it up and then enjoy the sweet treat.
The Hotel Nelligan Sugar Shack was a great time. Be sure to bring and appetite and I guarantee you won't go home hungry!
Know Before You Go
The Hotel Nelligan Sugar Shack takes places on weekends in April
Give Hotel Nelligan a call for reservations or more info: 514.788.2040 / 1.877.788.2040
Thank you to Tourisme Montreal for hosting us at the Hotel Nelligan Sugar Shack. As always, all opinions (and needs to buy stretchy pants after eating the entire meal) are entirely my own.