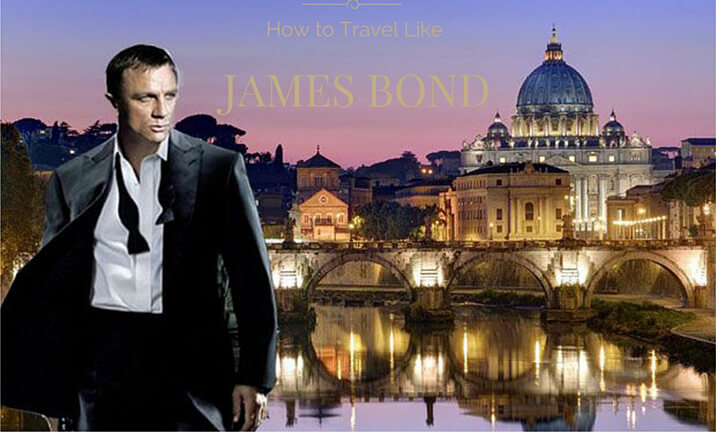 Our favorite international spy is back in the 24th Bond movie and while the ladies love to swoon over Daniel Craig in all his sexy Bondness, it's the jet setting across the globe that makes me go weak at the knees. There's hardly another character as well-traveled as James Bond. But you don't have to be James Bond to visit the scene-stealing locations that have long added exotic allure to the Bond movies. Here's how to travel like James Bond:
London | Spectre
The Bond Factor: No Bond movie would be complete without a visit to MI6 and Bond almost always seems to be speeding down the Thames in a RIB (a high-performance rigid inflatable boat). Spectre doesn't disappoint and gives us a look at the iconic London river and landmarks along it. Though you won't look nearly as suave as Bond in his black trench, you can don a water and windproof jumpsuit and life jacket and experience some high speed thrills in a RIB on the Thames. There's no speed limit between Tower Bridge and the Thames Barrier and the little boat gives you some serious thrills as it zigs and zags, launching white spray in to the air.
007 Approved: "Shaken, not stirred" was invented at Dukes Bar in Dukes Hotel. Head to the luxury hotel in the heart of the St. James neighborhood for one of the world's best martinis and a lavish stay.
The Bahamas | Thunderball and Casino Royale
The Bond Factor: Most of Thunderball was filmed on Paradise Island, but in 1965 it wasn't crawling with cruise ship passengers and tourists at the megaresort, Atlantis. In fact, at least six films from the Bond franchise were filmed in various parts of The Bahamas including the Exumas.
It's actually quite difficult to get to Thunderball Grotto, otherwise known as the James Bond Cave, with the current closure of Staniel Cay airport in the Exuma chain unless you're James Bond and have your own speed boat. But you can still get your 007 adrenaline rush and pretend you're in an underwater battle in some of The Bahamas' clearest waters on an Exuma powerboat adventure from Nassau to a private island in the Exumas.
007 Approved: The One & Only Ocean Club featured prominently in Casino Royale and the very sea-view villa that served as Bond's villa where he seduced Alex Dimitrios' girlfriend in the movie can be rented. Add a bottle a Champagne and some Beluga caviar for a complete 007 experience.
Jökulsárlón | Die Another Day
The Bond Factor: You can't race a car across the ice like Bond did in Die Another Day, well not at Jökulsárlón anyway, but you can take a boat tour of the iceberg filled lagoon in an amphibian boat capable of driving short distances on land and then taking to the water. You'll get up close to massive icebergs and the glacier that calves them. And you'll likely spot several of the curios seals that call the lagoon home. What's more 007 than that?
007 Approved: Hotel Ranga is the one of few luxury hotels outside of Reykjavik. With outdoor hot tubs where you can watch the Northern Lights dance overhead and sexy suites designed and themed after the seven continents, Hotel Ranga is the perfect base to explore Iceland's South Coast attractions in true Bond style.
Monte Carlo | GoldenEye
The Bond Factor: Undoubtedly once of the most glamorous Bond locations, you can play a game of Baccarat in the Casino de Monte-Carlo. You might even spot Xenia Onatopp. Okay, maybe not but you can sidle up to the bar and have a drink with your special someone. No matter how you spend your time at the Casino de Monte-Carlo, you can't help but feel posh under the clusters of chandeliers and ceilings coated in gold. It's no wonder the beauty of the casino inspired Ian Fleming's description of a fictional casino in his first novel Casino Royale and later served as the filming location in several James Bond movies like GoldenEye.
007 Approved: It wasn't just the Casino de Monte-Carlo that had a role in a Bond film. The neighboring Hôtel de Paris has appeared in both Never Say Never Again and GoldenEye. Like the Casino, it's hard not to be lured by the glitz and glamour of this top hotel. It's no wonder it regularly finds a spot on Conde Nast Traveller's Gold List. Definitely very 007.
Rome | Spectre
The Bond Factor: Okay, so it's not quite the same as being in a car chase through the sites of ancient Rome in an Aston Martin DB10, but there's charm puttering around on a vintage Fiat 500 tour as you cruise past Colosseum, Arch of Constantine, the Mouth of Truth and Circus Maximus. And with the way Italians drive, imaging you are in a car chase straight out of Spectre isn't too far a stretch.
007 Approved: The Grand Hotel de la Minerve has been hosting distinguished guests for over 200 year. Surely a top super secret spy like James Bond would stay where the beautiful widow of an infamous criminal would be found. And with prestigious neighbors like the Pantheon, staying at The Grand Hotel de la Minerve is like hiding in plain sight.
This article contains affiliate links. When you book anything on Viator
or Booking.com through our affiliate sites, we earn a small commission at no additional cost to you. It just helps us keep things running here at Luxe Adventure Traveler!