I've always been a sucker for horses. We had a Quarter Horse and an Arabian when I was growing up, but I was just to young to help ride and care for the horses. With my parent's busy work schedules, they couldn't ride and exercise them as much as they liked so they sold them when I was about six. We never did get horses again as I got older, but I've never let that dream go. And after two trips to Iceland where the Icelandic horses are about the cutest I've ever seen, it's more alive than ever.
The Icelandic Horse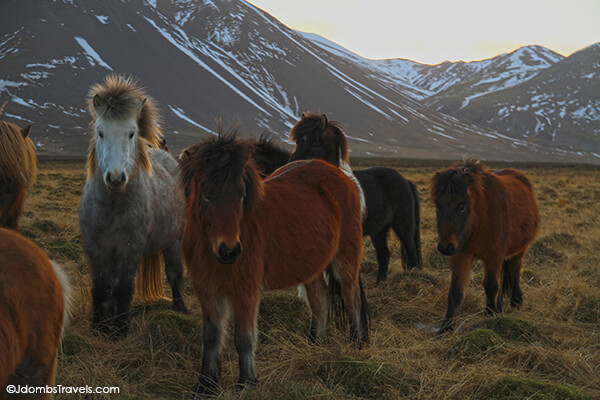 Just what makes Icelandic horses so cute and special? The Vikings brought these small Nordic horses with them when they arrived in Iceland more than 1000 years ago, probably somewhere between 860 and 935 AD. Selective breeding and isolation makes the breed as pure as the day the Vikings brought them. And to maintain the special breed, Icelandic laws prevent horses from being imported to Iceland. Also, once an Icelandic horse leaves Iceland, it can never return.
The Iceland horse is so small, pony sized even at an average of just 13 – 14 hands tall, but registries still classify them as horses. They come in a variety of colors from white to black, palomino to silver, and everything in between. They are also incredibly friendly and gentle.
Just driving around Iceland, you'll spott hundreds – even in winter. They are generally keen to trot over for a pat and to say hello. I don't know how many times I made Tim stop on the side of the road so I could pet yet another cute Icelandic horse. And in winter, I think they're even cuter with their heavy double coats to protect them against the harsh Icelandic winds.
The Icelandic horse is also renowned for its five gaits, the most popular being the tölt. The tölt is a four beat running-walk with flowing movement unique to the Icelandic horse and is easy and comfortable to ride, though Tim might disagree.
An Icelandic Horse Riding Tour Near Reykjavik
We had the opportunity to ride, English style, at the Kidafell farm in Kjós. Our ride started from the Kidafell farm and we rode towards a very small river called, Skorá. We followed the banks of the river, crossing it a few times.
It's customary on Icelandic rides to allow the horses a short break to eat some grass and drink water from the river. The hillside where we stopped was covered in Krækiber, a type of Icelandic black berrt. While our horses got their fill of the grass, we picked some of the wild berries, which are somewhere between somewhat sweet and bitter.
My horse was only six years old, the youngest of our bunch, and she liked to run. I definitely got to experience the famous tölt. Tim's horse, who was 20 years old, was a bit slower and took his time along the trail. We had a wonderful ride at the Kidafell farm, with beautiful scenery.
Where to See Icelandic Horses
Book a riding tour at Þúfa farm in Kjós, just 40 kilometers north of Reykjavik.