Cascading 196 meters down the deep gorge of the Botnsdalur valley is Iceland's highest waterfall, Glymur. The river Botnsá leaves the lake Hvalvatn and after a short distance the water falls down alongside the volcano Hvalfell into a canyon with green moss.
Unlike many other waterfalls in Iceland, it is not possible to drive to Glymur. So to see the beautiful waterfall, lace up your hiking boots. The view from the base of the waterfall is beautiful but hiking up to Glymur's ledge provides a breathtaking view down the valley and out the Hvalfjörður fjord.The hike to the waterfall is not one for the faint of heart.
We began our hike as the sun was rising over the shorter and easier west side trail up to the ledge of the  waterfall. The west side trail begins on a dirt road and steeply climbs up over rock and through a forest of undergrowth. This trail does not offer the best views of the waterfall, so once on top, wade across the Botnsá river to descend down the east side trail. The water isn't all that cold…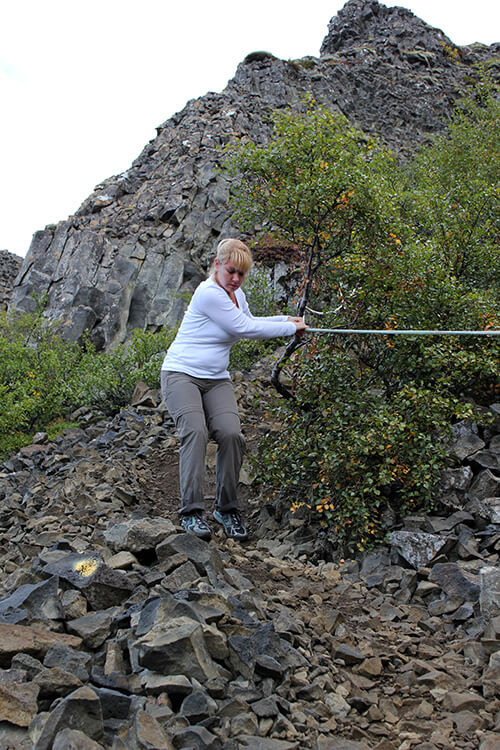 The way down on the east side of the canyon is rather steep and you are mostly hiking along the edges of steep drop offs. Halfway down the trail, ropes are available to hold on to as you make your way down over the loose talus. There are many vantage points to stop and admire Glymur from along the way down.
Once back at the bottom of the canyon, you will need to cross the  Botnsá river again over a log foot bridge reinforced and held in place by a steel cable. From there, descend back up out of the canyon through what appears to be a cave but is actually a natural stone arch.