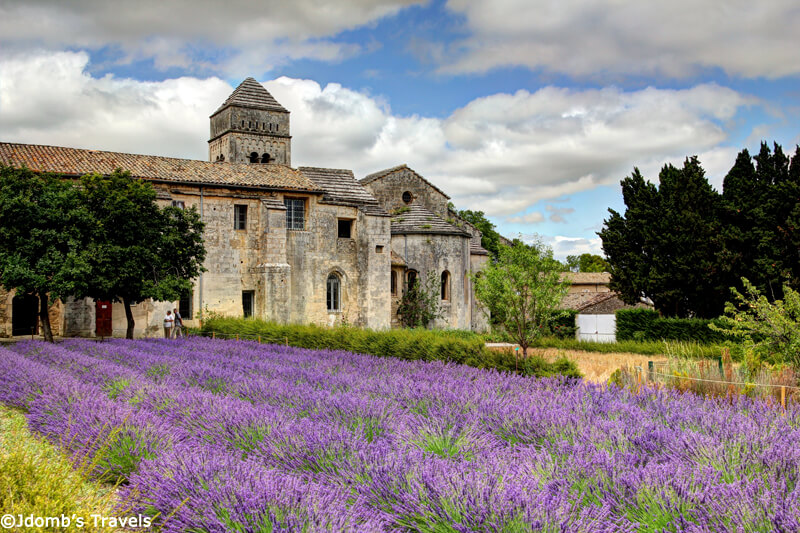 Monastery Saint-Paul-de-Mausole is the psychiatric hospital where Vincent Van Gogh incarcerated himself from May 1889 to May 1890, just before his death. It still functions as a psychiatric hospital today with 67 short-stay beds. Part of the hospital where Van Gogh stayed is open to the public.
Van Gogh painted some of his most famous paintings during his self-imposed stay at the hospital. He was mostly confined to the asylum during his stay because of his illness, but when he could leave, he painted local landscapes of Saint-Rémy-de-Provence.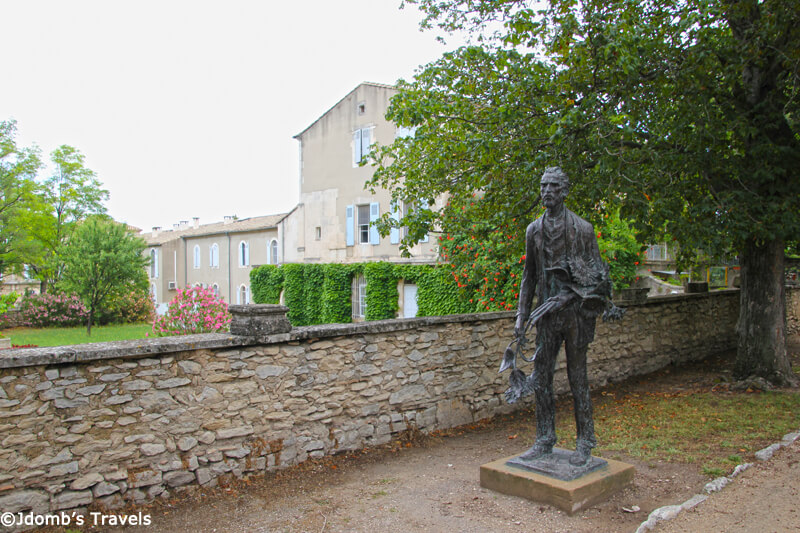 His works of the interior of the hospital and its patients convey his sadness and isolation. Maybe if Van Gogh had a dog like me, he wouldn't have been so sad. Maybe the girl at the ticket window thought the same (or maybe it was because I gave her my cutest head tilt while my mom pointed at me and asked if it was okay to bring me in) because she said "Oui" and handed over our tickets.
Reproductions of Van Gogh's works line the stone walls on the path to the monastery and a statue of Van Gogh himself carrying sunflowers greeted us. Having seen the spectacular fields of sunflowers on our lavender hunt the day before, it was easy to see why Van Gogh painted them.
My mom and dad lingered over the Starry Night reproduction in which Van Gogh depicted the view from his room at the asylum at night.
Inside more works of art line the walls of a gift shop. These works are ones painted by current patients during art therapy and are for sale. I was told no tail wagging in the gift shop so I wouldn't knock anything over!
Upstairs we went where at the top of the stairs is a window that overlooks the wheat field enclosed by the walls of the monastery with the mountains of Arles peaking above them. Van Gogh painted twelve works with this view and I wanted to see what all the fuss was about, so I jumped right up onto the window to have a look. I don't think this was good behavior for a dog being allowed into the monastery because my mom sternly told me to get down.
Outside we walked around the lavender and wheat fields in the garden. For the first month of Van Gogh's stay, he was confined to just his room overlooking these gardens, so he often painted the wheat field and flowers. I couldn't play in this lavender field, but I don't know if I would have wanted to anyway. There were a lot more bees on the lavender since the sun was shining brightly.
The monastery was beautiful so I'm glad they thought I was cute enough to let in!
Know Before You Go
Monastery Saint-Paul-de-Mausole Open: 9am-12pm, 14pm-18pm; €4 per person (dogs are free).