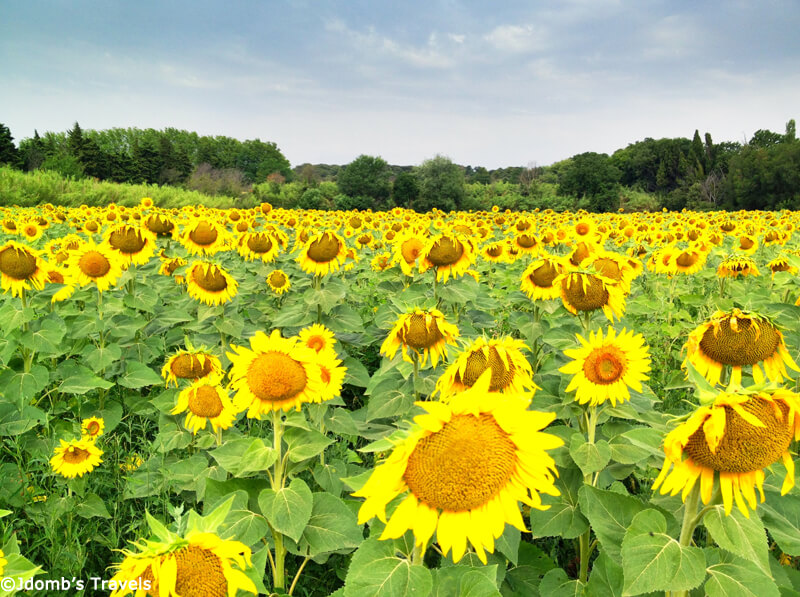 Emma, Tim and I piled into the car to chase lavender from our base in Saint-Rémy-de-Provence. What we weren't expecting were fields of sunflowers stretching alongside the road! We came across bursts of the bright yellow flowers standing at attention as we drove along the rural road between Saint-Rémy-de-Provence and Noves.
The sunflower head points east toward the sunrise. Before they bloom, motor cells in the sunflower stem tilt the flower bud to try to receive a maximum amount of sunlight throughout the day. By evening, the sunflower head is pointing west, toward the sunset. Basically sunflowers trace a 180 degree arc, tracking the sun's position throughout the day, from horizon to horizon, sunrise to sunset. Overnight, the sunflower will reset to its original eastward position and wait for the morning, ready to follow the sun's path once again. But once they bloom, sunflowers no longer follow the sun and are frozen into an eastward-facing position.
We pulled off to the side of the road and all the sunflowers were facing east, away from us! We walked the road between the fields scouting for a spot that we could get down into the fields and capture the sunflowers facing toward us. There was a big ditch full of pricker bushes and it was just impossible. We both gave up. It was pointless to take pictures with the sunflowers facing away from us.
And then we turned around.
We were so enchanted by the long stretches of sunflowers to our right and trying to figure out how to best photograph them, we didn't even notice the field on the other side of the road. And of course, those sun flowers were facing east right toward us. There wasn't even a ditch separating us from the field. Laughing, we watched the bees buzz on the sunflower heads and snapped happily away.
Note: The sunflower fields are all privately owned and like any other crop, will be harvested for sunflower seed production. Be respectful if you visit these fields. Don't pick the flowers or trample them.