We'd heard that The Arbat is Moscow's premier pedestrian shopping street for Russian souvenirs like matryoshki (nesting dolls), amber, and lacquered boxes. But in all honestly, we found most of the merchants were Chinese and were practically accosted and forced into visiting a few with "You loookee!" being shouted as we tried to pass by. We quickly abandoned the overpriced souvenir shops and hopped on the metro for more authentic Russian handiwork at the Izmailovsky Market.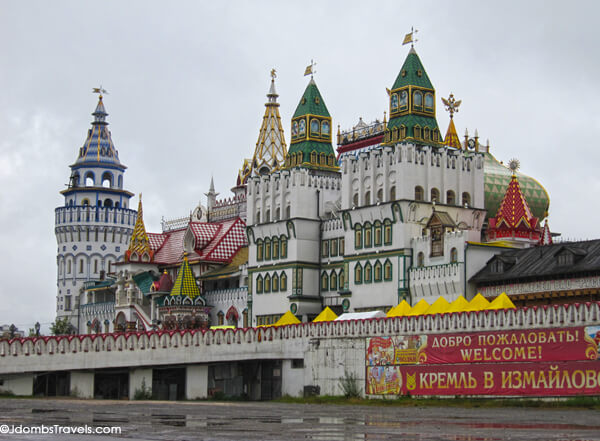 The Izmailovsky Market is inside the walls of the Izmailovo Kremlin. Fairy tale like, I'm convinced this is what a Russian Disney castle would look like! Not surprising, because the design was in fact inspired by Russian fairy tales and it was built as a wedding complex, complete with a wedding palace. The huge, and I mean huge, open-air bazaar is filled with organized stalls of vendors with a garage-sale like feel.
I could immediately tell the difference in the quality of the nesting dolls; these matryoshki were hand-painted and clearly not made in China. Not only were there 10 times the selection of nesting dolls than at The Arabat, there were the famed Russian furs, Russian space-program and Soviet memorabilia, intricate amber jewelry, lacquered boxes, beautiful wooden chess sets, traditional Russian costumes, and even a row of delicious smelling street food that lured us over.
Most prices were negotiable and it was the one place we found of the cities and villages we visited in Russia that most of the vendors spoke at least a little bit of English. In terms of choice and value, Izmailovsky Market really is the best place to look for traditional Russian souvenirs. Enjoy some photos of the various handicrafts on offer at the market!
Know Before You Go
Izmailovsky Market is open daily from 9am – 6pm, though there are many more vendors on weekends.
There is a 50 rubles entrance fee per person (about $1.50).
Izmailovsky Market is easily reached on the metro and is at the Preobrazhenskaya (Преображенская) stop. Turn left out of the metro station and walk across the street to the entrance to Izmailovo Park. For tips on easily using the Moscow Metro, click here.