Literally clinging to the Cleopatra Hill, Jerome, Arizona was built atop a vast copper mine. The town has several claims to fame: it's known as the Billion Dollar Copper Camp and because of it's precarious perch at 5,435 feet above sea level, Jerome is also known as America's Most Vertical City. Jerome was also once the wickedest town in the West, but the population dwindled from 15,000 to just 50 after the Great Depression and it became America's Largest Ghost Town. All these claims to fame aside, Jerome today is a kitschy little town of about 450 with the buildings preserved just as they were when they were built over 100 years ago.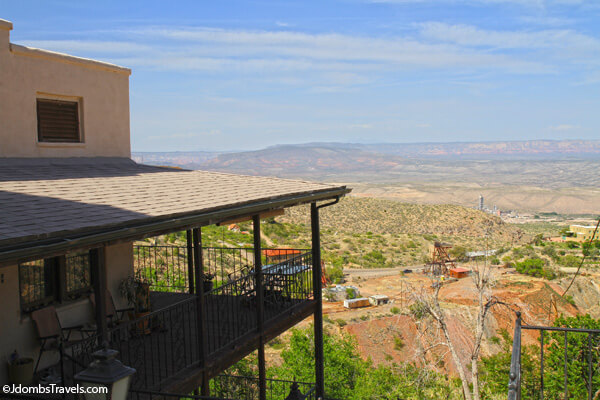 Jerome's history goes back long before the town itself was founded in 1876. The Native American Yavapai tribe were the first to mine the area looking for colored stones. The Spanish followed in the 16th century hoping to find the mythic city of El Cibola (the Seven Cities of Gold), but finding the huge copper deposit instead. American fortune seekers noticed the old mines in the late 19th century and Nora "Butter" Brown, an enterprising Madam, set up Jerome's first bordello. Angus McKinnon soon made a claim to the land and then in 1883, investors bought McKinnon's claim for $15,500. It was just a few years later that the United Verde Copper Company. The United Verde Mine produced over $1 billion in copper, gold, and silver.
The mines closed in 1953, but the Jerome Historical Society guarded the buildings from vandalism and the elements. Jerome, Arizona became a National Historic Landmark in 1976.
Aside from mining, Jerome was a hotbed for prostitution up until the 1940s. As the 20th century marched on, Jerome became an around-the-clock town boasting 13 hotels, 21 bars, and 8 brothels with names like The Cuban Queen and Cribs. What then became known as Prostitution Row is now Jerome's Cribs District, an interesting back alley of crumbling buildings.
Madam Nora "Butter" Brown's brothel was the first wooden building built in Jerome and had its own wooden sidewalk and second story porch above that.
Today, the historic buildings are home to some 450 residents as well as charming art galleries, kitschy shops selling everything from copper jewelry to homemade jalapeno fudge, and several wineries that are worth stopping in just for their view alone!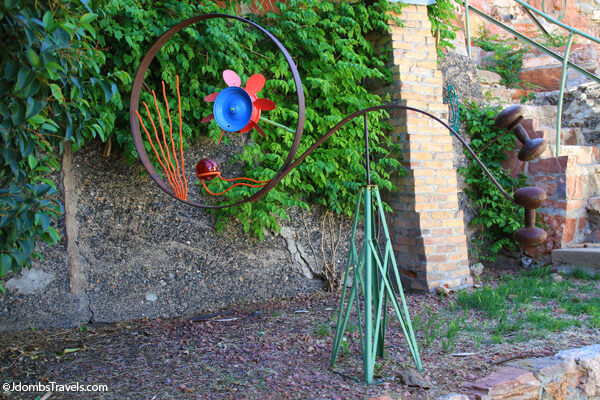 Browse the shops up and down Main Street, Hull Avenue, Jerome Avenue, and Clark Streets. And be sure to wander up into public gardens like the sculpture garden at Gallery 527.
Know Before You Go
Pick up a map with the historic buildings noted at the Tourist Information office.
Stop in to Bitter Creek Winery for a wine tasting an amazing views over the old copper mines.
The Haunted Hamburger has the best vista view of the Verde Valley and pretty tasty hamburgers too.