Remote. Unspoiled. Breathtaking. With words like that used to describe Iceland's north-west corner, known as the Iceland Westfjords, how could we not spend time in this true Icelandic wilderness? The Westfjords are teeming with wildlife – seabirds, seals, whales, and other marine mammals. There couldn't be a better way to get up close to the wildlife than to do some paddling.
Locals always know the best spots and the team at the family run Borea Adventures were happy to share a few of Iceland's best kept secrets with us as we tried out a new kayaking day tour they'll be adding to their offerings for the upcoming season. Borea Adventures is located in the heart of Ísafjörður and we met our guide, Örvar, there. We'd be driving out to Hestfjörður, the narrow steep-walled fjords known as the Horse Fjord. It's one of the best places in Iceland where you're almost guaranteed to see seals.

As we launched our kayaks out in to the water, the seals all took a dive. Curious critters that they are, at least 20 heads would pop up craning for a better look at us. The seals were just as interested in us as we were in them and as we paddled out, they'd pop up right next to us to see what we were up to.
The seals continued to pop-up and dive around us as we paddled out toward Vigur Island. The water was nearly like glass, making it easy to spot them. We kept our eyes peeled for any whale spouts or fins. Though we never did spot any whales, like the humpbacks that like to come in to the fjord, some harbour porpoise did give us a show. They are the smallest marine mammal and look a bit like dolphins.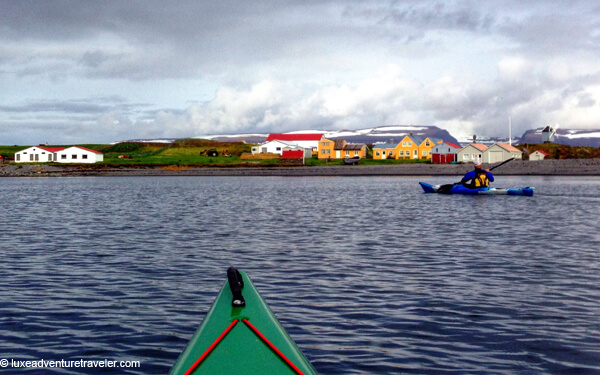 Vigur Island is a small island in the Westfjords known as the "Spear Island" because of its shape. Once upon a time, four families lived and farmed there. Now just one farmer remains. He is the fourth generation to inherit and live on Vigur Island and once we paddled  ashore, we could immediately see why he enjoys living there so much. The 360-degree views are simply spectacular!
All that paddling makes even the heartiest explorer famished. Örvar's family also runs a small cafe and his brother had packed each of us a lunch bag. Everything is homemade and is both organic and local. The cafe bakes the bread for the sandwiches and the tomatoes and cheese come from a farmer in town. We also enjoyed fresh baked muffins and granola bars. Seriously the best granola bars we've ever had! His mother keeps the recipe a secret, even from Örvar. He joked with us that to work in the cafe you must sign a non-disclosure agreement before you get to help make the granola bars.
Fueled up on a healthy and delicious lunch, we set out to explore Vigur Island. In July and August all sorts of sea birds, like puffin, come to the island to nest and raise their young. We'd missed them leaving by only about two weeks, but the Eider ducks call the island home year round. The farmer makes a nice nesting area for them and slowly "steals" their feathers all summer long. He produces the expensive and luxe Eiderdown from the feathers collected in the small factory on the island. But not to worry, he replaces what he steals with hay and the Eider ducks are perfectly happy. Bring your credit card and you can go home with a very nice Eiderdown quilt, though it might cost you more than your flight to Iceland.
Vigur Island is also home to Iceland's only windmill. It was built in 1840 and used to grind grains. It was really ingenious when it was built – the whole thing turns so that it could always catch the wind no matter which direction it was blowing. It's no longer used, but it is quite picturesque.
You can even mail a postcard with a special stamp made only for Vigur Island from the tiny Post Office. It's the smallest Post Office in Europe.
The island is home to around 30 sheep, though the main livelihood is the production of the Eiderdown. Stroll around the "highlands" of the island and you'll run into the sheep munching away on the grass. You can also walk down to the beach and have a look at the "face" rocks. Icelanders believe in trolls and elves and Örvar points out that this rock looks like a head with a big nose sticking out, eyes, and like the troll even has hair.
The walk around the island is perfect to stretch your legs before hopping back in to the kayak to paddle back across to the fjord.
Know Before You Go
The Vigur Island and Seals kayak tour is available from May – September. Inquire with
Borea Adventures
and check out their other tours from kayaking to skiing.
Paddling to Vigur Island is 10km (6.2 miles) round trip.
Wear warm water repellant clothing and socks. A dry suit and life jacket are provided to go over your clothing.

Our Vigur Island kayak tour was hosted by Borea Adventures in order to bring you this story. As always, all opinions are entirely our own.