Once upon a time I wanted to be a chef. I even looked in to culinary school, but at the time it was too expensive and required a time commitment I couldn't give while also working full time. To quench my love of cooking, I made a weekly menu of our dinners and adapted tons of recipes from cookbooks to my home kitchen. I even got more inventive, and started experimenting with making my own recipes.
But over the years as I got busier and busier with work, I experimented with recipe creation less and less. I even got in a rut of cooking the same things over and over, almost weekly. It was easier and less time consuming because I knew the ingredients by heart, had the staples already in my pantry and didn't have to hunt through the grocery store or find French substitutes of American ingredients I just can't get.
One positive thing that has come out of our confinement in France is that I've returned to my love of cooking. We've hardly had the same meal twice, with the exception of leftovers and a few favorites.
I've been cooking away and showing my steps almost daily on my Instagram Story. It's gotten to the point of many daily messages asking what's for dinner and disappointment if we have leftovers. And I love it!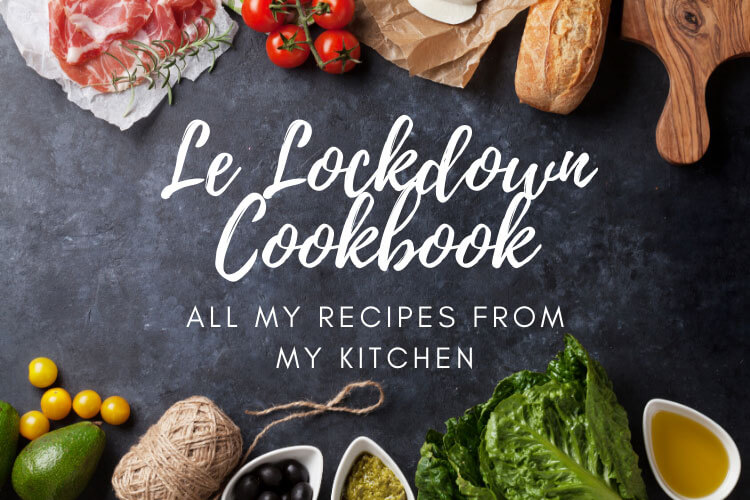 Since I've had so many requests for several of my recipes, I've put them together in this "digital cookbook" so you can also make these delicious dishes at home.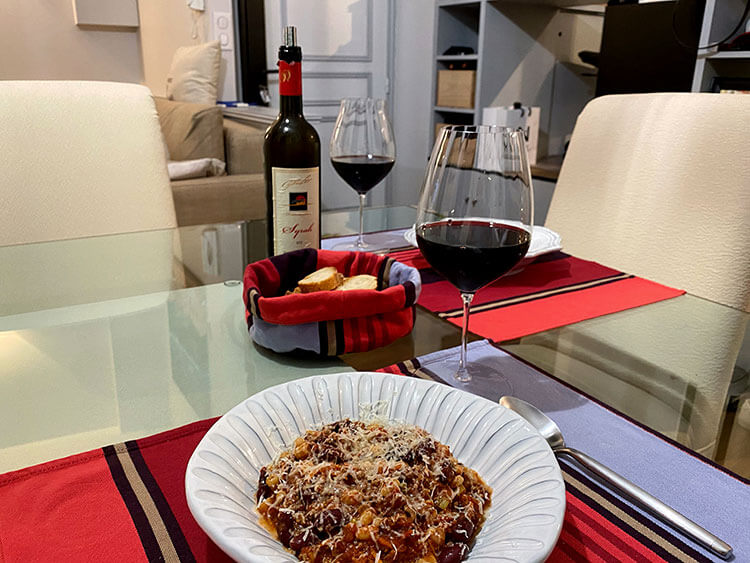 Better Than Olive Garden Pasta Fagioli
Olive Garden might not be at all authentic when it comes to Italian cuisine, but who doesn't love their soup, salad and bread sticks? Even after living in Italy for seven years, Tim and I both enjoy a visit to Olive Garden from time to time.
But making the move overseas, I perfected some of our favorite dishes over the years. Pasta Fagioli – which does exist in Italy, but is totally different – is one of those things I mastered at home. And not to toot my own horn, but I think my recipe is even better.
Ingredients
1 lb ground beef
3 15 oz cans diced tomatoes
1 15 oz can tomato sauce
2 15 oz cans kidney beans
2 15 oz cans white beans like Great Northern beans
1 yellow onion finely diced
3 stalks celery finely chopped
1 small head garlic minced (I use a garlic press)
1 cup julienned carrots
2 tbsp white vinegar
2 tbsp Tabasco
2 tsp oregano
1/2 cup Ditali pasta
Sugar and salt to taste
Method
Brown the ground beef in a stock pot with a bit of olive oil, the onions and garlic
Once the beef is browned, add in the diced tomatoes. Stir.
Add in the white vinegar, Tabasco and oregano. Stir.
Season with sugar and salt to taste.
Drain the white beans and kidney beans. Add in to the pot and stir.
Let simmer on low for 20 minutes.
Meanwhile, bring a pot of salted water to a boil and cook the Ditali pasta to al dente.
Drain the pasta and gently stir in to the beef, tomato and bean mixture.
Add the julienned carrots. Stir and let simmer on low for 5 minutes.
Serve the better than Olive Garden pasta fagioli with some grated parmesan on top and witn bread or bread sticks.
Chicken and Asparagus Teriyaki
I love asparagus! White or green doesn't matter, but green asparagus is great in a teriyaki stir fry. This is an easy, simple recipe that requires minimal prep and only takes about 20 minutes to cook.
Ingredients for 2 Servings
2-3 chicken breasts cut into pieces
1 bunch of asparagus chopped into pieces
2 cloves of garlic minced (my garlic press is one of my favorite go-to kitchen tools)
1/4 cup teriyaki marinade
2 tbsp honey (we use a chili infused honey to add spiciness)
Salt to taste
1/2 cup rice
Method
Cut the chicken breast up into pieces and place in a bowl
Add the minced garlic, teriyaki marinade, honey and salt to the chicken in the bowl
Stir up the chicken in the marinade, cover and let it marinate for 20 minutes
Heat a bit of oil in a skillet or wok and brown the chicken in the marinade
Once the chicken is cooked, taste and add salt as needed
Add additional chili infused honey to adjust spiciness
Add the chopped asparagus to the wok. Stir.
Cover the wok and simmer on low for about 10 minutes.
Meanwhile, cook the rice.
Divide the rice onto plates, then spoon the chicken and asparagus teriyaki over the rice and serve.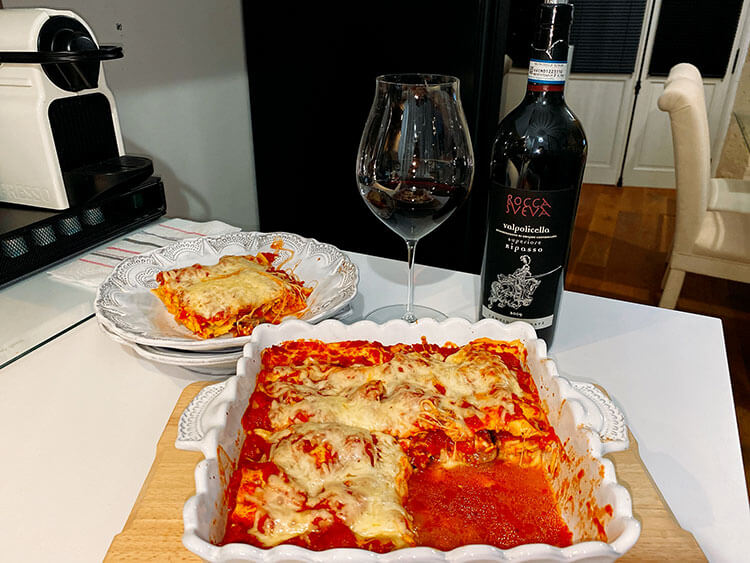 Rustic Sausage Lasagna
Growing up in an Italian-American family, lasagna was a staple of our table. I carried that tradition on in to my own adult life, and lasagna is often a meal I make both for guests and just any ol' weeknight dinner.
While I have a few different adaptations of lasagna that I make, my favorite is a rustic sausage lasagna. I've had so many compliments when I've served this dish to family and friends.
Ingredients
3-4 Italian sausages
2 fresh buffalo mozzarella cut into thick slices
4 cloves of garlic minced
28 oz can whole tomatoes
2 tsp oregano
2 tsp white vinegar
lasagna noodles
shredded mozzarella, about 16 oz
salt to taste
sugar to taste
fresh basil leaves torn
Method
Pre-heat oven to 350F (180C)
Slice open the Italian sausage and remove from the casing. Crumble into a pre-heated skillet and brown. Remove from skillet and set aside.
Add minced garlic to the skillet and cook for about 1 minute in the juices from the sausage.
Add the whole canned tomatoes to the garlic. Gently break up the whole tomatoes with a spoon.
Stir the oregano and white vinegar into the tomato sauce.
Season with salt and sugar to taste. Add more oregano and vinegar if necessary.
Simmer the sauce on low for about 10 minutes, stirring occasionally.
Meanwhile, boil water. To slightly cook my lasagna noodles if using boxed and not fresh, I place the noodles in a pan and pour a little boiling water over them just to soften them up.
Put a very thin layer of tomato sauce on the bottom of your baking dish. This helps the lasagna not stick to the bottom.
Next, put a layer of lasagna noodles slightly overlapping each other.
Layer the sausage, slices of the fresh buffalo mozzarella, some shredded mozzarella and tomato sauce on top of the noodles.
Top with another layer of slightly overlapping lasagna noodles, and repeat the layers.
Pour the rest of the sauce over the top of the lasagna and top generously with shredded mozzarella.
Bake for 20 – 25 minutes.
Let the lasagna cool slightly after you take it out of the oven before serving. Top with a bit of the fresh basil.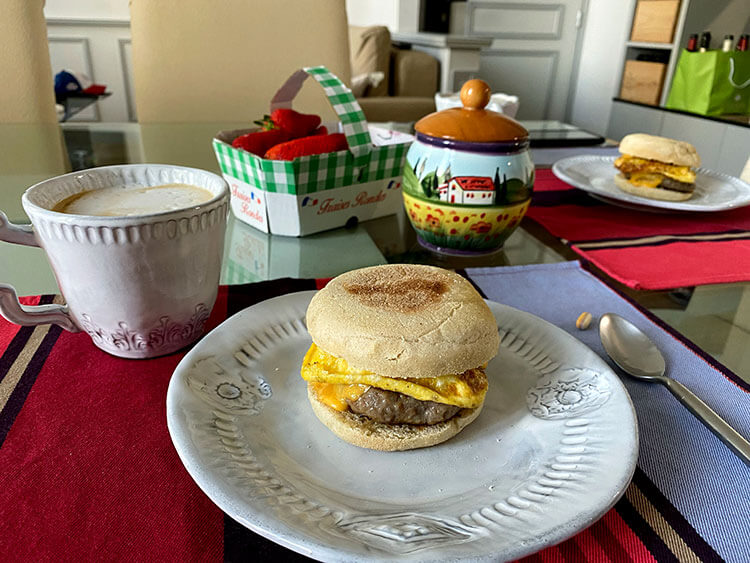 Better Than McDonald's Sausage, Egg & Cheese McMuffins
I love McDonald's breakfast. I'll admit I stopped off on my daily commute to work for a McMuffin way too many times when I used to work at the university. McDonald's was right on the way!
McDonald's here in Bordeaux didn't even offer breakfast at all until more recently. And disappointingly, the breakfast menu wasn't much more than the classic bacon, egg and cheese McMuffin.
So when I had a craving for a McMuffin 25 days into Le Lockdown, I decided to just make my own. Afterall, not even McDonald's is open during confinement in France – and they wouldn't have served my favorite McMuffin anyway.
Ingredients
English muffin
sausage
egg
cheddar cheese sliced
milk
salt
pepper
Method
Heat a griddle on the stove
Crack one egg per person into a mixing bowl and whisk it with a fork.
Add a splash of milk, and season with salt and pepper. Whisk gently.
Slice the sausage casings and remove the sausage from the casing. Form in to a patty.
Place the sausage patties on the pre-heated griddle.
Using an egg mold ring, pour the egg in to the rings.
While the sausage and eggs cook, slice the English muffins and toast.
Once the sausage and egg patties are cooked, layer a sausage patty on the bottom of the English muffin. I like to place half the cheddar slice on top of the sausage, then the egg patty, the other half of the cheddar slice and top with the muffin top.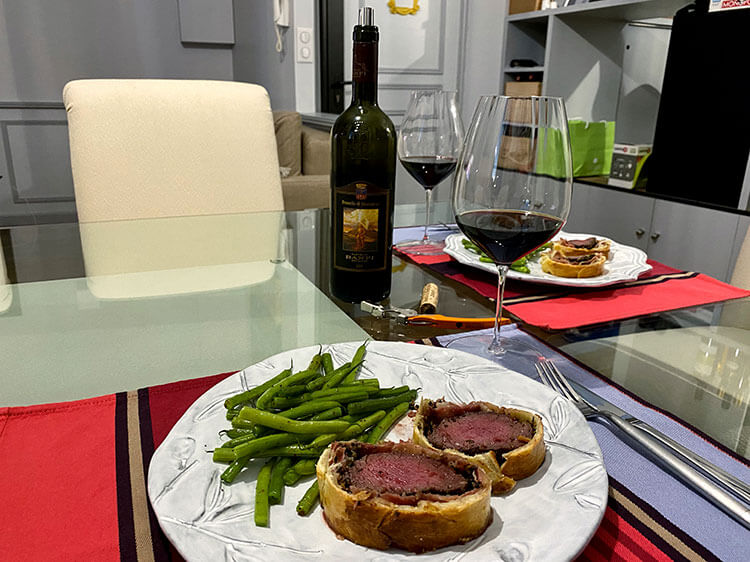 Beef Wellington
I'm not sure I'd ever even heard of a beef wellington until I got hooked on watching Hell's Kitchen years ago. I'm pretty certain the first beef wellington I ever had was when Tim and I splurged on a dinner at the now shuttered Gordan Ramsay at Claridge's restaurant in London. And it was just as divine as I anticipated from the show.
Beef wellington is typically only served for a minimum of two people and it's also usually a pricey meal. To say it's a rare treat is an understatement.
That is until Le Lockdown, when I decided to try mastering this recipe. I've adapted my own version from Gordon Ramsay's beef wellington recipe, since Tim isn't a fan of mushrooms.
Ingredients
beef tenderloin roast
button mushrooms or wild mushroom mix
8 slices of proscuitto
puff pastry
100 ml dry white wine
egg white
olive oil
butter
salt
pepper
Method
Bring the beef tenderloin roast to room temperature.
Meanwhile, heat the oven to 220C (425F).
Brush the beef tenderloin with olive oil and season with salt and pepper.
Roast the beef tenderloin in the over for 15 minutes for medium-rare.
Let the beef cool.
Meanwhile, chop the mushrooms as finely as you can.
Heat 1 tbsp of olive oil and 25 grams of butter in a skillet. Add the chopped mushrooms and cook stirring constantly until cooked.
Add the white wine to the mushrooms and cook on low until the liquid is absorbed.
Remove the mushroom duxelle from the skillet and let cool.
Lay a piece of foil over a chopping board or on the counter.
Lay the proscuitto slices out on the foil, slightly overlapping the proscuitto slices over each other. The proscuitto should be just slightly longer than the beef tenderloin.
Spread the mushroom duxelle over the proscuitto evenly.
Place the beef tenderloin in the center and wrap the proscuitto around the tenderloin.
Chill the proscuitto covered beef tenderloin in the fridge for about 10 minutes.
Meanwhile, roll out the puff pastry.
Set the beef tenderloin in the center upside down and wrap the pastry around the tenderloin. Trim off any excess pastry. Set it on a non-stick baking sheet.
Beat the egg yolk with 1 tsp water. Brush the pastry all over with the egg yolk wash.
Using a knife, gently mark the top of the beef wellington being careful not to slice through the pastry dough.
Chill in the fridge for about 30 minutes.
Brush the wellington with a little more of the egg yolk wash, then bake for 25 minutes in an over at 200C (400F) for medium rare.
Let the beef wellington stand for about 10 minutes before slicing in thick slices. Use a sharp knife to slice so the pastry doesn't fall apart.
Sausage & Ricotta Pasta Bake
I haven't made a pasta bake in years. In fact, the last time I recall making a pasta bake was probably close to 20 years ago. When you're trying to mix things up, why not try a pasta bake?
It's a delicious step-up on pasta and sauce, and doesn't take much longer or more effort than sticking it in the over for about 20 minutes. You can also prepare this pasta ahead, refrigerate and then bake for dinner.
Ingredients
2 garlic cloves minced
1/2 lb of sausage with the casings removed
1 can tomato puree
1/2 cup water
1/4 cup dry white wine
1 1/2 tsp sugar
1 tsp oregano
1 bay leaf
salt
8 oz ricotta
8 oz shredded mozzarella
olive oil
12 oz pasta such as penne
Method
Heat an oven to 200C (400F).
In a large sauce pan, heat 1 tbsp olive oil. Add the minced garlic and cook over medium-low heat for about 1 minute.
Crumble the sausage in to the pan with the garlic and cook until browned.
Add the tomato puree, water, white wine, sugar and oregano to the pan. Stir and season with salt to taste.
Add the bay leaf and simmer on low until thickened, stirring occasionally.
Meanwhile, cook the pasta in a pot of salted water until al dente.
Drain the pasta and place it in a baking dish.
Pour the sausage sauce over the pasta, then gently stir to coat all of the pasta.
Spoon dollops of the half ricotta in to the pasta. Gently fold the dollops in to the pasta. Spoon the remaining half of the ricotta in dollops on to the top of the pasta.
Top with the shredded mozzarella.
Bake the pasta for about 20 minutes in the oven, until the cheese melts and is bubbly.
Let cool for about 5 minutes before serving. Grate some fresh parmesan over the top to serve.
Chicken Chipotle Enchiladas
The food we definitely miss the most as American expats living in Europe is Tex-Mex. We're tried just about every Mexican restaurant we've come across and nearly all of them leave a lot to be desired. Tacos are usually okay, but everything else we love like enchiladas are usually a far cry from what we know and love in the US.
So you adapt and make your own. And enchiladas aren't as complicated to make as you might think!
Ingredients
2 chicken breasts
15 oz can of tomato sauce
7oz can La Constena chipotle peppers in adobo sauce
3 tsp adobo seasoning (I like the adobo seasoning from The Spice House)
1 tsp oregano
salt
tortillas
shredded cheddar
shredded emmentel or comté
sour cream or creme fraiche to serve
Method
Season the chicken breasts with salt and pepper and 1 tsp of the adobo seasoning
Cook the chicken in a skillet
Once the chicken is cooked through, remove and put in a mixing bowl. Use two forks to shred the chicken.
Mix the shredded chicken with 3/4 of the chipotle peppers in adobo. Reserve 2-3 of the peppers for the enchilada sauce. Set the shredded chicken aside.
Combine the tomato sauce, remaining chipotle peppers, 2 tsp adobo seasoning and oregano. Break up the chipotle peppers. Season with salt to taste.
Simmer the sauce for about 10 minutes.
Meanwhile preheat the over to 180C (350F).
Spread a thin layer of the enchilada sauce on the bottom of a baking dish so that the enchiladas won't stick.
Take a tortilla and coat each side lightly in the enchilada sauce.
Place the coated tortilla on a plate or cutting board. Put some of the shredded chicken chipotle mixture in the tortilla, and top with a bit of the shredded cheeses.
Roll the enchilada up and place in the baking dish.
Repeat with each tortilla until you fill the baking dish.
Pour the remaining enchilada sauce over the enchiladas and spread it evenly.
Top generously with the shredded cheeses and bake for 20 minutes.
Allow the enchiladas to cook for about 5-10 minutes before serving. Top with a dollop of sour cream and serve with pinto beans or Spanish rice.
Sheet Pan Dinner
One of the easiest dinners to throw together is a sheet pan dinner. And since we don't have an outdoor grill, this baked in the oven dinner makes us feel like we've grilled outdoors.
Ingredients
1 package of kielbasa sliced into thin slices
1 zucchini sliced into thin slices
1 yellow onion cut in to wedges
1 red pepper sliced into strips
6 – 8 baby potatoes sliced into thin slices
olive oil
salt
pepper
Method
Heat an over to 180C (350F)
Slice up the potatoes, pepper, onion, zucchini and kielbasa.
Line a baking sheet with foil.
Layer the kielbasa on the bottom. The natural juices will keep the potatoes and veggies from sticking to the foil. Then layer the potatoes, onions, zucchini and peppers.
Season with salt and pepper. Drizzle with olive oil.
Seal the baking sheet with another piece of foil over the top of everything. Bake for 30 – 35 minutes.
Beef Parmentier (Hachis Parmentier)
Parmentier is a really typical Bordeaux specialty, and is usually made with duck here in the South West of France. It's basically the French take on a shepherd's pie.
I remember first having it with my hosts at Château Prieure Marquis, and it's a dish I love eating as a Bordelais comfort food. And it's actually really easy to make at home.
I adapted my recipe from my friend Tania's cookbook, The Bordeaux Kitchen. She uses turnips in her mashed potatoes, which I couldn't get in the early days of the confinement when grocery stores were having a bit of a tough time keeping shelves stocked.
Ingredients
4 cloves garlic minced
1 yellow onion chopped
1 lb ground beef
100 ml red wine
8 baking potatoes peeled and chopped
heavy cream
butter
salt
pepper
Method
Heat a skillet and saute the chopped onion in a bit of olive oil until caramelized.
Add the minced garlic to the onion and saute for about 1 minute.
Add the ground beef to the onion and garlic and cook until browned. Season with salt and pepper.
Add the red wine and simmer until the liquid is absorbed. Set the beef aside.
Meanwhile, bring a stockpot of salted water to a boil. Add the chopped potatoes and cook until soft when pierced with a fork. Drain.
Preheat the oven to 180C (350F).
Mash the potatoes. I use a hand blender, first mashing the potatoes down a bit.
Add in some heavy cream, butter, salt and pepper and mix. Be careful not to over mix or the potatoes will turn goopy and sticky.
Put the beef in a baking dish.
Spread the mashed potatoes evenly over the top of the beef.
Top with a bit of fresh pepper. Bake for 30 minutes.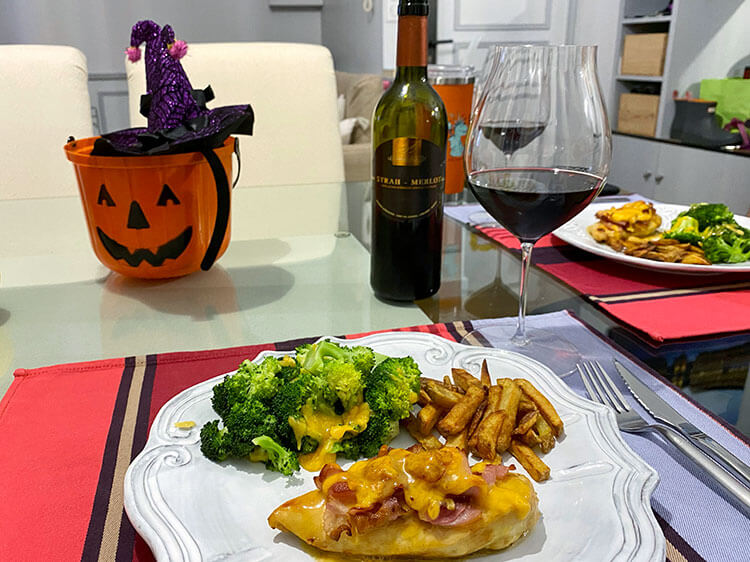 Copycat Outback Alice Springs Chicken
We love us some Outback Steakhouse. That brown bread. The oh-so-bad-for-you but delicious bloomin' onion. Yum!
While Tim always goes for the Outback Special, I don't always want a steak. My second go-to is Outback's Alice Springs chicken with the tasty honey-mustard sauce.
Of course, there's no Outback Steakhouse in Europe – or in lockdown – so I've created my own copycat version minus the mushrooms since Tim doesn't like 'shrooms.
Aside from the marinating, this recipe is super quick. And you can marinate the chicken overnight so it's ready to whip up for a delicious weeknight dinner in under 20 minutes including sides. I like to make some steamed broccoli as a side dish.
Ingredients
4 chicken breasts
1/2 cup Dijon mustard
1/2 cup honey
1/4 cup mayonnaise
1 tbsp lemon juice
8 slice slices bacon chopped up
shredded cheddar cheese
Method
Whisk together the Dijon mustard, honey, mayonnaise and lemon juice to make the marinade. Reserve about 1/4 of the marinade for serving.
Completely coat the chicken breasts in the remaining marinade. Place in a ziplock bag or container and refrigerate for a minimum of 2 hours or up to overnight.
Once ready to cook, preheat the oven to 400F.
Saute the chopped bacon in a skillet until almost done. Set aside.
Cook the chicken in a single layer in the skillet in the bacon fat for about 2 minutes each side until browned.
Place the cooked chicken breasts in a baking dish. Top with the cooked chopped bacon and shredded cheddar.
Bake at 400F for 15 minutes.
Serve the copycat Outback Alice Springs chicken with a little of the reserved marinade drizzled on top.