In Bordeaux, wine is a way of life. You don't even have to be a wine drinker. This city was built on the wine trade and wine remains, to this day, an integral part of life in Bordeaux.
Naturally, one of the things we miss most living in Bordeaux during this weird period of time in the world is visiting the châteaux. It's about more than just drinking the wine (that we have plenty of in our cellar at home). It's about meeting the people behind our favorite bottles of wine, hearing their stories and sipping their wines together.
That's why we're bringing Bordeaux to you! We've figured out how to replicate wine tasting experiences that you can join in right from the comfort of your home. Just grab a glass and let us transport you to Bordeaux.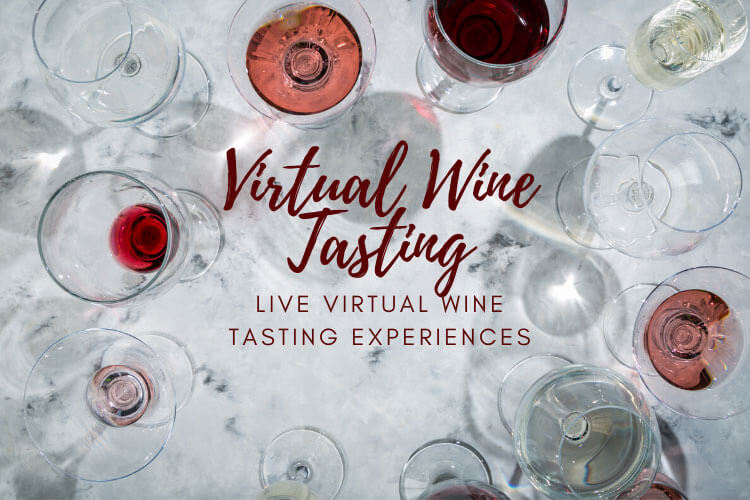 Our Virtual Wine Tasting Experiences
Join us for our new live virtual wine tasting experiences. Along with Bordeaux wineries and other neighboring wine regions within the Nouvelle Aquitaine region, we'll take you on a virtual visit and wine tasting journey.
You'll get to meet the people behind the wine. Spend some time getting to know Bordeaux château owners, wine makers and their expert wine representatives with us. You can even taste right along with us from home.
During the 40 minute virtual wine tasting experiences various château will join us live on Zoom, the video conferencing solution. And just as though you were visiting in person, we'll get to hear a bit about the château, its history and what's happening in the vineyard right now. Asking questions is encouraged, and we want you to join in the discussion for an interactive experience!
We'll also taste a few wines together virtually, have food pairing recommendations and expert tips about how to store wine, decanting times, serving tips and more.
We'll provide the details about upcoming live virtual wine tasting experiences in advance including the château, the wines we'll be trying and any food pairings we'll be trying the wines with. You can join in with any wine, or pick up a bottle of what we'll be trying in advance.
Attendees will receive exclusive special offers such as discounts or a gift with purchase, which will vary from château to château. And many of our château guests offer world-wide shipping. You can order wines you're interested in direct from the château and receive them at home (of course, once shipping options are available again here in France).
We'll also be doing giveaways. While these virtual wine tasting experiences will certainly transport you to Bordeaux, we know you'll also be longing to visit us someday in person. Attendees will be entered into random drawings for giveaways like a visit for two to the château.
What: Live Virtual Wine Tasting Experiences
Where: From the comfort of home using Zoom, a free-for-you-to-use video conferencing solution. Web conference details provided upon confirmation.
When: Wednesdays at 9pm Central European Time / 3pm Eastern Time / 12pm Pacific. The virtual tasting experience will last 40 minutes.
Cost: $5 USD
Upcoming Virtual Wine Tasting Experiences
Our upcoming virtual wine tasting experiences. Check back for more upcoming events soon!
April 8, 2020 with Château Léoville Poyferré
Join us, along with Lori Westmoreland of Château Léoville Poyferré, for a virtual wine tasting on Zoom! Château Léoville Poyferré is one of the Deuxièmes Crus (Second Growths) in the 1855 Classification of Bordeaux wines and situated in the beautiful village of Saint-Julien. The highest concentration of 1855 Grand Cru Classé estates in the Bordeaux wine region is located in the Saint-Julien appellation.

We will be tasting the following wines:
2015 Château Léoville Poyferré
2015 Château Moulin Riche
We'll also be preparing a beef parmentier, a very typical dish eaten in Bordeaux, to pair with the 2015 Château Moulin Riche. And we'll learn how to taste bean to bar chocolate, which will be paired with the 2015 Château Léoville Poyferré.
April 15, 2020 with Vignobles Brumont
Join us, along with Vignobles Brumont. Vignobles Brumont has two prestigious vineyards in the Gers in the South West of France. The wine estates of Château Montus and Château Bouscassé are located in one of the best gastronomic regions of the world.
Since 1979, Alain Brumont has enhanced the native grape varities such as the Tannat, Petit Courbu and Petit Manseng. He produces wines that are regularly in the Top 10 and Top 100 wines of the world. A visionairy and avant-garde winemaker, Alain Brumont has built his world renowned reputation for excellent wines in only 30 years. He's created a new style and brought greatness to the Tannat grape.
We will be tasting the following wines:
Château Bouscassé 2015 Les Jardins Philosophiques
Château Bouscassé 2015 Madiran
Château Bouscassé 2010 Frimaire
April 22, 2020 with Château Lestrille
Join us along with Estelle Roumage, owner and winemaker of Château Lestrille. Located in Bordeaux's Entre-Deux-Mers wine region, this château produces red wines under the Bordeaux Supérieur appellation as well as the white Entre-Deux-Mers appellation and Bordeaux Rosé.
Entre-Deux-Mers is one of our own personal favorite white wines and we're thrilled to introduce you this interesting appellation. The wines of Château Lestrille are award-winning wines.
Château Lestrille also opened the first château-owned wine bar in the city of Bordeaux, and it's easily one of our favorites. They also serve absolutely gorgeous charcuterie boards at their wine bar, Un Château en Ville, and we'll be learning how to build a wine bar worthy charcuterie board at home.
We'll be tasting the following wines:
Château Lestrille Entre-Deux-Mers
Château Lestrille 2019 Rosé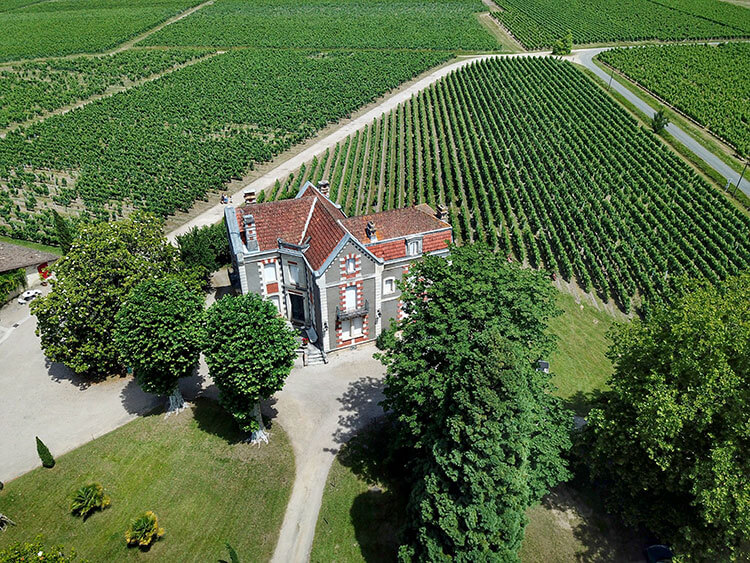 May 6, 2020 with Château Cantenac
Château Cantenac was the first Saint-Émilion winery I ever visited before making the move to Bordeaux. A charming family-run château, the Roskam family makes all of their visitors as though you're visiting some life-long friends.
Their wines are excellent and good value, proving you don't need to spend a fortune for top-quality Saint-Émilion wines.
AJ Roskam, a graduate of UC Davis with a degree in viticulture and oenology, is responsible for the wine tourism at her family château. She'll join us for a virtual visit of this Saint-Émilion château.
We'll be tasting the following wines:
Château Cantenac 2016 Saint-Émilion Grand Cru
Château Cantenac 2016 Selection Madame
May 20, 2020 with L.O. Wine and Château Vieux Mougnac
Laetitia Ouspointour is not only a Bordeaux châteaux owner, but a wine educator at the prestigious Bordeaux Wine School and a wine experience curator at her company, L.O. Wine. She comes from a family of wine makers and wine growers in Bordeaux and is the embodiment of passion when it comes to all things wine.
Laetitia is at the helm of Château Vieux Mougnac as the fifth generation. The château is certified as organic and practices organic farming.
We plan to join Laetitia live from Château Vieux Mougnac for this virtual tasting (depending that France moves forward with the easing of our lockdown from mid-May) and virtually bring you along for a look at wine blending.
We'll be tasting the following wines:
Details to come!