I spent some time in southwestern Germany over the last two months. The autumn weather was great with the cool crisp air and the leaves changing color, making it a great time to visit. One day was exceptionally beautiful so I took a drive south into France to visit the Lorraine American WWII Cemetery and Memorial near St. Avold. It is just a 45 minute drive from the Ramstein/Kaiserslautern area which I was staying near.

The grounds at Lorraine cover just over 113 acres and are pristinely manicured. There are 10,489 American Military buried there which also makes it the largest WWII cemetery in Europe. Most of the American military buried here were members of the U.S. 7th Army Infantry and Armored division. Many were killed while driving the German forces back from the fortified city of Metz to the Siegfried Line and the Rhine River.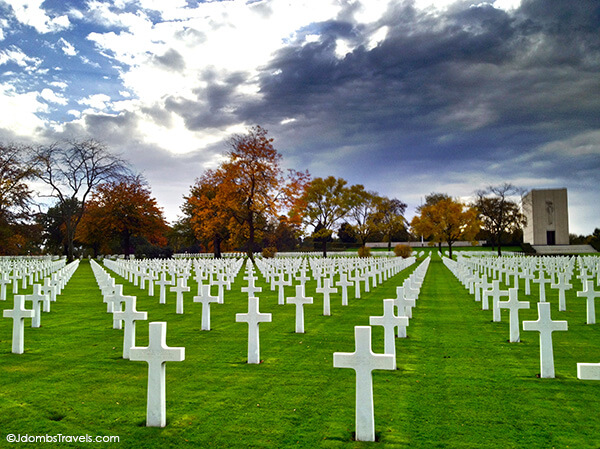 As you arrive at the cemetery you are greeted to a large memorial which sits on the high ground looking over the ten thousand crosses of those lost during the war. Inside are some campaign maps on the way that outline the operations that took place in the region. Along the side of the memorial is a large wall with the name of the 444 who are missing in action or yet to be identified. Rosettes next to names mark those of which have been found or identified through the years.
I had to make my way through the cemetery quickly as I only had an hour there before they closed. Thirty minutes prior to closing they play taps and one of the caretakers of the cemetery lowers the American Flag. I stop and render my proper courtesies. It puts a chill through my body and chokes me up a bit knowing how many Americans there gave the ultimate sacrifice.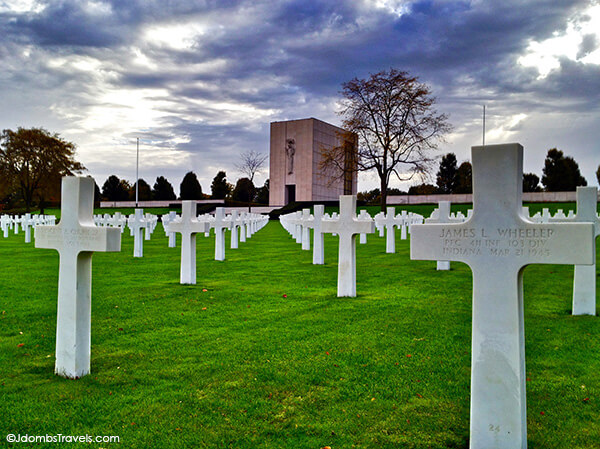 Please stop for a minute this Veterans Day and remember those who have paid the price for our freedom and those who continue to do so. If you happen to be in southern Germany I see no day more fitting to go visit the memorial or the cemetery and memorial in nearby Luxembourg.
The Lorraine Cemetery and Memorial is open daily from 9:00 AM to 5:00 PM with the exception of Christmas and New Years Day.  For more information you can checkout the American Battle Monuments Commission website.